Restaurants
Find sweets from around the world at Chestnut Hill's new candy boutique
Sukker & Sweet carries candy from Belgium, Italy, Singapore, and more.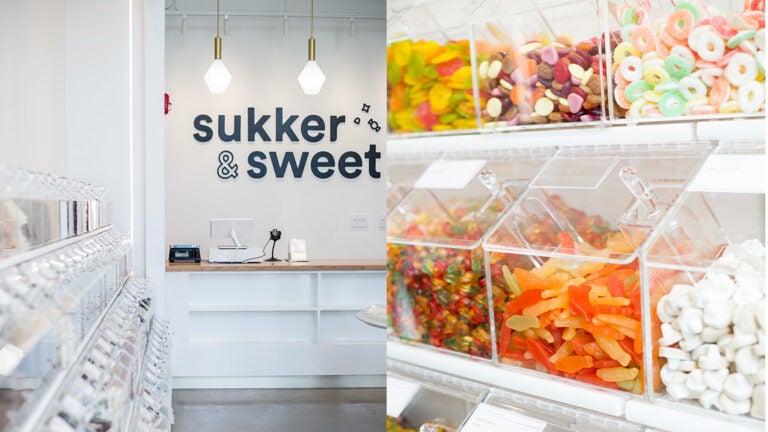 A new candy haven has made its debut, just in time for Halloween.
But Sukker & Sweet, which opened on Oct. 30 at The Street Chestnut Hill, goes beyond your standard supply of gummy worms and Skittles. The boutique sweet shop is home to more than 250 varieties of candy from across the world, giving guests the chance to experience a global sugar high.
Owned by married couple Greer and Michael Missouri, the saccharine newcomer is stocked with delicacies like licorice skull gummies from Sweden, strawberry puffs from Italy, and chocolate truffles from Belgium, as well as bean-to-bar chocolate from Fossa, a Singaporean chocolate company.
Chestnut Hill interior designer Amanda Reid gave the space a clean, bright feel, utilizing see-through acrylic bins to display all the candy, and a custom photo booth is available for posing with your haul.
"We're so excited to bring the candy experience we've always sought — but never found — to our own backyard in Chestnut Hill," the owners shared in a press release. "Sukker & Sweet is a place where customers can try chocolate covered marshmallow bars and feel transported to Belgium, bring their kids to get their favorite gummy sharks, and, of course, get that perfect Insta-worthy photo with all of their friends. The Street couldn't be a better fit for our candy dreams come true."
Sukker & Sweet joins another sugar-drenched newcomer at The Street: OddFellows Ice Cream Co., which recently debuted its boozy ice cream menu. The Chestnut Hill shopping complex is also home to Chilacates, Chef Ronsky's, Juice Press, Shake Shack, and more.
Sukker & Sweet; 33 Boylston St., Chestnut Hill; Sundays–Thursdays from 10 a.m.–8 p.m., Fridays and Saturdays from 10 a.m.–9 p.m.; sukkerandsweet.com