Restaurants
Stillwater is a gravy-smothered ode to Southern comfort food
Chef Sarah Wade's first restaurant goes back to her roots.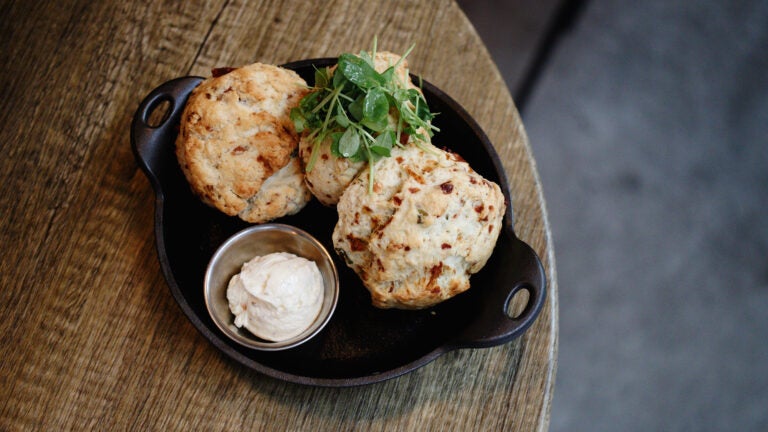 Our new restaurant reviews are part of a series of conversations we're developing to help you save time and stay informed on what's happening in the city. Be sure to sign up to receive the latest on the city's food scene.
What do we mean when we talk about comfort food? It's become a catch-all descriptor, a category that is often attached to warm bowls of something cheesy or saucy or fatty. But comfort food can be anything: It can be savory chicken noodle soup or meatballs doused in marinara; it can be khichdi, a lentil- and rice-based Indian stew, or enfrijoladas, stuffed corn tortillas drenched in a black bean purée. 
For chef Sarah Wade, comfort food is a slab of chicken fried ribeye doused in gravy. 
You may know the Oklahoma-raised chef from her previous role as executive chef at Lulu's Allston, where comfort food was her figurative — and literal — bread and butter. In late August, she opened her very first restaurant, Stillwater, named after her hometown and located in the former Townsman space that straddles the border of Chinatown and the Financial District. Those who remember Townsman won't find much of the place changed — the bar and lounge area is still there, as is the chef's counter and the floor-to-ceiling windows. Wade has added banquettes to the center of the dining room and high-top tables near the bar, but both sections are as casual as the women depicted in the foyer's central mural: four ladies standing in a row, all taking swigs out of a beer bottle. 
Here's how you know that Wade is still committed to the comfort food category: Ritz crackers and Cheez-Its are given ample space on the menu. You'll find the Ritz chicken ($20), a fried bird coated in a Ritz cracker crust that sits alongside whipped potatoes. The incredibly delicious smoked pork mac and cheese ($16) is a riff on Wade's short rib mac and cheese at Lulu's, featuring gooey elbow noodles topped off with the perfect amount of buttered Ritz cracker crumbs. And there are the homemade white cheddar Cheez-Its ($7), a playful snack that Wade pairs with a bright cucumber dip.
The menu draws from more than Oklahoma, which is noticeable in dishes like the yellow mussels ($15) sourced from Rhode Island and bathed in a turmeric and sumac broth, and the ricotta dumplings ($18) tossed with chanterelle mushrooms and yellow tomatoes. But you want the Oklahoma stuff. The chicken fried ribeye ($30) is thicker than your standard pounded chicken fried steak, cooked to order with a crunchy, golden crust and surrounded by a pool of gravy and light-as-air mashed potatoes (two wayward asparagus stalks also found their way onto my plate, a negligible amount which I wish had been left off entirely). It begs you to settle in and get messy, to pile your fork with a hefty piece of rich ribeye, a mountain of mashed potatoes, and a smear of tangy cherry pepper relish (which I promptly wanted to slather on everything). 
Some dishes need a little finessing. While the homemade biscuits ($8) — enriched with blue cheese and thyme — are delightful while they're warm, they become desert-dry once cool. Either skip them or eat them quickly. The flat patty burger ($14) is made with two beef patties and Cabot cheddar cheese, but I found it bland despite the Cajun aioli, and made less appealing by the In-N-Out Burger-esque french fries that come with it (those who are unfamiliar with the chain's fries, think chewy and in need of a few more minutes in the fryer). The burger is, curiously, listed under the category of "Sexy Snacks" on the dinner menu, even though it is neither sexy nor — two whole patties, remember? — just a snack.
But despite the decidedly-unsexy burger and those finicky biscuits, I would certainly come back to Stillwater. Maybe for one of the pop culture-savvy cocktails, like the Thank U, Next with Ghost tequila, lime, orange, and cucumber. Or for some more macaroni and cheese, washed down with "cold tea": a $4 mystery beer that Stillwater claims "could be good…could be swill" (hey, I love a good surprise). And if I'm craving comfort food of a particular variety — not soup, not pasta, but something fried and hearty and smothered in gravy — I'll definitely come back for that chicken fried ribeye. 
Stillwater; 120 Kingston St., Boston; Sundays–Thursdays from 11 a.m.–midnight, Fridays and Saturdays from 11 a.m.–1 a.m.; stillwaterboston.com