Restaurants
Chef Jeffrey Salazar chased after two dreams: basketball and cooking. Here's how he made them both work.
Catch the Parsnip chef competing on "Chopped" on Nov. 5.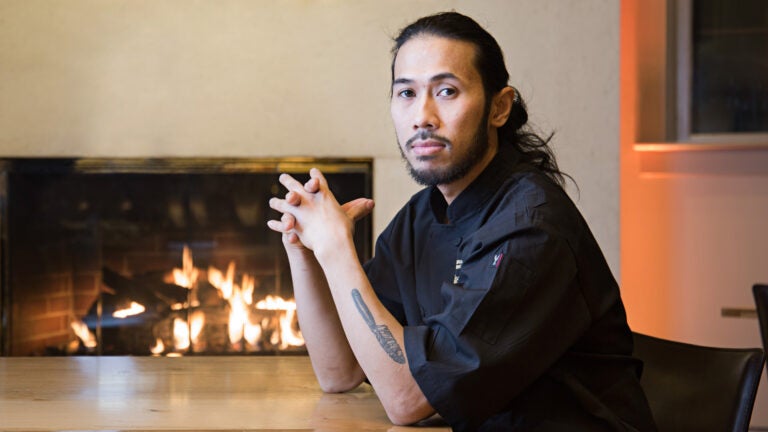 Chef Jeffrey Salazar is recounting his recent experience as a contestant on Food Network's "Chopped," which is set to air on Nov. 5 at 9 p.m. The show pits four chefs against each other, each provided with a basket of mystery ingredients needed to create a three-course meal. But the way Salazar is telling it, he could have been playing pick-up.
"I'm just running around like I'm playing basketball," he recalled. "I try not to get too stressed, just try to stay focused on the task at hand and then on to the next one, like, OK, what do I do next? The rounds are super fast, but I'm able to just focus and think of a plan and follow through with the plan. Little things here and there might happen, but as long as you have a plan it works out for your best interest."
The Rhode Island-based chef, who joined the Harvard Square restaurant Parsnip in March, went to culinary school at Johnson & Wales University, but decided post-graduation to follow his other dream: basketball.
"I've always loved basketball," said Salazar, whose Filipino heritage prompted him to move to the Philippines and train with the Philippine Basketball Association (PBA). "It was my first girlfriend. I've always wanted to go try [the PBA], because you just never know. I wanted to chase my dreams, see how far it would take me. I have kids, too, so it's like: How am I going to tell my kids to chase their dreams if I don't try to chase my dreams?"
Salazar eventually moved back to the U.S. to focus on his culinary career, working in New York at Caribbean-centric Cove Lounge and Bobby Flay's Gato and the now-closed Bar Americain, then serving as executive chef at Berklee College of Music's B3 Restaurant, which closed in November, 2018. After spending years cooking primarily Southern food, Salazar saw Parsnip's seasonally driven New American fare as a new challenge.
"I think that [vegetarian cuisine] was definitely something out of my wheelhouse," he said. "This has opened up my boundaries, and I'm trying to learn and just trying to get better. I've been given a lot of creative freedom. As a chef, that's what you want."
The upcoming "Chopped" episode, titled "No Meat? No Problem," has given Salazar the chance to put his newly developed meat-free skillset to the test. So what's next? Besides more basketball — Salazar still plays in tournaments, and he recently accepted a part-time basketball coaching gig at Innovation Academy Charter School in Tyngsborough — the chef is hoping to further the Filipino food movement in New England through pop-ups.
"It's never going be truly authentic [Filipino food] with me," he said. "It's not what I've always done — I've had all these influences [throughout my career], so I'm always going to be like, Well this is good but what if I do this? So it's trying to figure out exactly how to present Filipino food in my own way."
While the chef said he doesn't have much time to explore the local food scene — he makes the long commute from Rhode Island every work day — he did share a couple of his favorite local hangouts, plus a West Warwick brunch spot that makes a killer corned beef hash.
Come for the cocktails, stay for the mocktails
"The places I've been to [recently] are pretty much what's in [the Parsnip] vicinity, because I work so much and my commute is crazy. I like to go to Alden & Harlow — they have some pretty good food and small plates. I really like the drinks at Longfellow Bar, too. They really think about what goes in them. Even their mocktails are really amazing."
Judgment-free zone
"I like to go to Charlie's [Kitchen], which is around the corner [from Parsnip]. It's an institution. It has cheap food and liquor, and you can [dress] however you want. It's very non-judgmental; you see all types of people in there. I like going to places where I'm not being looked over two, three times. I don't want to dress up to go to a particular place anymore. I just want to feel comfortable."
Drink of choice
"I'm a cider guy. I don't really like hard liquor too much, but I do like to taste different ciders, so whatever is on tap. The Downeast ciders are great."
It's the little things
"One place I always go to [near home] is this place called AJ's. It's a brunch spot in West Warwick, Rhode Island. The food is inexpensive and really good and the portions are huge, and it's one of those places that's been around forever. They're super friendly, very warm, and always greet us with a smile. Those are the little things that make people come back. I love the corned beef hash. They do this grilled english muffin, too, that's really good."
On the list
"There's a ramen spot around here that I've been wanting to check out: Santouka. I like ramen; I think it's very hearty. It fills up your stomach and keeps you warm. I eat a lot of those instant ramen [packets] when I'm at home."
See how Salazar fairs on the next episode of "Chopped," airing at 9 p.m. on Nov. 5, or pay a visit to Parsnip, located at 91 Winthrop St. in Cambridge.