Restaurants
The Porch's new location is bigger and boozier. But is it better?
Southern fare goes beyond barbecue at this Medford joint, with mixed results.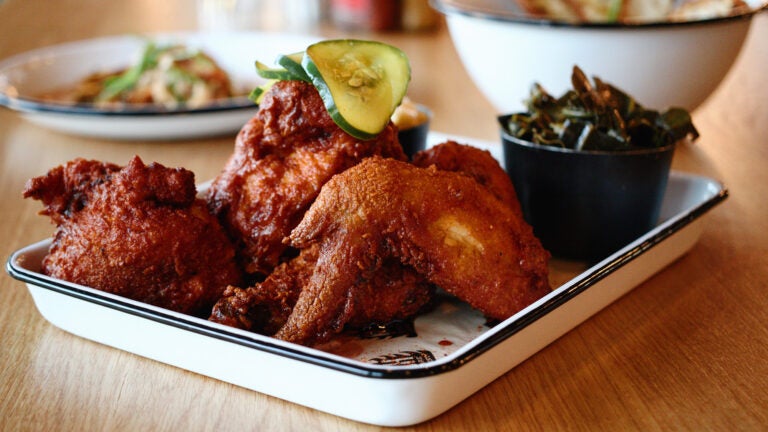 Our new restaurant reviews are part of a series of conversations we're developing to help you save time and stay informed on what's happening in the city. Be sure to sign up to receive the latest on the city's food scene.
Some would call it a glow-up. 
After closing his cozy barbecue restaurant, The Porch Southern Fare, in Wakefield in June 2018, chef and owner Jonathan Post reintroduced the concept a little over a year later in a brand new — and much bigger — Medford location. The Porch Southern Fare and Juke Joint opened in July in a massive, 8,500-square-foot space, complete with a stage, 250 seats, a gleaming bar, and a pool table. The once narrow eatery with a self-serve sauce station has graduated to a full-service restaurant and music venue, now with weekly concerts that center around country, blues, and rockabilly, and a menu that has expanded from primarily barbecue to Southern fare of all kinds: gumbo, étouffée, and oyster stew.
It was the expanded offerings that caught my interest on a recent visit to The Porch, whose new Medford digs are located in a boxy, mixed-use development next to a parking garage that leads straight into the restaurant's bar area. There is no mistaking the theme once you step inside, unless you somehow miss the giant portraits of Willie Nelson and Dolly Parton, or the glowing neon sign above the bar that reads, "Lord have mercy on my wicked soul." Bottles of homemade sauces — North Cackalacky vinegar sauce, for example, packed with plenty of paprika and cayenne — sit on the tables, which range from high-tops to booths to larger group set-ups. The menu is divided into Small Thangs, For The Table, Plates, Trays, Between The Buns, and Fixin's — all the casual categories that might indicate that plenty of napkins are about to be used.
But while fans of The Porch's previous location found comfort in the fried bologna sandwiches and brisket and bag o' biscuits, they might be unnerved by the crawfish étoufée ($17), a small helping of the Cajun stew that, during our visit, was all salt and celery and not that much crawfish, though a few thin slices of grilled bread did beef up the dish. The shrimp and grits ($18) found success with their heads-on crustaceans — large, juicy things that soaked up a delicate, butter-rich jus steeped with bacon, oyster mushrooms, and scallions — but the grits were unpleasantly gluey. There are other seafood options on the menu (catfish, bass, smoked crab), but it seems I had struck out. Maybe the meat would be better? 
Nashville hot chicken — the fried, cayenne-laced poultry made popular by Nashville's Prince's Hot Chicken Shack — has found popularity in cities well beyond the Tennessee capital, but Boston's own hot chicken scene only recently began to ramp up with pop-ups like Hot Chix and restaurants like Six String and State Park serving their own versions. Post is a Nashville native, so the inclusion of it here is obvious; The Porch offers its fried chicken plain or Nashville hot, and served in whole, half, or two-piece chicken arrangements with a choice of two sides. I ordered the two-piece Nashville hot ($17), and while I could have had second helpings of the collard greens and macaroni and cheese that came with it, the chicken didn't live up to versions I've had elsewhere. Its wet batter seemed to melt off the meat after a few bites, and, yes, while there was some substantial heat, I found myself wishing I had ordered plain fried chicken, and used it as a vehicle for the restaurant's fantastic homemade sauces instead. It might be better, perhaps, to go for The Porch's signature barbecue items, like trays of Texas brisket ($22) or St. Louis spare ribs ($20). 
Oh, and the dessert. "It's made today, so lucky you!" exclaimed the server when we ordered the chocolate chess pie, a tacky mix made with chocolate morsels, vanilla, a spice medley, and cornmeal, though it tasted more like a melted tootsie roll. You can decide whether that's something you'd enjoy or not. 
The Porch's Wakefield location offered a curated selection of beers on tap, while the new Medford iteration sells beer and then some: wine, cocktails, and "frozees," like the Chiloma ($13), a slushie made with tequila, grapefruit, and lime. As I sipped on a cloyingly sour Porch Smash ($12), I found myself wishing I had ordered a Lone Star beer instead, which isn't so easy to find in Boston and which The Porch thankfully stocks. Maybe a beer and some brisket and collard greens is what The Porch does the best. Maybe not everyone needs a glow-up.
The Porch Southern Fare and Juke Joint; 175 Rivers Edge Dr., Medford; Mondays–Saturdays from 11:30 a.m.–2:30 p.m. and 5 p.m.–11 p.m., Sundays from 10:30 a.m.–4 p.m. and 5 p.m.–11 p.m.; theporchsouthern.com