Restaurants
Sky-high soufflé pancakes debut in the Seaport this weekend
Plus a new wine bar I can't wait to try.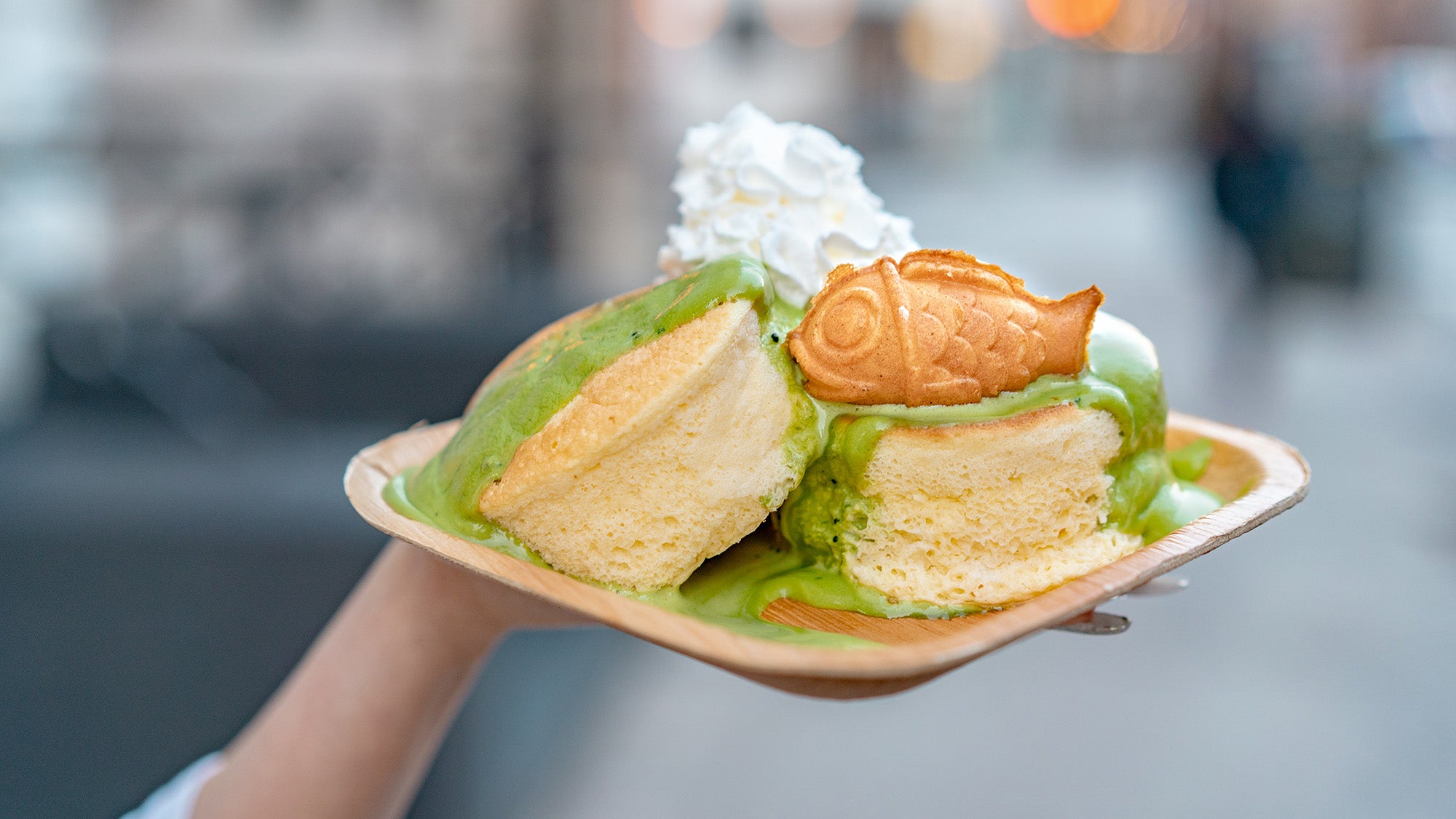 I'm not much of a Halloween person, but Turkey Day is another story: As soon as November hits, I go into full Thanksgiving mode. For me, that means culling through cookbooks (including Joanne Chang's recently-released "Pastry Love") for new recipes and tracking down all the pumpkin-related things, pie or otherwise. To share my enthusiasm for this season, here are a handful of events, dishes, and other food oddities that I'm looking forward to trying this week.
1. Soufflé pancakes at Taiyaki NYC
When Taiyaki NYC — a New York City-based soft serve shop specializing in Japanese fish-shaped cakes called taiyaki — opened in the Seaport in April, they promised to launch soufflé pancakes in the near future. The future has finally arrived: On Friday, Taiyaki will start selling both its classic and matcha pancakes for $9. They'll only be available on Fridays–Sundays from 11 a.m.–2 p.m., but it's a fun switch-up from the usual eggs and toast.
I asked co-founder Jimmy Chen how they're assembled, and while he kept mum on the exact recipe and technique ("We don't want to go too in-depth to keep our competitive advantage"), he said that they are "extremely delicately made" and "if you don't cook it correctly, it will not be a pile of fluffiness." Fair enough. (119 Seaport Blvd., Ste. B, Boston)
For those who are averse to pumpkin spice lattes but still want to partake in the seasonal beverage game: Lone Star Taco Bar is putting a new, boozy twist on the PSL. A friend recently brought the bar's fall spice horchata to my attention on Instagram, and it's a pumpkin drink I can definitely get behind. The horchata is infused with pumpkin, brown sugar, and rum, and topped off with fresh cinnamon — I'm thinking of pairing it with their huevos rancheros, which I already love. Know of any other pumpkin spice cocktails around town? I'd love to hear about them in the comments below. (479 Cambridge St., Allston; 635 Cambridge St., Cambridge)
If you're a fan of Joanne Chang's pastries at Flour, the bakery and café that has grown to eight locations across the city, then this week was a big one: The pastry chef's latest cookbook, "Pastry Love," came out on Nov. 5. When I chatted with her about the book a couple weeks ago, she mentioned that she loved it "when people come to me with their book and it's smudged and dog-eared and there are Post-it Notes and everything." Now that I've gotten my hands on the cookbook, here are a couple recipes I'm looking forward to dog-earing (and possibly bringing to the Thanksgiving table): cranberry pecan bread, lime cream pie, and autumn pear tarte Tatin. Already have your own copy? Chang will be signing her cookbook at Porter Square Books on Nov. 11 at 7 p.m. if you're looking for some one-on-one baking tips.
When I heard about "Nourish," an exhibition that recently opened at MassArt, I knew I had to put it on my to-do list. The collection centers around the work of 48 artists who use a variety of media to focus on the intersection of food, art, and design, and the ways in which this particular juncture reflects cultural or societal practices. Chef and restaurateur Jody Adams (Trade, Porto, Saloniki) was on the selection committee, and she'll be taking part in a panel discussion on Nov. 20 at 7 p.m. to discuss the idea of "common good" with those who are using food and hospitality to create positive change. "Nourish" will be on display in MassArt's Doran Gallery through Nov. 27. (621 Huntington Ave., Boston)
'Tis the season for holing up inside your house and cranking the heat, but instead of hibernating at home, I'm looking forward to taking refuge inside Le Canular, a cozy new wine bar from the folks behind Whaling in Oklahoma, which sits right next door. The wine bar debuted on Wednesday and offers a dozen or so snacks alongside wines that go for $13 per glass. Wood paneled walls line the tiny bar (which used to be the site of Tremont 647's Sister Sorel), so if you're in search of cabin vibes and a seriously good wine list, this might be your spot. Le Canular is open Wednesdays–Saturdays from 6 p.m. to close. (645 Tremont St., Boston)
Correction: A previous version of this story incorrectly listed the starting time for Joanne Chang's book signing. Boston.com regrets the error.