Restaurants
Peregrine elegantly holds back the tide of Boston's restaurant chainification
The Juliet team brings insistent Mediterranean flavors to a posh Beacon Hill setting.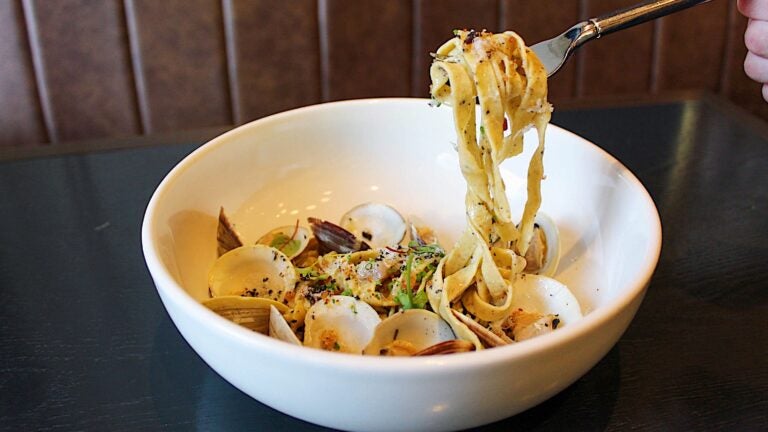 Our new restaurant reviews are part of a series of conversations we're developing to help you save time and stay informed on what's happening in the city. Be sure to sign up to receive the latest on the city's food scene.
We often lament in this space about the difficulties that enterprising local chefs face in trying to open their own restaurants in Boston: gentrified rents, punishing liquor license costs, a persistent labor crunch. Chain restaurants have their uses, but a scene with fire, breadth and idiosyncratic character cannot thrive without restaurateurs who are marching to their own beat, refusing a template drafted by some distant MBA grad. Historic neighborhood places and great indies are going dark all over the city (RIP, Doyle's and Erbaluce); dull, middlebrow chains with deep pockets and hundreds of clones across America are oozing into the aching void these unique places leave behind.
Amidst these unhappy trade-offs, it's heartening to see a gifted local team find another way to gain a toehold in town, in this case by roosting in a hotel dining room. Peregrine, the Mediterranean-style restaurant in newly opened The Whitney Hotel at the foot of Beacon Hill, is run by wine maven Katrina Jazayeri and chef Josh Lewin, a duo that had to escape city limits to open their first place (Juliet in Somerville's Union Square). They have brought their distinctive, detailed culinary approach back across the Charles to focus on the sun-splashed flavors of the three big islands off of Italy's West Coast: Sicily, Sardinia, and Corsica, which in turn boast immigrant accents from France and Spain.
We could happily order a few glasses or bottle of wine from Jazayeri's nicely-curated, mostly Old-World list — 11 by the glass ($13-$16), 32 bottles ($45-$185, most under $70), a few fortified wines ($9-15) – and then leisurely, endlessly snack like layabouts at a sleepy Venetian bacaro. This menu has a lot of high-class drinking food: warm olives ($9), marinated mushrooms ($9), sherry-marinated cucumbers that read like gourmet sweet pickles ($8), radishes nesting on a fat mattress of exquisite cultured butter ($7), a plate of excellent jamon serrano ($12), a pretty array of wafer-thin slices of delicate scallop crudo ($13), a luscious chicken-liver mousse ($10) for spreading with good mustard on slabs of soft focaccia, and a plate of "Sicilian sashimi" ($22) with punchy, briny boquerones and the novel, superb tandem of bluefish prepared as barely-marinated belly and torched tail.
More substantial plates include a lovely kale Caesar ($13), the tough leaves tenderized by chiffonade slicing, plus piquant add-ins of quality white anchovies, good salty Parmesan and vivid, chili-spiked croutons. Catalonian tomato bread ($14) with a layer of great jamon works pretty fine by itself, but ascends to umami-packed wonder sitting in a pool of sea urchin/saffron butter (a worthy $4 upgrade). Pasta dishes include a picturesque tagliatelle alla vongole ($31) with pork, clams in their shells, breadcrumbs, pecorino, and chili oil over black-pepper/truffle pasta ribbons, though the sum of their flavors is more muted than the lavish ingredients might suggest. That is forgotten in the wake of an amazing pappardelle with braised chicken ($26), a homey stunner that piles wide flat noodles with luscious dollops of pillowy cloumage, hunks of tender, shreddy braised chicken thigh, soft-cooked baby Brussels sprouts and a sprinkling of pistachios, like some mad genius' herby, tomato-free deconstruction of lasagna.
A la carte secondi include a roasted heritage chicken ($24) with winter squashes and wild mushrooms in a cream sauce headily fragrant with saffron and rosemary, and a barely-fierce but expertly-cooked bluefish fra diavolo ($32) – using a fillet that is surprisingly mild for a strong-flavored fish — over a fine ratatouille. If a special of bluefish collar ($13) ever comes back, get it: its charry grilled prep of a supremely fatty, rich cut of the same species provides a fascinating contrast to the entrée version. A vegetable contorno or two might be a good idea to round out these smallish proteins; we especially enjoyed the market vegetables ($8), a simple, swoony sauté of sweet red peppers with breadcrumbs, garlic, lemon, and EVOO.
Don't sleep on desserts, which range from arty and delectable, as in a modernist rectangle of mint panna cotta ($10) with a fabulous chocolate sauce and crown of pistachio crumble, to humble but equally delectable, as in a hearty wedge of Catalonian cheesecake ($10) showered with crinkly, sherry-marinated cherries.
The Whitney is a luxurious little boutique hotel on tony Charles Street, but Peregrine's prices still might seem steep until you realize the check has no tip line: the restaurant pays its entire staff a living wage and adjusts its prices accordingly. So that $26 chicken pappardelle would probably be $21 at a tipping establishment: social justice deepens its already awe-inspiring flavor. Servers are uncommonly knowledgeable and attentive: not having to fawn for tips doesn't dim their polished professionalism. If there's a quibble to note about the mostly exceptional Peregrine, it's that from some seats, the room's view of the hotel lobby saps some of the glamour from its low-decibel, comfily plush yet minimalist decor. In a burg where the craft of too many indie talents like Jazayeri, Lewin, and crew are getting squeezed out to make room for far less beautiful, inventive, painstakingly sourced food and drink, that's an imperfection we will gratefully live with.
Peregrine, The Whitney Hotel Boston, 170 Charles St., Boston; Mondays-Sundays from 6:30 a.m.–9:30 p.m.; peregrineboston.com