Restaurants
Miracle, a global holiday pop-up, returns with themed cocktails and a giant ugly sweater party
Four local bars are taking part in the festivities.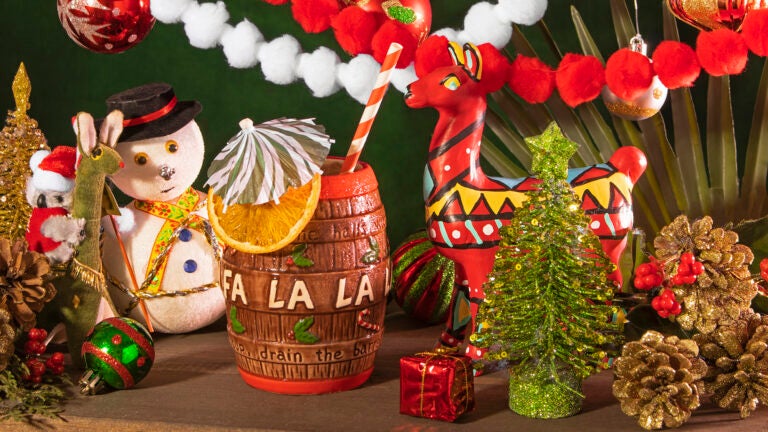 Here's a tip for getting into the holiday spirit this year: Don your best ugly Christmas sweater, sidle up to the bar, and order a — *deep breath* — Koala-La La La, La La La La.
The melodious cocktail is just one of roughly a dozen festive drinks that are part of Miracle, a global holiday pop-up that launched in New York City in 2014. Defined by an explosion of holiday decorations and wildly creative drinks, the concept has steadily spread to Canada, England, Mexico, New Zealand, Panama, Romania, Switzerland, and almost 40 states within the U.S. — and will take over a few bars right here in Massachusetts starting later this month: Kimpton Marlowe in Cambridge, Mystic Station in Malden, and Still & Stir in Worcester, with a tikified version of its concept taking place at Shore Leave in Boston.
Each participating Miracle bar shares a holiday-themed cocktail list; many drinks, like the Jingle Balls Nog, Snowball Old Fashioned, and Bad Santa are returning favorites, as is the Run Run Rudolph, made with prosecco, gin, mulled wine purée, lemon, and cane syrup. This year will also see the debut of the SanTaRex, a rye-based drink featuring sherry, spiced apple cider concentrate, lemon juice, hard cider, and baked apple bitters. In the mood for a shot instead? Try the Nice Shot (rum, peppermint tea, chocolate), the Naughty Shot (bourbon, cinnamon), or the Mistletoe Shot (rye, gingerbread spices).
Sippin' Santa, a tiki-centric offshoot that launched in 2015 and is now a partnership between tiki expert Jeff "Beachbum" Berry and Miracle, will also have a presence in Boston, as South End tiki bar Shore Leave will transform into a holiday wonderland from Nov. 26 through New Year's Eve. The cocktail lounge will join more than 20 other tiki bars across the country giving Santa a tropical twist, and will team up with both Miracle and Sippin' Santa bars on Dec. 2 to hold a massive ugly sweater party.
Kimpton Marlowe; 25 Edwin H. Land Blvd., Cambridge; Nov. 29–Dec. 24, Sundays–Thursdays from 5 p.m.–11 p.m., Fridays–Saturdays from 5 p.m.–midnight; hotelmarlowe.com
Mystic Station; 139 Pleasant St., Malden; Nov. 29–Dec. 30, Sundays from noon–10 p.m., Mondays from 11:30 a.m.–10 p.m., Tuesdays–Wednesdays from 11:30 a.m.–midnight, Thursdays–Fridays from 11:30 a.m.–1 a.m., Saturdays from noon–1 a.m.; mysticstationmalden.com
Shore Leave; 11 William E. Mullins Way, Boston; Nov. 26–Dec. 31; Daily 5 p.m.–1 a.m.; shoreleaveboston.com
Still & Stir; 90 Commercial St., Worcester; Nov. 25–Dec. 31, Mondays–Thursdays from 5 p.m.–midnight, Fridays–Saturdays from 5 p.m.–2 a.m., Sundays from 11 a.m.–8 p.m.; stillandstir.com