Restaurants
New Orleans cuisine is 'truly underserved' here. French Quarter wants to change that.
The Southern-style hangout in Downtown Crossing is soft-opening just in time for Mardi Gras.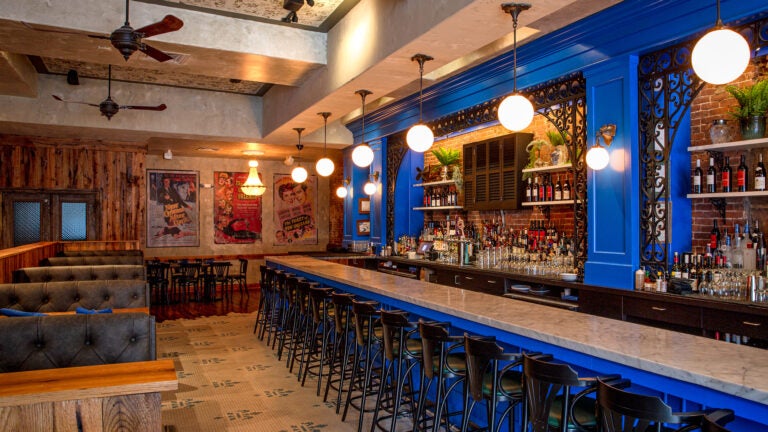 French Quarter is promising to bring a touch of New Orleans zest to Downtown Crossing.
The restaurant and bar will be the second eatery in the neighborhood for chef Paul Sussman, who helms the grill-centric Back Deck a few feet up on Washington, on the corner of West Street. It's the third for partner Brad Fredericks, who opened nearby Tex-Mex inspired Fajitas and 'Ritas on West in 1989, well before the area's recent massive real estate rise. 
Sussman, a restaurant-area veteran who opened the lauded South American-styled, now-shuttered Macondo in Union Square at the birth of Boston's 21st century dining boom, said that New Orleans cooking isn't well represented here.  
"We feel that this is a truly underserved cuisine in Boston," said the seasoned chef, who hails from Lexington. "New Orleans cooking is one of the great cuisines of the U.S. It bears so little resemblance to other cooking styles. There are some Southern elements, but it is its own thing."
French Quarter is soft-opening for dinner on Monday night, just in time for Mardi Gras. Lunch service is expected to begin March 4.
The menu will have traditional Louisiana staples like gumbo, jambalaya, and étouffée. "For lunch, we'll have fried oyster and beef po' boys," Sussman said.
"I don't like to use the word 'authentic' for obvious reasons," he continued. "We are, more accurately, representing the cuisine of New Orleans; there will be no chef-type 'squiffs' on the menu, but we may have to adapt to our region. We are doing New Orleans cuisine in Boston with ingredients that are as true to source as possible." 
So far, Sussman is pleased with the recipe results, but one of the simplest New Orleans staples proved to be quite tricky.
"Everyone who knows about the cuisine says the soul of New Orleans cooking is red beans and rice, and that one we've worked hard to get right," Sussman said. "We'll also have a vegetarian one too, because it's important everyone be included."
The space's design was headed by local firm Assembly Design, who turned it into "a Southern-style watering hole," Sussman said. 
"You could be stepping right off Bourbon Street," he said. "There was already a big, beautiful marble bar, which is staying. We stripped the place and found an old brick wall, which was hidden and covered over. That was a great surprise. It will look beautiful."
That bar will be the place to enjoy Louisiana-brewed beers and classic New Orleans cocktails like the Sazerac, Hurricane, and French 75. 
Sussman said he's having a blast perfecting the menu, as he and Fredericks oversee the restaurant's visuals come together.
"I always think the months before opening a restaurant are the most fun," he said. "We are having lots of fun trying things out and seeing the room come together — the creativity is in full swing."
French Quarter, 545 Washington St., Downtown Crossing. Lunch starting the first week of March, Monday-Friday at 11:30 a.m.; brunch, Saturday and Sunday at 11 a.m.; and dinner, nightly from 4 p.m.