Restaurants
On the Thanksgiving table this year: Pumpkin pie, apple pie, and…mincemeat?
These are the pies Bostonians are craving this holiday season.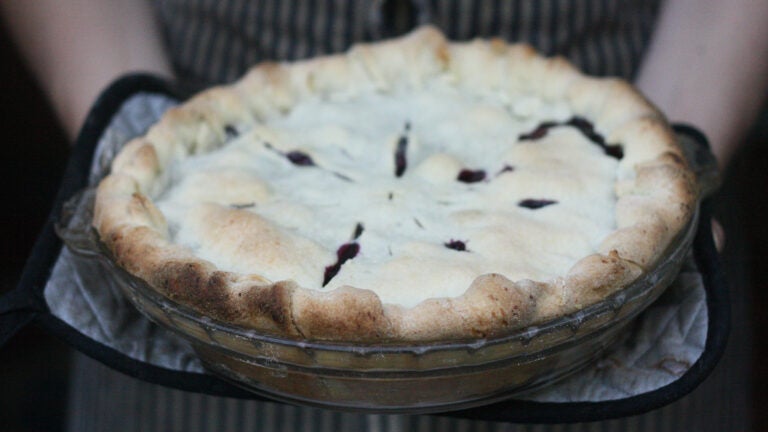 Recently, I asked readers to vote on which pies reigned supreme at their Thanksgiving table: Pumpkin, pecan, apple, or something else entirely. The results are in, and that "something else" category garnered some wild entries.
But first: Pumpkin pie, as it turns out, is still the ultimate Turkey Day dessert among Bostonians. As of this article's publication, just over 35% of the votes came in for pumpkin, with a couple of readers adding their own vote for pumpkin cheesecake. (I get it! It's the best of both worlds.) Apple pie, a noble runner-up, landed roughly 28% of the votes, with similar riffs like apple crumb, apple crisp, and apple galette receiving a few nods. Pecan pie, with 23% of the votes, came in last out of the three.
The remaining slice of the vote came from reader submissions, which were as varied as there are pies in this world. Some were inventive mash-ups (cranberry cream pie, strawberry rhubarb), some reflected distinct recipes (Colonial Innkeeper's, Fruits of the Forest, Grasshopper — which, no, does not involve insects), and others were just plain cheeky (I see you, humble pie). There were a plethora of fruit pies — banana, banana cream, cherry, coconut cream, coconut custard, mixed berry, key lime, lemon meringue, raspberry — as well as a healthy contingent of readers voting for cheese desserts, including cheesecakes and ricotta pies. Squash pie also garnered a sizable number of votes.
In the end, though, four entries dominated the "other" category: Blueberry, sweet potato, mincemeat, and chocolate, the latter of which included variations like chocolate chess, chocolate cream, chocolate pudding, and chocolate mousse pie. Head to most bakeries and restaurants ahead of Thanksgiving and you'll be able to find delicious versions of blueberry, sweet potato, or chocolate pie for the holidays.
But mincemeat pie, also known as mince pie, is a little harder to find. Introduced to New England by English settlers in the 1600s, the modern mince pie's basic composition is a mix of dried fruit and spices; original iterations included meat like beef, lamb, or mutton, but most contemporary versions in the U.S. are meatless, and even its U.K. and Australian counterparts have gravitated mostly toward meat-free mince pie. Overseas, mince pie is traditionally served during Christmas, but its consumption in the U.S. primarily revolves around Thanksgiving — though its popularity has taken a backseat to more prevalent pies like pumpkin and pecan.
If you're a mince pie enthusiast — or just someone who wants to test the mince pie waters — here are a few places in the Boston area serving the storied dessert for Thanksgiving:
Fratelli's; various locations; fratellispastry.com
Montilio's; various locations; montilios.com
Wilson Farm; 10 Pleasant St., Lexington; wilsonfarm.com
Do you have any holiday traditions around pie? Let us know in the comments.