Restaurants
Score a sneak peek (and taste!) of Brookline's newest pizza spot
Plus, the hot cocktails keeping me warm this winter.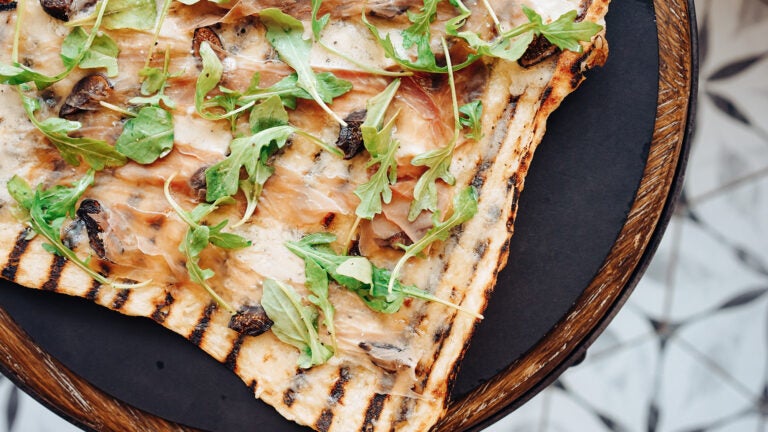 Hot drinks, French onion soup, stews, ramen, and porridge — my cravings have shifted to all the dishes and drinks that promise to keep me warm throughout the next few (six?) months. I've found some winners in a bowl of khao soi at Soup Shack (which just expanded from its original Jamaica Plain location to a second outpost in Brookline), Hiroshima-style okonomiyaki at Gantetsu-Ya, and homemade hot toddys on a recent cabin adventure in New Hampshire, but I'm still on the lookout for more. Do you have any go-to cold weather dishes at your favorite restaurants? I'd love to hear about them in the comments.
In the meantime, here are some things I'm looking forward to this weekend and early next week. I'm hoping they keep the cold at bay.
In December, Italian restaurant Bar 'Cino, which first opened in Newport over the summer, will debut a second location at 1032 Beacon St. in Brookline, serving grilled pizza cut with scissors tableside. I'm psyched at the prospect of cozying up in the former Waxy O'Connor's space and ordering one of their pizzas (the roasted Rhode Island mushrooms and charred radicchio pie sounds especially good) and a well-balanced cocktail this winter, but you won't even have to wait that long — Bar 'Cino is hosting a pop-up at Kenmore Square cocktail bar The Hawthorne on Nov. 17 from 7 p.m.–9 p.m., and bringing their signature pizza along for the ride. Grab a couple slices (and a drink) to cap off the weekend. (500 A Commonwealth Ave., Boston)
When I first spoke with Arielle Chernin — Brookline native and founder of Congee & Me — back in August, she had just brought her pop-up from San Francisco to Boston, and told me that "There's a type of rice porridge for every Asian culture, and everyone has a story to tell." Her porridge focus? Congee, which she'll be serving at Mei Mei on Nov. 18 from 10 a.m.–2 p.m. Chernin puts a creative spin on the dish, coming up with iterations like the bacon, egg, and cheese congee (pork belly, egg, smoked gouda, tomato oil) and the everything bagel congee (smoked tofu, furikaki, egg, scallion oil). It's great stick-to-your-bones fare, which is something we could all use a little more of as the cold weather ramps up. (506 Park Dr., Boston)
If you've been put in charge of Thanksgiving pie this year and want to avoid baking at all costs, here's a way you can score a delicious, locally-baked pie and do some good. Now in its 27th year, Community Servings' annual Pie in the Sky fundraiser sells pumpkin, apple, sweet potato, and pecan pies from more than 100 restaurants, bakeries, and caterers in the Greater Boston area, including local all-stars like Branch Line, Craigie on Main, Flour, and Mamaleh's. From now until Nov. 23, each $30 pie purchase or donation will go towards a week's worth of meals to a local individual or family in need, making the holiday dessert taste all that much sweeter.
Sure, we'll have to wait until 2020 when Woburn-based Lord Hobo debuts its massive brewery and restaurant, the "Taj Mahal of breweries," in the Seaport, but in the meantime, we can spend our Friday night at Time Out Market Boston in the Fenway, where Lord Hobo will host a tap takeover starting at 5 p.m. Head to both of the market's bars — plus a satellite bar that will be set up in the center — and choose from nine brews offered throughout the evening: 617, Boomsauce, Glorious, Freebird, Godmother, Angelica, Doomsauce, Single Hop Pale Ale, and Virtuoso. If you haven't yet been to the market, there's plenty of great food to pair with a beer; some of my favorites include the mezze sampler at Anoush'ella, nori sushi tacos at Gogo Ya, meatballs at Michael Schlow's, and all of the gelato at Gelato & Chill. (401 Park Dr., Boston) 
5. All the hot cocktails
Goodbye, summer margaritas. Hello, hot toddys and Irish coffees. The sudden drop in temperature has me in search of hot cocktails, and a handful of toasty libations are on my radar. At Kenmore Square's Eastern Standard, there's the Sid and Nancy, a rum-based drink made with cognac, spiced syrup, and half and half, and garnished with fresh nutmeg; plus a warm mezcal concoction called the Tahona, made with Licor 43, cinnamon syrup, and cayenne hot cocoa powder. Over at Ward 8 in the West End, a hefty roster of hot cocktails includes hot buttered rum, Irish coffee, and the Mockingbird featuring apple brandy, honey, lemon, and bitters. At Alcove, another West End drinking destination, the King's Court Toddy mixes scotch with ginger syrup, maple syrup, and bitters, all topped with a flamed star anise. And Six/West's rooftop bar finally opens in Southie on Nov.15 with a warm Irish coffee that you can sip while overlooking the city skyline.