Restaurants
25 years ago, S&S Restaurant in Cambridge buried a time capsule. On Saturday, the owners dug it up.
"When you open this capsule in 2019, it's iffy if I'll be with you," read one letter.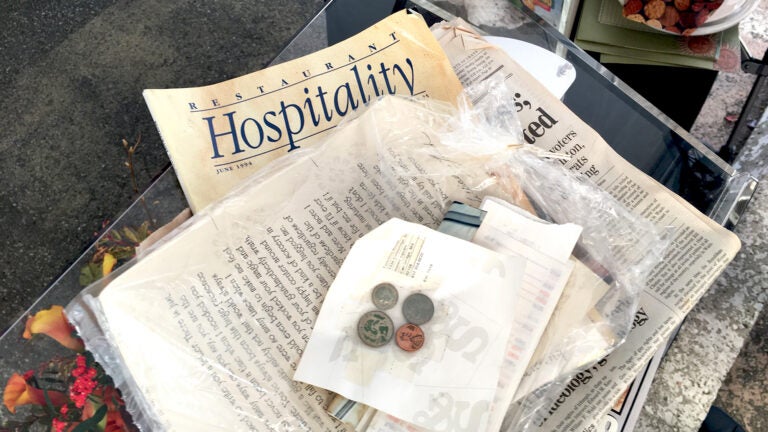 On the south-facing facade of S&S Restaurant, a storied institution that has operated in Cambridge's Inman Square since 1919, a green plaque is bolted to a wall behind a row of bushes. Dated October 1994, it reads, "A time capsule was buried below to commemorate the 75th year of the S&S Restaurant. Enclosed are souvenirs of the Mitchell-Wheeler families to be shared with all when the capsule is opened at our centennial celebration."
On Saturday morning, S&S regulars, staff, and members of the Mitchell-Wheeler families — including S&S owners and siblings Gary Mitchell and Aimee Baum, whose great-grandmother, Ma Edelstein, founded the S&S; and their mother, Doris Mitchell, who helped run the restaurant with her late husband, Chester Mitchell — gathered under a heated tent to celebrate the family business's centennial. It was time to unearth the 25-year-old capsule.
"My great-grandmother came to this country. She came over on the Mayflower, landed in Inman Square, and worked [at the S&S] every day," Gary joked with the crowd, eliciting laughter. "It was a labor of love. We've come here and enjoyed it every single day. This is our living room and our place to be."
From within the capsule — a clear, triangular prism with bits of dirt still clinging to its sides — Gary and Aimee pulled out a S&S menu from 1994 and asked the audience to take a stab at the retro prices. "Who can guess what a price of coffee was in 1994?" they shouted. ($1.10.) "How much was a chicken Caesar salad?" ($7.95.) "Here's one for all the kids: How much was a quarter-pound cheeseburger?" ($2.85.)
Members of the Mitchell-Wheeler families culled through the capsule to retrieve mementos they had contributed: t-shirts, letters, cassette tapes, newspapers, and coins. Some of the items were stored in a plastic bag from the now-defunct Blockbuster Video.
Marcia Baynes, a former teacher at the Kennedy-Longfellow School in Cambridge, was also there to retrieve something. In 1994, Baynes, who now lives in Virginia, was invited by Doris to submit letters written by Baynes's sixth-grade class to be sealed in the capsule. She was visibly moved as Gary and Aimee handed her a thick folder filled with letters and drawings from her former students.
Kristin Medeiros, one of Baynes's former sixth grade students in attendance, looked over the letter she had buried 25 years ago.
"It says, 'I am ten years old and attend the Longfellow School on Broadway. I am in the sixth grade. I am the youngest kid in the class. I like school some, but it's not my favorite,'" Medeiros told Boston.com. "It says 'my favorite food is pizza,' which I would still say now. The rest of it is pretty awkward."
Medeiros was one of two former students to attend the celebration, and said that she estimates at least half of Baynes's 1994 class no longer lives in Massachusetts. She currently lives in Medford, but her parents still reside in Cambridge, and she said that she makes time to visit the Cambridge institution.
"I still come to the [S&S] sometimes," she said. "My parents, we make fun of them because they come here so much. I worked here for a little while [in the S&S office], right at the end of high school, so I have a pretty good connection with the restaurant."
As the ceremony drew to a close, the Mitchell-Wheeler families gathered together to read aloud one more letter from the capsule. It was written by 92-year-old Doris and her husband Chester, who passed away in May 2018.
"When you open this capsule in 2019, it's iffy if I'll be with you," the letter began, going on to wish for the health and happiness of the couple's children and other family members and stressing the importance of finding a meaningful, enjoyable job. "I hope the world is at peace, and that Israel survives. That we clean the environment and find a cure for cancer and all other diseases. That the violence in the streets is no more, and that guns are gone from our society. And that all men and women live in harmony."
Doris made her way to the podium as the audience, many of them wiping away tears, gave her a standing ovation.
"For so many years, it was our pleasure [to run the S&S]," she said, thanking the staff and customers who contributed to the restaurant's success and longevity. "We never said that we didn't like a day of what we were doing. I surely won't be here another 100 years. My mother always said, 'God bless the S&S,' so I'm going to say that for her."
The S&S's centennial celebration will continue in the coming months with special menus, as well as a party at Cambridge City Hall in May 2020. Check out photos from Saturday's ceremony below.
S&S Restaurant; 1334 Cambridge St., Cambridge; Mondays–Thursdays from 7 a.m.–10 p.m., Fridays from 7 a.m.–11 p.m., Saturdays from 8 a.m.–11 p.m., Sundays from 8 a.m.–10 p.m.; sandsrestaurant.com