Restaurants
Breadboard Bakery is now serving cookies, kolaches, and breads in Arlington
Daisy Chow opened her first bakery on Tuesday.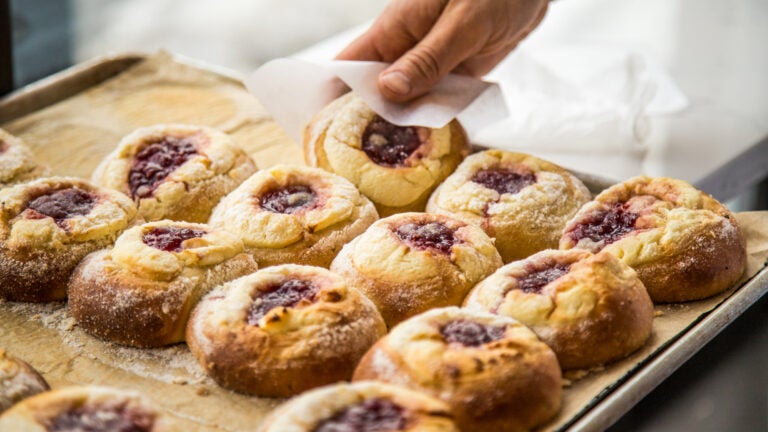 Welcome to the neighborhood, Breadboard Bakery.
The East Arlington shop debuted on Tuesday in the former Commune Kitchen space, offering an expanse of goods from accomplished baker Daisy Chow. This is the first brick-and-mortar bakery Chow has owned, though she's been a vital talent in Boston's baking community for two decades, working in the kitchens at Ames Street Deli, Maison Robert, Via Matta, and Clear Flour Bread, the last of which she baked at for over 15 years. Chow also ran a successful pop-up at Cutty's, a deli in Brookline Village, where locals fell for her fruit-filled kolaches — Czech pastries that are popular in Chow's native state of Texas.
Breadboard customers can find those coveted kolaches at her new shop, along with croissants, chocolate wacky cake, chocolate chunk shortbread, buckwheat chocolate cookies, cranberry muffins, and loaves of Danish rye and sourdough bread. For Chow, who recently moved to Arlington, the bakery is a highly personal project.
"I want a place where I can get good bread and pastry, and where I know the bakers making my food," Chow wrote on Breadboard's Kickstarter page, which she launched in August to raise money for the bakery. "I want a place that makes food that I want to eat, in a town where I want to live. I want a place where my employees can have a venue to share their craftsmanship and feel proud of their workplace. I want a neighborhood bakery that'll be open in all kinds of weather, where no matter what's going on in the outside world, neighbors can come in and get wholesome food to eat."
Breadboard Bakery is now serving baked goods on Tuesdays through Sundays from 7 a.m. to 3 p.m.
Breadboard Bakery; 203A Broadway, Arlington; Tuesdays–Sundays from 7 a.m.–3 p.m.; breadandstuff.com