Restaurants
A Vietnamese pop-up takes over a celebrated Somerville restaurant this weekend
Plus, the Thanksgiving sandwiches I'm eating before the big meal.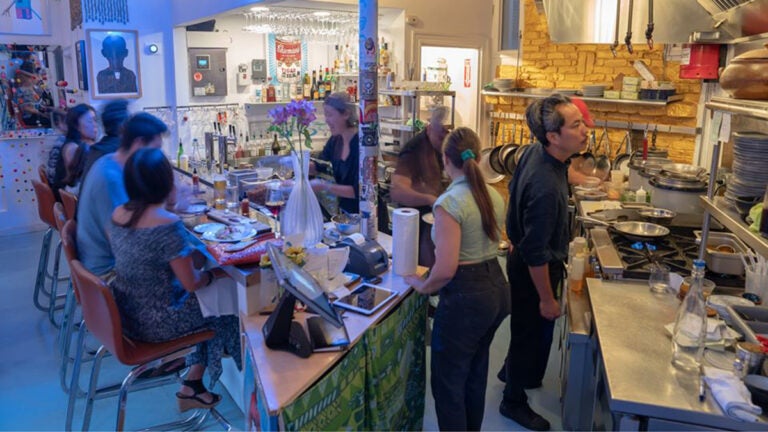 Has everyone recovered from Dunkin's decision to get rid of the double cup? Good. Let's move on to happier news.
Like baker Daisy Chow opening her very first brick-and-mortar, Breadboard Bakery; I'm incredibly excited to try the chocolate wacky cake once I make it over there. Or the fact that, as so many local institutions keep closing, the S&S in Cambridge just celebrated its 100th year of business with the unveiling of a time capsule (I may have shed a few tears while listening to the speeches).
Next week will be a busy one for most of us, with hectic travel plans and last-minute pie orders. Before the chaos truly sets in, here are a few events, openings, and dishes to take advantage of this weekend.
If you have yet to try bún chả — a Vietnamese staple that experienced a bout of celebrity status in 2016 after President Barack Obama and the late Anthony Bourdain met over a bowl in Hanoi — this weekend might be a good time to sample the hearty medley of pork and noodles. Contemporary Vietnamese pop-up, Nem Kitchen, will take over Somerville's Celeste on Sunday, serving lunch and dinner from 11:30 a.m.–10 p.m. Walk-ins are welcome, though the restaurant is quite cozy so reservations are recommended. Check out the menu below — beyond bún chả, chef Vinh Le, who previously worked as an urban design architect, is making banana blossom salad, caramelized salmon with coconut rice, and Vietnamese egg coffee. (21 Bow St., Somerville)
Still not sure which wines to bring to Thanksgiving dinner? Spend an afternoon at Wine Riot, an annual wine festival that takes place on Saturday at The Castle at Park Plaza, and you should come away with a few ideas. The tasting event highlights 40 wine exhibitors, plus attendees will have access to educational classes like Wine 101 and the Somm Sit Down Series. (And if wine isn't your thing? The Whiskey Extravaganza takes place on Friday, also at The Castle at Park Plaza.) (130 Columbus Ave., Boston)
This Brookline izakaya recently opened in the former Best Burger Bar on Washington Street, and this weekend, it's throwing a grand opening celebration with free yakitori (chicken skewers) and kushiyaki (even more skewers, which can include other types of meat and vegetables). The menu also features a range of Japanese fare, from sushi and ramen to tempura and gyoza. (195 Washington St., Brookline)
I've visited Banners, the new sports bar and restaurant near TD Garden, only once since it first opened (if I'm being honest, it was mostly to ogle at the massive screen that looms above the bar). There's now a new reason to go back: the North Station spot will launch its lunch menu on Nov. 25 at 11 a.m. with items like a smoked turkey sandwich, sweet potato "noodle" bowl, and a double stack burger with a choice of fries, coleslaw, or a side salad. The beer list here is fantastic, and I envision a mid-week burger and beer here in the future. (82 Causeway St., Boston)
5. Thanksgiving sandwiches
In my mind, there's no greater Thanksgiving leftover than the sandwich you cobble together the next day, a colossal thing packed with turkey, cranberry sauce, gravy, stuffing, and sure, why not, green bean casserole. But I'm craving it a little early this year, and have been searching for Thanksgiving sandwiches to pre-game with before Nov. 28. Sally's Sandwiches, the deli within Blackbird Doughnuts's South End outpost, has a great one: The Gobbler, a turkey sandwich made with stuffing, gravy, and canned cranberry sauce. For those who don't eat meat, I'm also scoping out Clover's Thanksgiving mushroom sandwich, filled with cranberry mayo, delicata squash, a mushroom loaf, and kombu-celeriac-mushroom gravy.