Restaurants
Rochambeau offers a dining experience with rock-paper-scissors odds
Review: A ritzy new Back Bay bistro wobbles on its execution of classic French fare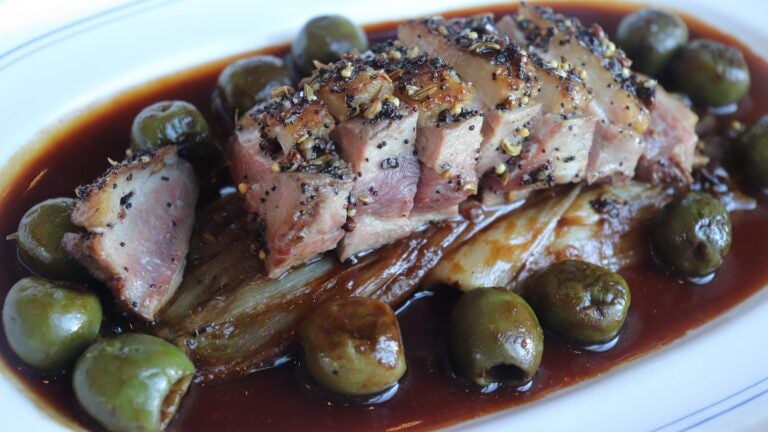 Our new restaurant reviews are part of a series of conversations we're developing to help you save time and stay informed on what's happening in the city. Be sure to sign up to receive the latest on the city's food scene.
Over the years, I've spent tens of thousands of dollars at the Lyons Group's many nightclubs, performance venues and bars around Boston. They account for hundreds of happy nights drinking at sizzling bars full of pretty party people looking for short-term romance (thank you, Alibi and Harvard Gardens), and playing or watching games (at Kings and the Bleacher Bar). It's a long-running smash of a hospitality group, a remarkable accomplishment in a city of fickle customers and absurd operating costs.
It runs restaurants, too: I've grazed, sipped cocktails, and spotted celebrities many times at Newbury Street's Sonsie, still sexy after all these years. One of its gigs is staffing and operating venues for legendary local chefs like Lydia Shire (at the estimable Scampo) and Jasper White (at his crowd-pleasing string of Summer Shacks). But neither my food-geek acquaintances discuss nor I discuss its restaurants. Maybe we're still stinging from the memory of Towne, its now-closed spot between the Prudential Center and the Hynes Convention Center, where Shire and White co-headlined. It was shockingly mediocre given its venerated chefs' pedigrees. Its replacement, the soigné new French bistro Rochambeau, features lesser-known but well-regarded co-chefs Nick Calias (ex-Brasserie Jo) and Matthew Gaudet (of the much-missed West Bridge). A lot of money went into a gorgeous rebuild: the two-level space has oodles of Parisian turn of the century glitz: romantically dim lighting, copious subway tile, gleaming copper and tin surfaces, splashes of jewel-toned color, swooping Art Nouveau details. A ground-floor café serves coffee, breakfast, and lunch, the back room features a hopping bar surrounded by cushy semi-circular booths, the posh upstairs room fronts an open kitchen and a smaller bar. It's loud (verging on painful when busy), swank and swinging, assuredly bound to be Instagram bait for tourists and conventioneers alike.
But at lunch and a few dinners here, I chafed at its often above-bistro prices and kitchen inconsistency. When I say inconsistent, I mean swinging between two poles: solid renditions of Gallic classics alternating with broad, punishing miscues. For every finely-rendered salade lyonnaise ($13) with perfect lardons and soft-poached egg, there was a crab remoulade ($17) sadly drowned in mayo. A seafood tin of luxury sardines ($14) was terrific, only to outshine an underseasoned bluefish pate ($13) that disappointingly featured an identical build of accompaniments. French onion soup gratinée ($12) hit the bullseye with a deep-flavored beef stock and pleasantly gooey gruyère topping, as did a tarte flambée ($13), the Alsatian flatbread topped with bacon, onions, and gruyère, a happy echo of Brasserie Jo. Rotisserie chicken ($25) was smallish but fabulously crisp, juicy and topped with delectable pea greens, while a Rohan duck breast ($29) had flabby skin and too much saccharinely-sweet orange sauce.
Vegetarian options include a good small plate of wood-grilled carrots ($14) with chili fire and crunchy quinoa, but a too-similarly-spiced za'atar rotisserie cauliflower ($22) with faint accents of mint and pistachio felt like a dull swindle. Hanger steak frites ($30, yeesh) committed the twin grievous sins of overseasoning and arriving with cold frites on a night when the dining room was nearly empty and we were seated near the kitchen. Grilled lobster frites was similarly not-so-bargain-priced ($54), and while the lobster was impeccably cooked, a gloppy, bland Bordelaise sogging up its abundant crown of frites aggressively undercut its virtues. A lunchtime croque-monsieur ($15) similarly suffered from oversauced soppiness: at least the skinny, blond frites arrived piping hot, in which case they are fantastic. Credit the coq au vin ($25) for adequately sating winter comfort-food cravings with a richly fatty red wine sauce, though I wondered why a kitchen unafraid of drowning dishes in sauce served this one with spätzle-like knephla on the side. It would be curmudgeonly to find fault in a homely, generous bowl of macaroni gratin with creamy Mornay sauce ($7); our table polished off that one. Pastry chef Michele Fadden's desserts were a nice-priced bright spot, featuring canonical profiteroles ($9) with a say-when pour of swoony chocolate sauce, and a not-too-sweet mocha bavarois ($9) with a supremely airy, delicate pastry crust.
The Lyonses are nothing if not skillful saloon keepers, and I doubt many customers are looking for complicated craft cocktails here, so a beverage program that hits its marks with classics like an Old Fashioned ($12) and martini ($12) should get by, though most specialty cocktails lean grandma-potion sweet, and the understaffed main bar struggled to keep pace with weekend crowds. Fifteen beer options ($7-$13) serve macro- and microbrew lovers equally well. Wine manager William Moriarty (ex-Barbara Lynch Collective) has assembled an impressively deep, French-heavy list, with enough reserve-list trophy bottles for the expense-account mob. With a snowballing food tab, we went a little more modest, enjoying glasses like the 2018 Clos San Quilico Patrimonio ($14), a crisp Corsican rosé, a serviceable, quaffable half carafe of the house red ($18), and a bargain-priced 2016 Chateau d'Aussières Corbières ($62), a silky, sweet-spiced, syrah-heavy red Lafite from Languedoc-Roussillon.
At the end of the day, I'd much rather devote my writing to extraordinary cuisine driven by an indie chef's idiosyncratic muse, or at least to flawless renditions of tried-and-true genres. Rochambeau, by dint of its atmosphere, prime location and respectable service, will likely manage to flourish as a swish tourist trap: a versatile and fun three-meals spot in a beautiful and convenient setting. But I came away feeling its unambitious version of French cuisine was too raggedly executed and a slice too pricey to get much of my repeat business. If it can't up its game beyond these early weeks, I suspect many locals will do the same.
Rochambeau; 900 Boylston St., Boston; Cafe: Daily 7 a.m.–7 p.m., Restaurant: Mondays–Wednesdays from 11:30 a.m.–10 p.m., Thursdays–Fridays from 11:30 a.m.–11 p.m., Saturdays from 10 a.m.–11 p.m., Sundays from 10 a.m.–10 p.m., Bar: Mondays–Fridays from 11:30 a.m.–2 a.m., Saturdays and Sundays from 10 a.m.–2 a.m.; rochambeauboston.com
https://poll.fm/10464247