Restaurants
Woods Hill Pier 4 lands in the Seaport with waterfront views and farm-to-table fare
The restaurant will start serving dinner on Nov. 26.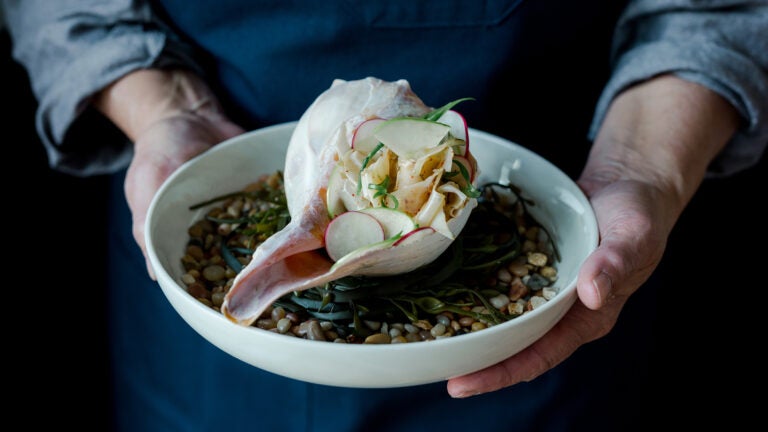 A dazzling Seaport newcomer is about to take over a storied location on the Boston Harbor.
On Nov. 26, Woods Hill Pier 4 will debut at 300 Pier Four Blvd. in a 186-seat space, boasting exceptional views of both the water and the neighboring Institute of Contemporary Art. Its former occupant is an iconic one: Anthony's Pier 4, a successful restaurant that drew locals and celebrities alike, and one that survived for 50 years until closing in 2013.
"As a Boston native, I have always admired the iconic Anthony's Pier 4 restaurant, which was so rich in history," Woods Hill Pier 4 owner Kristin Canty shared in a press release. "It is exciting that location is back in the hands of a locally-owned restaurant family. Our goal is to honor the memory with a stunning restaurant committed to serving nutritionally dense food in a thoughtful and sustainable manner."
Canty's dedication to organic and sustainable living began with her third child, a son who developed severe environmental allergies at a young age. After countless doctor's visits and a slew of medication, Canty systematically removed chemical-heavy cleaning detergents from her home and started to focus on organic, natural produce. She said that her research led her to the benefits of raw milk, and that once her son began consuming unpasteurized milk, his allergies all but disappeared. An exploration of ancestral health, which focuses on traditional farming and fermented and raw foods, began.
In 2013, Canty purchased a 360-acre farm in Bath, N.H., which currently produces an assortment of organic vegetables, fruits, honey, and mushrooms, and which is where lead farmer Justin Smith raises cows, pigs, hens, ducks, and other farm animals for Canty's two Concord restaurants: Woods Hill Table and Adelita. Woods Hill Pier 4 will also source most of its ingredients from Canty's farm, as well as from other local farms and purveyors.
Heading up the kitchen is chef Charlie Foster, who has served as the executive chef at Woods Hill Table since its 2015 debut, and who cut his teeth at Ken Oringer's Toro and Clio in Boston and at Daniel Boulud's DBGB in New York City.
"We have something to say [with our food]," Foster previously told Boston.com, emphasizing that the sourcing of ingredients always comes first. "I want to fill a niche here and do something that hasn't been done."
To that end, the menu highlights sustainable seafood like Rhode Island whelk in a coconut lobster broth, citrus-cured Faroe Island salmon, and green peppercorn-crusted swordfish. Meat, whether sourced from Woods Hill Farm or elsewhere, is ethically-raised and fed an organic diet, like the Woods Hill Farm glazed pork butt served with autumn squash spigarello, and the grass-fed hangar steak offered alongside potato mille-feuille, romanesco, and steak sauce. House-made pasta includes squid ink casarecce with lobster and crab ragu, and bucatini all'amatriciana with Woods Hill Farm guanciale. There are smaller, sharable plates, too: New England raw cheese, East Coast oysters, and popovers from The Popover Lady served with Island Creek Oyster Bar caviar.
Produce from Woods Hill Farm shows up on the cocktail menu as well. The mezcal-based Concord Cobbler uses grape compote from the farm, while the Lavender Bee's Knees highlights the farm's honey along with gin, lemon, and foraged lavender. Natural and biodynamic wines are available, as is beer from New England breweries like Barewolf Brewing Co., Cisco Brewers, and Maine Beer Co.
Once the weather gets warmer, Woods Hill Pier 4 will open its patio, giving diners access to waterfront seating. A private dining room holds up to 50 guests, and the restaurant's entryway is decorated with a collage from local artist Betsy Silverman: buoys made from recycled magazines, an homage to Anthony's Pier 4 nautical theme.
When Woods Hill Pier 4 opens on Nov. 26, it will focus on dinner, available daily at 5 p.m.
Check out more dishes and drinks from the upcoming restaurant below.
Woods Hill Pier 4; 300 Pier Four Blvd., Boston; Daily from 5 p.m.–close; woodshillpier4.com