Restaurants
November's biggest restaurant openings and closings
A fine-dining chef put his spin on fast casual fare, and a roast beef sandwich destination abruptly shuttered.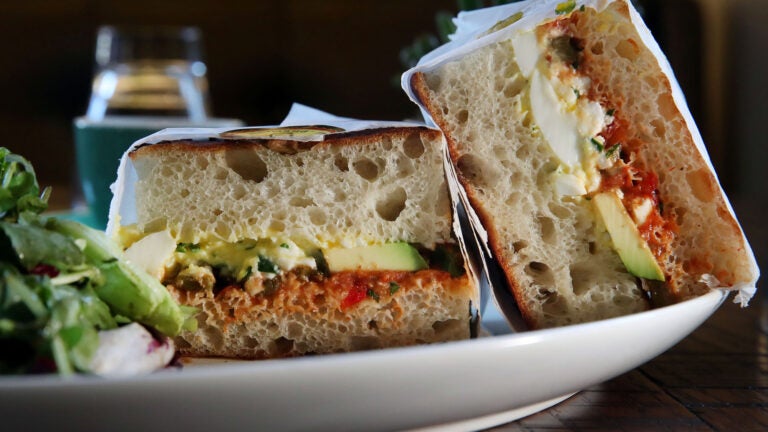 Can't keep up with all of the restaurant and bar openings and closings happening around Boston? We highlight the need-to-know newcomers and surprising shutters that made headlines this past month.
Openings
Breadboard Bakery
After spending two decades baking in the kitchens of Ames Street Deli, Maison Robert, Via Matta, and Clear Flour Bread — not to mention a successful pop-up at Cutty's in Brookline — baker Daisy Chow has finally opened her own space. Breadboard Bakery in Arlington is now home to kolaches, cookies, cakes, muffins, and breads, served out of the former Commune Kitchen space. (203A Broadway, Arlington)
Bluestone Lane
This Australia-influenced, New York-based coffee shop has expanded across the U.S. since first opening in 2013, but in early November it debuted its first Boston-area outpost in rapidly changing Harvard Square. Diners will find the brand's frequently Instagrammed avocado toast on the menu, along with lemon ricotta pancakes, breakfast burritos, sandwiches, and salads. To drink, there are the usual coffee and tea options, plus cold-pressed juices and wellness lattes. Another Bluestone Lane location is scheduled to open in downtown Boston in the coming months. (27 Brattle St., Cambridge)
Frank
After former L'Espalier chef-owner Frank McClelland closed his fine-dining stalwart in December 2018, fans of his collectively wondered: What was the chef going to do next? The answer: Frank, an all-day café, market, bar, and restaurant that recently opened across from the commuter rail station in downtown Beverly. Stop by for a breakfast sandwich before work, grab some cauliflower mac and cheese to go, or enjoy a plate of lamb meatballs and a cocktail at the bar. Welcome back, chef. (112 Rantoul St., Beverly)
Le Canular
Looking for a cozy hideaway to sip on a few glasses of wine? The team behind Whaling in Oklahoma recently introduced an adjacent wine bar — dubbed Le Canular — to the South End, where shareable snacks are offered alongside $13 glasses of wine. The bar is currently open Wednesdays through Saturdays starting at 6 p.m. (645 Tremont St., Boston)
LoLa Burger
After finding success in Nantucket, LoLa Burger opened its second outpost in the Seaport in mid-November, bringing a selection of decadent burger options to the former 111 East hot pot space. Located across the street from sibling restaurant Lola 42, the burger joint offers customizable creations as well as house favorites, like the LoLa Burger, an eight-ounce Angus beef patty topped off with foie gras gravy and served on an English muffin. (11 Fan Pier Blvd., Boston)
Ōmori Izakaya
In late November, a new Japanese izakaya landed in Brookline with sushi, yakitori, and other snackable items, along with a notable sake list. Ōmori Izakaya, which features a patio, serves lunch specials on weekdays, making it a prime midday spot for those working in the neighborhood. (195 Washington St., Brookline)
Woods Hill Pier 4
Restaurateur Kristin Canty has expanded her sustainably-focused, Concord-based Woods Hill Table concept to the Seaport with Woods Hill Pier 4, a sleek, waterfront restaurant that opened on Nov. 26 in the former Anthony's Pier 4 space. In the kitchen, chef Charlie Foster uses ingredients sourced from Canty's Woods Hill Farm and other local purveyors to create dishes like parsnip tartine, sunflower risotto, and crispy lamb ribs. Come by for a meal with a view: floor-to-ceiling windows look out onto both the Boston Harbor and Institute of Contemporary Art. (300 Pier 4 Blvd., Boston)
Closings
Addis Red Sea
Ethiopian restaurant Addis Red Sea closed its South End spot in November after 31 years; according to Eater Boston, the restaurant had been listed for sale since 2015. The concept had previously operated a second location in Porter Square, which closed in 2013.
Country Mile
Roughly one year after opening, Country Mile closed its cozy Watertown wine bar and restaurant in early November, with owners Matt and Nancy Sargent sharing on the restaurant's now-defunct Facebook page that "Circumstances have conspired to make it necessary for us to step aside and make way for what's next. It's a long and sordid tale, some of which I've aired already here on social media, some of which will remain private, but know that we've loved every minute of showing you crazy folks our version of hospitality."
D'Amici's
On Nov. 11, D'Amici's four remaining locations closed, ending the popular North Shore bakery's 26-year run. "For two years now, my husband and I poured everything we had in that business," wrote D'Amici's co-owner Sandrine Coyer in a since-deleted Facebook post. "It was our dream and we worked everyday as hard as we could to make it work. Sadly, this business and the struggles it was having became so overwhelming that we could barely survive anymore."
Nahita
After opening to plenty of fanfare in November 2018, Nahita announced on Nov. 22 that it had closed its expansive Back Bay restaurant, a glitzy space that won Eater Boston's 2018 Design of the Year award. But its owner, Turkish company D.ream, may have future plans for the space. In a statement, D.ream said that "We look forward to sharing many more memories and cooking up new flavors with you in the 100 Arlington St. space in Bay Village soon, stay tuned."
Roast Beast
It was a swift exit for Roast Beast, a Comm. Ave. sandwich shop owned by D.J. Lawton, who abruptly closed his business on Halloween night after a fire inspector told him that he needed to install a ventilation hood above the kitchen's electric griddles in order to remain open. Lawton, who told Boston.com that this had never been an issue during Roast Beast's 8.5-year run, chose to forego the costs associated with installing a hood and instead closed the restaurant. There's still a chance for a rebirth, though: Lawton has offered to sell the Roast Beast brand, including all of its recipes.