Restaurants
An underground bar is now pouring drinks downtown
Plus, a new movie theater has a star-studded snack menu.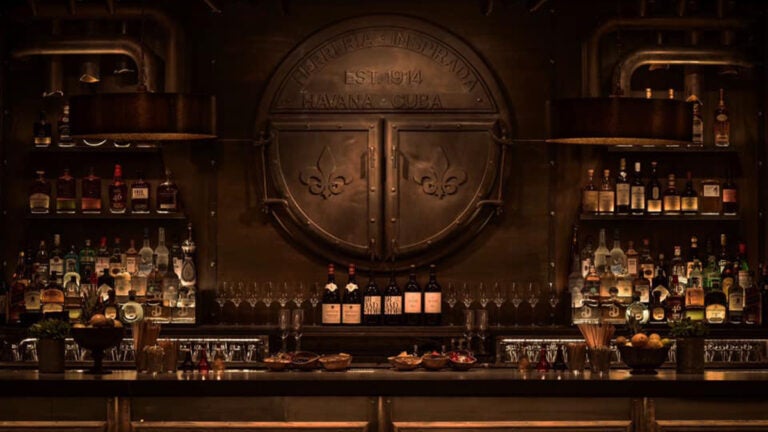 It's a short week for a lot of people, as many are hitting the road (or the skies) to spend Thanksgiving with loved ones. I hope your travels are safe, and your stomachs are full.
For those who are spending the holiday solo, you might find this list of restaurants helpful (just double-check their Thanksgiving hours first). I hope your holiday is relaxing and that the leftovers are just as good as your first meal.
And if you're already tired of all this Thanksgiving talk, here are a handful of events and openings around the city, including a tiki pop-up, a Black Friday brunch, and a new underground bar.
This was a nice little pre-Thanksgiving surprise. When Mariel, a Cuban restaurant located in an old downtown bank, first opened at the end of September, COJE Management Group hinted that there was more to come to their latest project: a separate cocktail lounge would open downstairs at a later date. That later date is here, as Mariel Underground started serving drinks on Tuesday night. The lounge offers drinks and happy hour bites on Tuesdays–Fridays from 5 p.m.–9 p.m., with table reservations opening up at 9 p.m. On Saturdays, Mariel Underground will open for drinks starting at 9 p.m. — I'll be checking it out as soon as soon as I emerge from my turkey coma.
If you're planning on hitting up a movie sometime this weekend, may I suggest the new ArcLight Cinemas that opened at Hub on Causeway on Tuesday? In addition to two concessions stands, the Los Angeles-based movie theater features Café Bar, a 65-seat bar and lounge serving drinks and shareable plates, including popcorn infused with spices from some of Boston's biggest names: za'atar from Sofra Bakery, pickled salt spice from Mamaleh's Delicatessen, chocolate pie spice from Gâté Comme des Filles, and more. There are also Neapolitan meatballs, salted lavender cashews, nacho tots, and other snackable bites to enjoy before seeing "Knives Out" (trust me, you want to see "Knives Out"). (60 Causeway St., Boston)
3. Beachbum Berry Presents: Sippin' Santa at Shore Leave
I love a great tiki bar, especially when it serves as a transformative experience from the far-from-tropical weather outside. On Tuesday, South End tiki haven Shore Leave launched its Sippin' Santa program, a holiday event that runs in conjunction with the Miracle pop-ups bars. Decked out in holiday lights and Santa figurines, Shore Leave is now serving drinks like the Festivus Flip with rum, bourbon, ginger-infused Amaro Silano, pomegranate syrup, and Aztec chocolate bitters, along with the large-format Jingle Bowl, which is what I'm hoping to share with a group of friends on my next Shore Leave visit. The pop-up runs until New Year's Eve, so there's plenty of time to celebrate the holidays here, tiki-style. (11 William E. Mullins Way, Boston)
Happy birthday, Puritan & Co.! The Inman Square restaurant turns seven on Nov. 27; to celebrate, diners are encouraged to stop by starting at 8 p.m. for complimentary snacks from chef Will Gilson and special drinks from Privateer Rum, Notch Brewing, and Sagamore Spirit. (1166 Cambridge St., Cambridge)
5. Black Friday dining deals
A handful of restaurants around Boston are participating in Black Friday (Nov. 29) with deals that don't require standing shoulder-to-shoulder in line for five hours. In the South End, Loco will be serving $1 oysters and Taco Tuesday pricing (for select tacos) starting at 2 p.m.; down the street, Fat Baby will offer $1 dumplings and 50-cent wings starting at 5 p.m. And at City Tap House in the Seaport, Black Friday Brunch will be available from 11 a.m.–3 p.m., featuring $5 black mimosas made with activated charcoal for all your detoxing needs. (various locations)