Restaurants
Here's your first look at Cósmica's modern Mexican menu
The Revolution Hotel's new restaurant and bar opens on Feb. 6.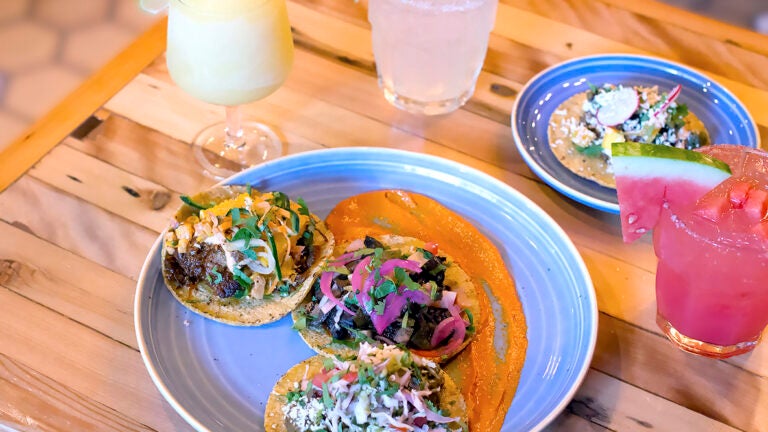 Ask Colton Coburn-Wood what he loves about cooking Mexican food, and he'll tell you it's all about breaking the rules.
"I think the thing that I find really cool [about Mexican food] is that, unlike French or Japanese or Italian [cuisine], there are rules but you can bend them," said the chef, who recalls charming his way out of working on French or Italian dishes in cooking school, asking instead to experiment with salsas or cochinita pibil, a traditional Yucatán dish. "Let's take birria, for instance. Someone's birria, in this town, made by this family, they're going to use [specific] types of spices. And maybe it's not a stew, but maybe they cook it down more and it's a taco."
At Cósmica, a Mexican restaurant and bar that opens inside the South End's Revolution Hotel on Feb. 6, Coburn-Wood is interpreting his own birria — which often features goat, beef, or mutton — into an adobo lamb stew. It's just one riff on a traditional dish that the chef, who put his stamp on Boston's taco scene while working at Yellow Door Taqueria, is bringing to Cósmica's menu.
"There are a lot of taquerias in the city, but we're trying to bring more of the modern Mexican thing that's going on to Boston," said Coburn-Wood, who previously worked at the now-closed restaurants La Verdad and Hammersley's Bistro, in addition to Yellow Door Taqueria and, more recently, Beat Brew Hall. "We want it to be casual, but we want the food to be a reflection of the stuff I had traveling in Mexico, with kind of a twist on it. …I feel like everyone [in Boston] has a chicken tinga taco. I'm trying to switch it up a little bit and bring something new to this city." 
The 5,000-square-foot restaurant, which comes from the team behind The Beehive and Beat Brew Hall, will serve items inspired by Coburn-Wood's travels: shareable snacks like escabeche and chips and salsa, along with seasonal meat, fish, and vegetable entrées, including esquites (street corn salad), tuna ceviche, cochinita pibil, and crab tostadas. There will also be the option to order mole poblano chicken, chili roasted brisket, and grilled broccolini as a taco or a bowl (tortillas will come from Mi Tierra Tortillas, a Springfield-based company that grows its own corn). A secret taco, which can be ordered with a password found on Cósmica's Instagram, adds a playful touch to the menu.
There will, of course, be plenty of tequila and mezcal. At the 30-seat bar, diners will find boozy slushies, a house margarita and mai tai on tap, tequila shots with a sangrita chaser, and spiked aguas frescas. A selection of wine and beer will also be available, along with additional cocktails like the Skinny-Dipper made with mezcal, smoked pineapple, and ginger liqueur.
The Revolution Hotel experienced some buzz earlier last year when it topped Condé Nast Traveler's annual Reader's Choice Awards, a pleasant surprise for a relatively low-budget hotel that emphasizes stylish communal spaces in a mid-century building. To continue that vibe, Cósmica hired Boston-based Sousa Design and Dave "Dave-O" Olson, who designed the restaurant with exposed brick walls, plenty of hanging plants, and industrial, modern accents.
In the warmer months, Coburn-Wood said that Cósmica will open an adjacent patio, where he hopes to serve more quick-service options to diners.
"If they had to be somewhere in 15 minutes, they could crush a beer, crush a couple of tacos, and be on their way," he said.
Cósmica opens at 4:30 p.m. on Feb. 6, and will concentrate on dinner to start, followed by brunch and lunch at a later date. Take a look at the opening menu below:
Cósmica at the Revolution Hotel; 40 Berkeley St., Boston; Sundays–Wednesdays from 4:30 p.m.–midnight, Thursdays–Saturdays from 4:30 p.m.–2 a.m.; cosmicaboston.com