Restaurants
8 places to build the ultimate gingerbread house this season
It's all in the (candy) details.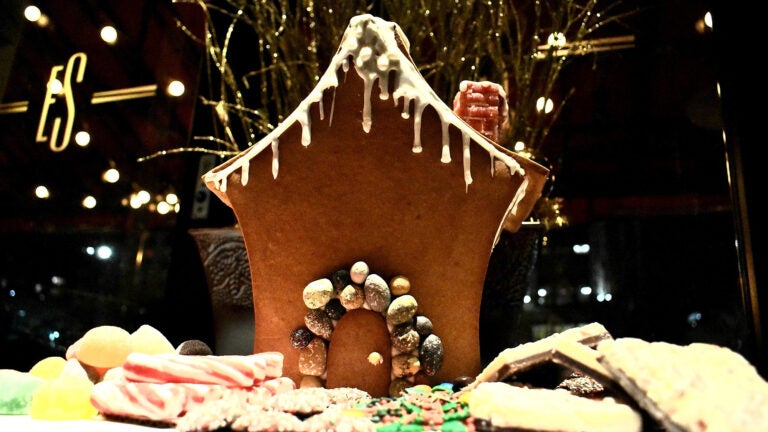 Barring any reading of the original (and morbid) tale of "Hansel and Gretel," gingerbread houses are a whimsical holiday treat, made that much sweeter when you build the house yourself. From constructing a candy cane lawn to using gumdrops as doorknobs, an afternoon spent constructing these saccharine abodes is enough to put anyone in the holiday spirit.
Whether you're looking for a date-night activity or bringing together the whole family, here are eight places to show off your gingerbread house-building prowess this season.
Fairmont Copley Plaza
This might be the swankiest gingerbread house party in the city. Held inside the Fairmont Copley Plaza's grand ballroom, guests will receive an assembled gingerbread house to decorate with a selection of candy while live holiday music and classic holiday movies play in the background. Tickets also include canapés and — because this is a grown-up decorating session — an open bar with wine, beer, and boozy eggnog. (138 Saint James Ave., Boston; Dec. 10 from 7 p.m.–10 p.m.; $85)
Lincoln
There's an extra incentive for crafting a stellar gingerbread house at Lincoln this season: One winner, determined by voters via the Southie restaurant's social media channels, will receive a Lincoln swag bag. Choose from three dates to tackle Lincoln's gingerbread-making kit; tickets also include a glass of Prosecco and a screening of a classic holiday movie. Guests are encouraged to bring a toy or new clothes to donate to Julie's Family Learning Program of South Boston. (425 West Broadway, Boston; Dec. 10 from 7 p.m.–9:30 p.m., Dec. 16 and Dec. 18 from 7 p.m.–10 p.m.; $40)
Eastern Standard
This Kenmore Square stalwart is usually a destination for top-notch cocktails and food. Pastry chef Linnea Blake is giving everyone another good reason to visit this season, when she'll supply gingerbread houses for all ages on Dec. 14, complete with gingerbread walls, roofs, and chimneys. Decorate your new house with an assortment of candy while enjoying homemade punch and holiday bites, and bring along a toy to donate to Christmas in the City, an organization dedicated to helping Boston-area families experiencing poverty and homelessness. (528 Commonwealth Ave., Boston; Dec. 14 from noon–2 p.m.; $65)
Loretta's Last Call
Head to this country joint in the Fenway for a gingerbread house-building party, featuring a complete house kit, gingerbread beer, and other holiday treats. It wouldn't be a real trip to Loretta's without music, of course — country duo Martin & Kelly will provide the live tunes while guests work on their candy-laden houses. (1 Lansdowne St., Boston; Dec. 18 from 6:30 p.m.–8:30 p.m.; $15)
Four Seasons Boston
Keep your eyes on the prize at Four Seasons Boston's gingerbread house party, held within The Bristol Restaurant and Bar: One first prize winner will receive a trophy and a complimentary stay in one of the hotel's newly renovated guest suites. To craft your winning creation, an assembled gingerbread house will be provided along with candy fixings. Tickets also include music, drinks, and bites from The Bristol's kitchen. (200 Boylston St., Boston; Dec. 19 from 6 p.m.–7:30 p.m.; $150)
Casa Caña
This Latin kitchen and bar will throw its own decorating party with a gingerbread house fiesta on Dec. 21. Along with an assembled gingerbread structure, tickets include decorating supplies (read: tons of candy), snacks, and a specialty beer to sip on while giving your edible home a very merry makeover. (1234 Soldiers Field Road, Boston; Dec. 21 from 2 p.m.–4 p.m.; $25)
Night Shift Brewing
In conjunction with the release of its new, small-batch stout dubbed Ginger Fury, Night Shift Brewing will host a gingerbread house decorating party at its original Everett location. Each ticket includes a gingerbread house kit and a beer of your choice. (87 Santilli Highway, Everett; Dec. 21 from 11 a.m.–2 p.m.; $15)
Aeronaut Brewing Co.
Amid live music, a holiday movie screening, and plenty of beer, Aeronaut Brewing will offer guests the opportunity to choose from three gingerbread house decorating sessions on Dec. 22, with the option to bring your own supplies (free) or decorate a pre-assembled house ($15). Prizes for the most creative gingerbread houses will be awarded 15 minutes before the end of each session, giving winners a full season of bragging rights. (14 Tyler St., Somerville; Dec. 22 from 12:30 p.m.–7:30 p.m.; free–$15)