Restaurants
Flight Club, a high-tech darts bar, just opened in the Seaport
Throw a dart with one hand. Throw an oyster back with the other.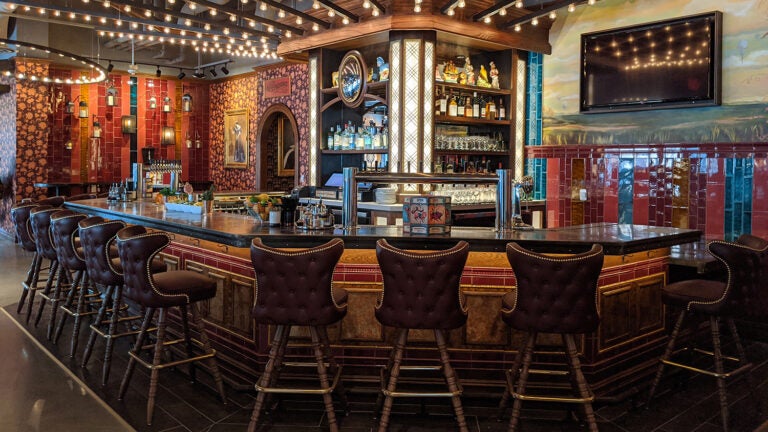 Ready, aim, bullseye: A darts club called Flight Club debuts Friday in the Seaport with a raw bar, a restaurant, and a darts set-up that goes above and beyond your typical dive bar dartboard.
This is the second U.S. location of Flight Club; a Chicago location opened in 2018. The club offers 11 playing areas called oches (which sounds like "hockey"), which are large enough to hold up to 20 players each, along with a high-tech dartboard featuring five original games, tracking technology, and automatic scoring. Games include Demolition (a riff on 301, the classic darts game), and while the club requires six or more players for a reservation, Flight Club also offers something called "Social Roll-Up," which allows smaller groups to walk in and join a group of strangers — soon, hopefully, to all become friends.
"The concept [of Flight Club] isn't designed to be like League Darts," Alan Cichon, president of Flight Club U.S., told Boston.com. "It's designed to promote social interaction."
Cichon said the combination of Boston's history, sports fanaticism, and tech scene made it a natural choice for this next Flight Club location.
"[The history of darts] is kind of steeped in the heritage of Victorian fairgrounds," he said. "We think Boston fits really well with this tradition and heritage, and we thought it would be a natural fit."
"Plus," he added, "Boston is the center of everything cool, especially the Seaport."
Flight Club, which also includes a restaurant and bar, will offer two menus. The oche menu is available for guests playing darts within one of the oches, and will feature smaller, sharable bites like yuzu guacamole with corn nut crunch, jalapeño powder, and tortilla chips; and white bean dip with truffle oil, parsley, vegetables, and potato chips. The all-day menu is available for anyone coming into the club, and includes dishes like pumpkin risotto with Vermont Creamery goat cheese, spiced pumpkin seeds, basil, and leek confit; and a double burger with mushroom cheese, red onion marmalade, and Iggy's brioche. Local breweries and distilleries were tapped to fill the beer, wine, and cocktail list, and — because this is New England — Flight Club will also offer a raw bar with a rotating selection of local oysters and clams.
Flight Club has five darts bars in the United Kingdom as well the one in Chicago. Social Entertainment Ventures, the company running the U.S. Flight Clubs, also runs AceBounce, a game venue; Puttshack, a high-tech mini golf experience; and Wonderball, a ping-pong bar.
Flight Club will soft open this weekend, opening at 4 p.m. Friday and Saturday and at noon Sunday, with a grand opening scheduled for Monday.
Flight Club; 60 Seaport Blvd., Suite 215; Mondays–Thursdays from noon–midnight, Fridays and Saturdays from noon–1 a.m., Sundays from noon–10 p.m.; us.flightclubdarts.com/boston
Correction: This article has been updated to clarify the operations of Social Entertainment Ventures. Boston.com regrets the error.