Restaurants
Take a chance on love, and whatever "nahm prig jeaw" is
Chalawan offers an eye-opening, sensational tour of overlooked Southeast Asian cuisines.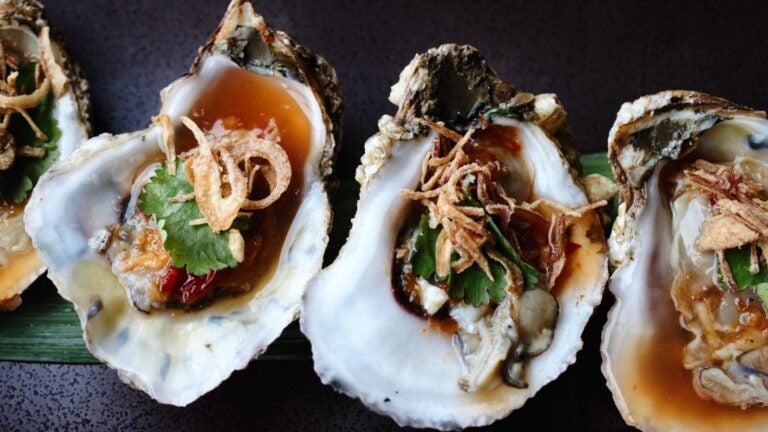 Our new restaurant reviews are part of a series of conversations we're developing to help you save time and stay informed on what's happening in the city. Be sure to sign up to receive the latest on the city's food scene.
Greater Boston has plenty of restaurants serving Southeast Asian cuisine, with Thai outposts being the most numerous. Our Thai options have evolved the most lately, too, with newer entrants expanding beyond familiar Central Thai dishes to the northern and Isan regions as well as street foods. But the vast majority still cater to timid American tastes by editing out the fire, acid and funk that characterize truly traditional fare, leaning on sweeter, milder flavors. Other countries from the region get shorter shrift: Dorchester has its concentration of wonderful Vietnamese joints; Lowell is home to fine Cambodian fare. But restaurants essaying the traditional foods of the Philippines, Laos, Singapore, Malaysia, Indonesia, Myanmar? They exist in ones and twos, or not at all. That's a cavernous gap in our scene.
So it's thrilling to find a place like Porter Square's new Chalawan where chef Palm Amatawate works outward from his Thai roots to hopscotch around the region, glorying in its diversity as well as its common threads of tropical and sub-tropical ingredients and fiery, sour, salty and sweet flavors, occasionally adding an entry from Chinese idioms that have a historical foothold there. Just navigating his menu prose can be daunting to neophytes: you will encounter unfamiliar ingredients (what's a yam bean?) and a confusing lack of punctuation. My companions and I had no idea what gulai kurma was, and only a faint notion of what nahm jim might be, but we tiptoed into those dark alleys anyway, and found gold again and again.
It doesn't hurt that many of Amatawate's starters are so delectable and gorgeous to behold, little jewels of distinctive, singing flavors. Chicken betel leaf ($3.50 each) uses a zippy, bright-green herb to wrap ground chicken seasoned with smoked nahm prig jeaw (a tangy/hot condiment made with dried chilies) and fragrant with lemongrass, lime leaf and fried shallots: an Instagram snap and then one dreamy mouthful. Seared Alaska scallop ($4 each) with green nahm jim (a sweet/sour/hot condiment made with fresh chilies) gets accents of ginger, scallions, shallots, and a few shreds of caramelized crispy duck, the sort of dish you might find in some modernist fine-dining spot in Bangkok. A freshly-shucked East Coast oyster ($4 each) is picture-pretty and barely dotted with red nahm jim, shallots, cilantro, and salmon caviar, the trenchant Thai flavor burst up front not overwhelming the bivalve's briny delicacy. A few of these small wonders ought to calm your nerves.
Larger shareable starters include crispy pork belly ($12), a pile of chewy, fat-edged cubes in a glaze of plum and tamarillo (a sweet/sour tropical fruit) with nam pla prig, a dip of lime juice, fish sauce, chilies and garlic you might know from the relish caddy of a good Thai place. Aunty Wang's steamed snapper dumplings ($9) are rectangular wonton-wrapper pockets originating in China's Yunnan province: novel, delicate, and admirably punched up with chili/black vinegar sauce. Thai crispy chicken skin ($10) is like a lighter version of fried pork rinds, subtly dusted with Isan spices but gaining oomph from dips of eggplant relish and sriracha. (This one gets my nomination for maybe the best bar snack ever.)
The salad section starts with a bright, simple Balinese gado-gado ($10) of green beans, watercress, bean sprouts, and sharp herbs in a peanut-based dressing. Prawn and green apple salad ($12) features fat shrimp, earthy (and unearthly-looking) coral mushrooms, yam bean (what do ya know: It's also called jicama!) and carrots in a sweet, lightly funky fish sauce dressing. We almost ordered a second plate of roasted duck salad ($14), so dazzled were we by its cunning interplay of fatty/crisp duck, Chinese cabbage, watercress, fierce aromatics, and piquant yellow-bean vinegar dressing.
Main dishes center on Southeast Asian curries, and I trust you know that "curry" means more than that yellow powder found in the Stop and Shop spice aisle, referring to any one of a million uniquely geography- and family-specific, complexly-spiced sauces. (Western analog: "pasta sauce" does not equate to a jar of Ragu.) So the curry on Aceh chicken gulai kurma ($19) is a creamy concoction of cashews, onions, tomatoes, and yogurt, with characteristically Indonesian sweet spices (cinnamon, clove, star anise, nutmeg). Sumatra beef cheek rendang ($28) is a staggering rendition of a canonical Indonesian curry: A hefty hunk of tender, fatty, brisket-like beef in a chili-spiked sauce wafting bold aromas of star anise and cinnamon, made rich and silky with coconut milk, and underpinned by vivid aromatics (shallots, galangal, lemongrass, garlic, ginger). Burmese hang le curry ($19) shares neighboring northern Thailand's affinity for drier, coconut milk-free curries, here dressing pork belly in a mélange of baby ginger, shallots, crushed peanuts, tamarind, and gentle fermented accents of pickled garlic, shrimp paste and fish sauce. You will need starches to mop up those amazing sauces, so the excellent brown or white jasmine rice ($2 per person) is a must, though we're glad we got some of the coconut-dabbed Malaysian flatbread called roti canai ($2 each), too.
The terrific desserts (all $8) acknowledge Westerners' preference for elaborate finishing courses, notably a Thai tea caramel custard with salted caramel ice cream, and a luscious Asian banana cake with cinnamon/palm sugar caramel and coconut ice cream. Traditionalists can opt for the homey Thai black sticky rice with taro, lychee, and mango ice cream. (The ice creams are from Christina's, thus unsurprisingly superb, and available solo.) The beverage program shows similar sophistication with fascinating soft drinks like fizzy, sweet/tart cucumber squash ($6) and nutty, vanilla-scented pandan leaf tea ($4) served in a French press. The wine list runs quaffable and affordable: 30 bottles ($24-$85, most under $40) and ten by the glass ($7-$10). We prefer beer with these foods and were ably served by three American micro drafts ($8) and three crisp bottled Southeast Asian pale lagers ($6.)
The ambiance of this comfortably noisy storefront is modest, minimalist and softly lit, with a soothing, pastoral Thai mural along one wall. Service is sweet and patient with the many initially-baffled customers. If your explorations of Southeast Asian foodways have been limited to saccharine pad Thai, dull chicken breast satay, and maybe the odd banh mi or bowl of pho, a menu this unfamiliar requires a leap of faith. My advice is to muster up some courage, bring a new date or a few friends, and jump. Chalawan delivers more giddy deliciousness and joy than just about any other Boston restaurant opening this year.
Chalawan; 1790 Massachusetts Ave., Cambridge; Mondays–Fridays from 5 p.m.–10 p.m., Saturdays and Sundays 12 p.m.–3 p.m. and 5 p.m.–10 p.m. www.thechalawan.com