Restaurants
The Baseball Tavern will close soon — but it won't be gone for good
The bar plans to reopen in a new development taking over a stretch of Fenway.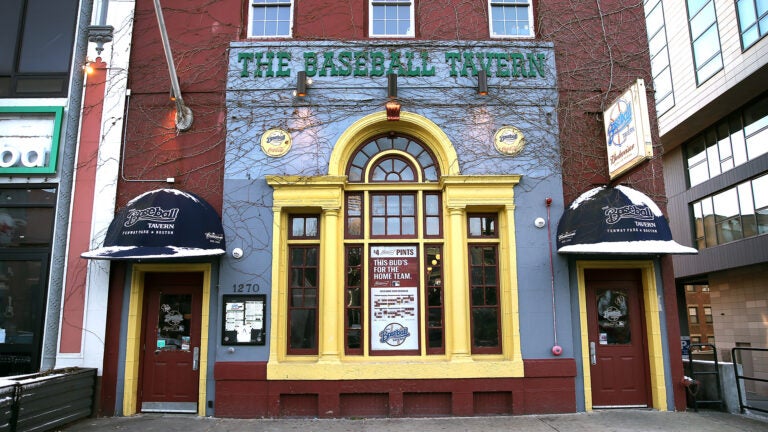 Just weeks after Tony C's announced the closure of its Fenway location, another Fenway bar is closing up shop — at least for now.
On Thursday, The Baseball Tavern posted a Facebook message from owner Jimmy Rooney and his staff.
"It is with a heavy heart that we announce the soon closure of The Baseball Tavern. Since 1963, we have been a Fenway tradition, serving up fun, smiles, and cold beer to our loyal customers. It has been a fantastic journey and wouldn't have been possible without the support of our family, loyal customers, friends, and dedicated employees. We are very grateful to everyone who has supported us over the years. We wish you all the best life has to offer, and please stay tuned for future developments. Goodbyes are not forever!"
But this won't be the last we'll see of the sports bar and grill, which is currently located at 1270 Boylston St. Andrew Flynn, CEO of Scape North America, confirmed in an email to Boston.com that The Baseball Tavern will reopen in the new Scape Boylston development that has been proposed for 1252-1270 Boylston St., a mixed-use space that will include residential housing, retail, and the Boylston Black Box, an LGBTQ-focused performing arts venue. The development was originally planned as a privately run student dorm facility but changed course after experiencing pushback from the neighborhood.
Scape is also heading up a new development project in Davis Square and has purchased properties that currently include The Burren, McKinnon's Meat Market, and Sligo Pub.
While The Baseball Tavern did not respond to Boston.com's request for comment, Rooney shared with Boston magazine that he is excited about the new development and that the reimagined bar will "still have a Fenway vibe."
Since Rooney's father opened The Baseball Tavern in 1963, the sports bar has served as a gathering spot for the Fenway crowd and currently boasts four floors, including a rooftop bar that overlooks the ballpark. Rooney told Boston that while the new iteration of the watering hole won't have a rooftop deck, it will hopefully retain parts of its old décor, like its baseball cap awnings.
A closing date for the Fenway bar has not been announced, but the bar is still encouraging people to purchase tickets to its New Year's Eve party. Stay tuned for more information on an official (temporary) closing date.
The Baseball Tavern; 1270 Boylston St., Boston; Daily 11 a.m.–2 a.m.; baseballtavern.com