Restaurants
Breaktime Cafe aims to give its employees a new future
The cafe is scheduled to open in spring 2020.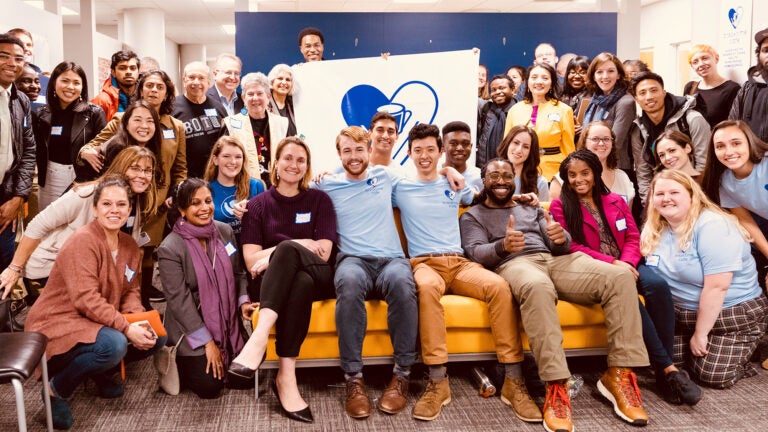 A cafe scheduled to open in downtown Boston next year won't just serve coffee — it hopes to give young adults experiencing homelessness a leg-up for the next chapter of their lives.
Harvard undergraduates Connor Schoen and Tony Shu first met two years ago while volunteering at Y2Y Harvard Square, a shelter for homeless young adults. Driven to the shelter for different reasons — Schoen was in the process of coming out as bisexual when he learned that 40 percent of young adults experiencing homelessness identify as LGBTQ, while Shu grew up with a single mother who experienced homelessness after immigrating to the U.S. from China —  the two quickly realized that a lack of housing wasn't always the most pressing issue for those experiencing homelessness. Almost twice as many young adults at the shelter were asking about employment rather than about housing. Schoen and Shu saw that a transitional program — one that would provide professional development and career mentorship in order to sustain, not just obtain, jobs — was desperately needed, and in response they founded Breaktime, a transitional employment program geared towards young adults experiencing homelessness.
On Nov. 1, Schoen and Shu signed a lease at 170 Portland St., the future site of Breaktime's next iteration: Breaktime Cafe. The cafe, which aims to open in spring 2020, will serve coffee, tea, baked goods, sandwiches, and salads. More importantly, it will offer an opportunity for young adults experiencing homelessness to gain professional work experience and engage with the community while working as front-of-house employees at the cafe.
Breaktime Cafe will open in partnership with Community Work Services, an organization headquartered at 174 Portland St. that creates training and job opportunities for those experiencing barriers to employment. When CWS, Schoen, and Shu first started talking about joining forces, CWS shared that, in addition to training people in the culinary arts and operating a commercial cleaning program, the organization had a retail space that was just lying empty. 
"When we heard that, it was kind of a match made in heaven," said Shu. "We could operate Breaktime Cafe in their first floor space to create the type of customer-facing transitional employment that we wanted to, and we could actually engage their program as well."
To that end, all of the food sold at the cafe will be made by CWS's culinary program, and CWS's cleaning program will be in charge of the cafe's upkeep. 
"We're actually imbuing our social mission to create job opportunities for people with barriers to employment throughout our entire supply chain," Shu explained. 
In a given year, Breaktime Cafe will employ 10-15 young adults experiencing homelessness who, in addition to stocking shelves and selling coffee, will work on menu development, operations, developing sales strategies, operating social media, and more. Customer-facing work, Shu said, will be paramount.
"Because in a lot of situations they may feel isolated or not welcome or not part of their community," said Shu. "Customer-facing work provides a venue for them to be integrated, for them to actually talk to and see other people and have other people see them."
There is still plenty of work to be done before Breaktime Cafe opens. Schoen, now a senior studying applied mathematics in economics, and Shu, a junior studying housing and urban innovation, said they are still looking for a general manager for the cafe, and are currently in the process of raising more funds to build out the 1,500-square-foot space. When it does open, however, the founders are hoping that it won't just be a boon for their employees, but for the whole community.
"If we can bring employers and community members into our space and not only see and interact with our young adults but actually help them, what we're doing is we're destigmatizing homelessness, we're creating professional development opportunities, and we're creating opportunities and pipelines for these young adults to then get future jobs or additional resources they need," said Shu. "So this community space — a physical hub, where we can operate our programming and bring together different people — is critical."
Breaktime Cafe; 172 Portland St., Boston; opening spring 2020; breaktime.us/cafe