Restaurants
5 thoughts from Masaharu Morimoto about his new Boston restaurant, Momosan Ramen
"This is another crazy, big city like New York."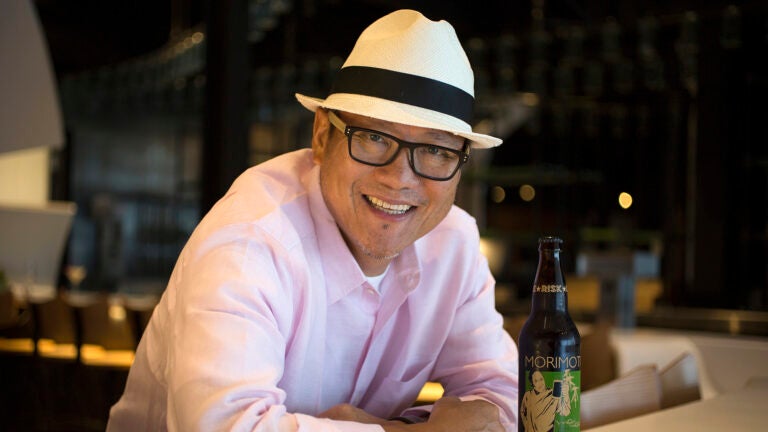 When Hub Hall opens near TD Garden in spring 2020, it will be home to chef Masaharu Morimoto's Momosan Ramen, the only full-service, standalone restaurant within the Hub on Causeway's much-anticipated food hall. Morimoto, who many know as the star of "Iron Chef" and "Iron Chef America," has established his brand across the globe with 18 restaurants — soon to be 19 — along with a line of merchandise that includes knives, instant ramen, and an assortment of signature drinks.
While Momosan Ramen Boston's menu is still in the works, it'll be similar in concept to its sibling branches in New York City, Seattle, and Waikiki Beach, Hawaii, offering not only ramen, but also izakaya appetizers, grilled dishes, and sushi.
Morimoto shared some of his thoughts with Boston.com about expanding to Boston next year, including why he's excited about opening in this city, being right next to TD Garden, and why he considers himself a conductor.
This interview has been lightly edited and condensed for length and clarity.
On choosing Boston as the next location for Momosan Ramen:
"Last time I was here was one year and three months ago to check this facility. It's changed a lot. I was pretty interested in having my restaurant in Boston. This is another crazy, big city like New York. There are foodies. There are seasons. We have summer fish, winter fish, lobster, crab, shellfish. I also like the clam chowder here, not the New York one."
On why Momosan Ramen Boston will be different than other locations:
"There are three Momosans, and this is the fourth. Each city or country has a different culture, different palate, history, industry. So not everything on the menu is the same. The original Momosan, which launched in Manhattan [in 2016], is just 60 seats, so it's mostly ramen and some small tapas things. The second and third — Waikiki and Seattle — have more variety: a yakitori grill, more appetizers. Here, it's all that plus sushi. We decided to have the grab-and-go sushi counter, so people can come in, grab sushi and go [explore the rest of the food hall]. There's sushi, a yakitori grill, maybe some grilled meats or seasonal fish, and then ramen."
On opening a restaurant right next to TD Garden:
"I'm very excited. I like sports, and I like the people who watch the game. I'm a big sports fan. Any general sports."
On Momosan Ramen's sake and beer:
"I've had my own sake since I opened the first [Morimoto] in 2001 in Philadelphia. I was not interested in having wine. Everybody can have wine — people who have money. No one had their own sake or beer at the time, like 20 years ago. That's why I decided to have my own sake, with my label on it, and beer. The sake is from Japan, of course. The beer is [made in partnership with] Rogue Ales in Oregon."
On being a 'conductor':
"I have 18 restaurants, and this is number 19. I have to go to existing restaurants [and do] quality checks on new projects and new openings; I check everything. So you hire the right people and [chefs]. I'm a conductor. Our goal is: How can we make the customer happy? So my first job is to try to make [the chefs] happy, and then, through that, make the customer happy."
Momosan Ramen Boston at Hub Hall; 80 Causeway St., Boston; opening spring 2020; hubhallboston.com