Restaurants
Yellow Door Taqueria expands its footprint with a new South End location
The taco destination replaces a neighborhood standby.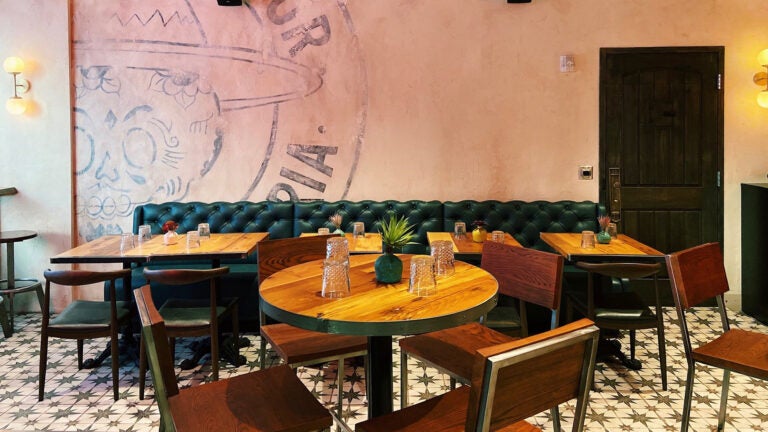 On Wednesday, Yellow Door Taqueria opened a second location in the South End after permanently taking over sister restaurant and cocktail bar Lion's Tail in January. Both restaurants, as well as Lower Mills Tavern and McGreevy's, are owned by Dropkick Murphys frontman Ken Casey, restaurateur Brian O'Donnell, and interior designer Taniya Nayak.
Yellow Door's original location opened in Dorchester's Lower Mills neighborhood in 2017, and has since garnered high praise for its award-winning tacos and cocktails. In September, the taqueria took over Lion's Tail for a two-night pop-up — a test run, we now know, for the switch.
"When it was all said and done after the last night [of the pop-up], just sitting in the space and looking around, we all kind of really could envision it staying that way," said Yellow Door general manager Andrew Toto. "It was such a great weekend. I love Lion's Tail. We're all family, and it's an opportunity to meld all of our talents into one concept."
A majority of the staff at Lion's Tail stayed on after the switch, including its managing partner Jarek Mountain, who now serves as managing partner and beverage director of the new Yellow Door location. Carolina Curtin, who joined Yellow Door as executive chef in August, runs the kitchen at both locations.
Yellow Door Taqueria South End launches with dinner service at 4 p.m. nightly and a weekend brunch service to follow. The taco-centric menu is kept uniform between the Lower Mills and South End outposts, with $4 to $6 tacos on house-made corn tortillas. Drinks focus on tequila and mezcal, and include inventive cocktails like the Mucho Guapo with tequila, green chartreuse, pistachio, lime cordial, lemon juice, egg white, apple bitters, and sea salt tincture.
As for the cosmetic changes, Nayak nodded to the original location with shades of teal, yellow, and rose, as well as yellow velvet banquettes and a bar lined with luchador masks and antique pottery. The Lion's Tail space, which featured a seasonal patio, was considerably larger than the restaurant in Lower Mills, and Toto said there is enough room to pursue the option of hosting live music down the road.
"We're going to try to throw a party all the time," he said.
Yellow Door Taqueria; 354 Harrison Ave., Boston; Mondays–Wednesdays from 4 p.m.–1 a.m., Thursdays and Fridays from 4 p.m.–2 a.m., Saturdays from 11 a.m.–2 a.m., Sundays from 11 a.m.–1 a.m.; yellowdoortaqueria.com