Restaurants
3, 2, 1: Head into 2020 with these Roaring Twenties-themed New Year's Eve parties
Get out your flapper gear and celebrate the new year at these Boston restaurants and bars.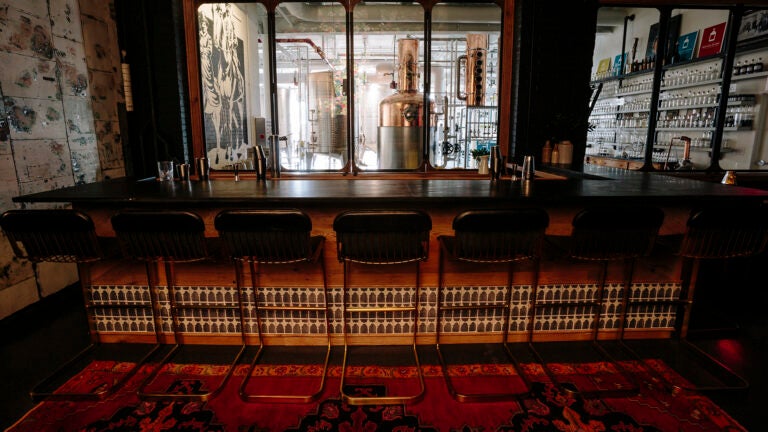 With 2020 just a ball drop away, we're all reflecting on the highs and lows of this past year. But on New Year's Eve, a handful of restaurants and bars around the city are looking even further back — all the way to the 1920s, when flapper dresses reigned and bathtub gin was a liquor of choice.
Held at breweries, restaurants, and more, these Roaring Twenties parties will all embrace Gatsby-approved outfits and Prohibition-era cocktails. Cheers to 2020 — and may we never again make our gin in a bathtub.
Article 24
This neighborhood restaurant and bar in Brighton will host a Great Gatsby-themed soiree with the rare New Year's Eve cover charge of zero dollars. Waltz in and enjoy speakeasy-style drinks, a DJ, and a champagne toast at midnight. (458 Western Ave., Boston; Dec. 31 from 10 p.m.–2 a.m.; no cover)
Bully Boy Distillers
Don your retro threads and ring in the new year in the tasting room at Bully Boy Distillers, where you'll be able to enjoy bites from American Provisions, specialty cocktails (tickets include one free drink token), and an ice luge pouring an exclusive New Year's Bully Boy amaro shot. (44 Cedric St., Boston; Dec. 31 from 8 p.m.–1 a.m.; $35)
Carrie Nation
This swanky downtown lounge already exudes a 1920s speakeasy vibe, so it's only natural that its next Roaring Twenties chapter will begin with a party. Tickets include passed appetizers, a champagne toast, and a balloon drop at midnight, plus live music from The 1999 starting at 9 p.m. (11 Beacon St., Boston; Dec. 31 from 9 p.m.–2 a.m.; $50)
Night Shift Brewing
Local brewery Night Shift has been making moves toward the future this year with an expansion to Lovejoy Wharf and a new hard seltzer, but they're paying homage to the past on New Year's Eve with a '20s-themed shindig. Dance to swing music from Swingin' Bridges, nosh on charcuterie plates and homemade beer Twix, sip on a welcome beer, say cheese in a photo booth, and toast to the new year with rosé seltzer in a custom Night Shift glass that you can take home. (87 Santilli Highway, Everett; Dec. 31 from 8 p.m.–1 a.m.; $55)
Porto
Jody Adams's downtown Mediterranean hangout will embrace the '20s theme with a cover-free party in its bar and lounge, complete with complimentary passed appetizers, cocktail specials, and a celebratory toast at midnight. Still making dinner plans? Porto will offer holiday dinner and drink specials from 5 to 11 p.m. in the dining room. (Ring Road, Boston; Dec. 31 from 10 p.m.–2 a.m.; no cover)
Rosebud American Kitchen + Bar
With jazz drifting through the sound system and plenty of festive decorations, Somerville's Rosebud will channel its best '20s vibes on New Year's Eve. Don a boa, pinstriped suit, and/or a fur coat for a chance to win either the best dressed or best dressed couple competition. Tickets include a bourbon cocktail, party favors, and midnight bubbly, with the opportunity to purchase themed cocktails throughout the night. (381 Summer St., Somerville; Dec. 31 from 9:30 p.m.–1 a.m.; $20.20)
Trident Booksellers and Cafe
If — after spending New Year's Eve listening to jazz and wearing all the fringe and beads you own — you're in search of even more Prohibition-era parties, stop by Trident on Jan. 4 for its '20s-themed party. Tickets include appetizers, costumes are encouraged, and champagne will flow at the pop-up bar. (338 Newbury St., Boston; Jan. 4 from 7 p.m.–9 p.m.; $15)