Restaurants
2 Boston steakhouses are among the best in America, according to Robb Report
Sink your teeth into cuts at Boston Chops and Mooo....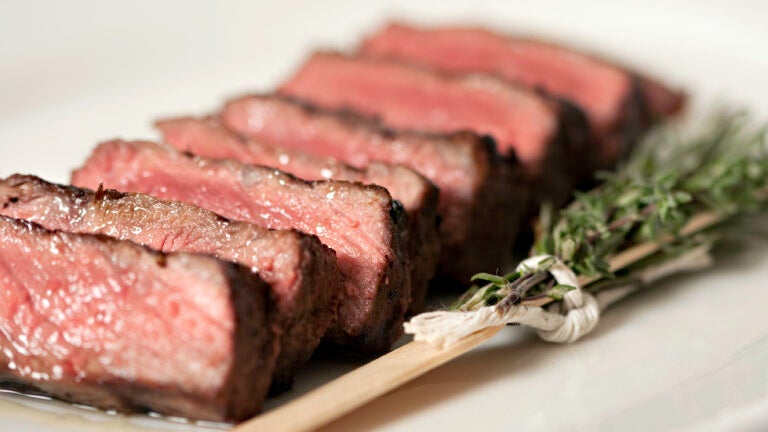 Looking for a place to celebrate with a slab of steak during the holidays? Robb Report has a couple of restaurants in mind.
The publication recently released its list of the 25 Best Steakhouses in America Right Now, a who's who of both old-school and new-school steakhouses serving today's best cuts. Restaurants from cities around the country — Denver, Houston, Las Vegas, Seattle — were represented, including two Boston steakhouses: Boston Chops and Mooo….
Boston Chops has locations in both the South End and Downtown Crossing. It's known for an award-winning wine list and "rarely celebrated" meats: roasted bone marrow, braised tripe, chicken fried sweetbreads, and marinated heart, for example.
"There's a respect for the meat here, also evidenced by its 'top chops,' 14 ounce-plus slabs like filet mignon that come out with the bone still in, bare, without sides," wrote Robb Report's Alyson Sheppard.
The article also calls out owner Brian Piccini for his longstanding commitment to Boston hospitality, referencing his role as pianist for The Top of the Hub when he was 18.
Beacon Hill's Mooo…. also received a nod. The playfully named restaurant, which sits next to the XV Beacon Hotel, is led by chef/owner Jamie Mammano. It's one of the rare steakhouses that opens for breakfast; you can get steak and eggs starting at 7 a.m. Sheppard specifically called out the beef wellington, "a fat tenderloin topped with spinach, mushroom duxelle, and foie gras and wrapped in puff pastry."
Check out the full list here, and let us know in the comments: Do you think Robb Report should have included any other local steakhouses?