Restaurants
Gray's Hall, a wine bar from the American Provisions team, will open on New Year's Eve
"We really believe in selling things that are good for the earth and good for our local economies and good for our bodies," said co-owner Matthew Thayer.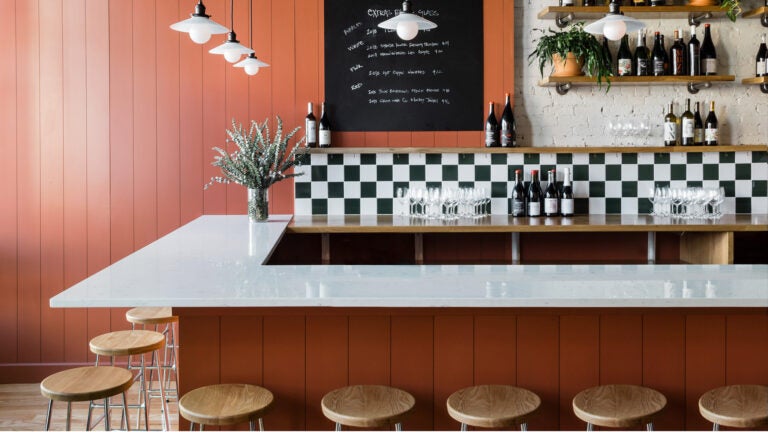 It's a great time for wine aficionados.
This past year saw the opening of 1855 Bar à Vins, a French wine bar on Newbury Street; Le Canular, a tiny grape haven next to Whaling in Oklahoma; and Colette Wine Bistro, a restaurant and wine bar in Cambridge's Porter Square Hotel — not to mention Rebel Rebel, Nathálie, and Haley.Henry, to name a few more greats.
The latest neighborhood to land a wine bar is South Boston, where American Provisions founders Andy Fadous and Matthew Thayer will open their newest concept, Gray's Hall, on Dec. 31.
The 30-seat bar sits directly adjacent to the popular cheese, charcuterie, and bottle shop on East Broadway, which expanded to Dorchester in February.
"We've always had this concept in mind," Thayer told Boston.com. "We really believe in the power of food and drink to create community, and we think that that's our mission next door at American Provisions. At Gray's Hall, people can sit and enjoy the space and the food and wine as opposed to take-out next door."
When it opens, Gray's Hall will offer beer and a couple of rotating spritzers, but the drink list will focus primarily on natural wines curated by general manager and wine director Mira Stella, who previously served as the wine director at Row 34.
"We believe in natural wine," Thayer said. "We're not dogmatic [about] that; natural wine means different things to different people. But we do really believe in selling things that are good for the earth and good for our local economies and good for our bodies."
In the kitchen, Marcos Sanchez (Tres Gatos, Tasting Counter) will play with fermentation and seasonal ingredients to produce a small selection of bar snacks and sharable plates, including cheese and charcuterie boards.
Thayer said that the goal with both American Provisions and Gray's Hall is to be "more approachable and less intimidating, from the way we talk about [food and wine] to the music we play to the things we choose to sell and how we let people taste things" — a sentiment that's reflected in the new bar's casual vibe. The space was designed by Thayer Design Studio (Thayer's wife, Meredith, is the owner), and features elements of white brick, rust-red paneling, and colorful collage artwork.
It's reflected, too, in the name of the bar, inspired by a plaque that hangs between American Provisions and Gray's Hall. The plaque commemorates the original Gray's Hall, founded in 1880 and former home to the South Boston Citizens' Association, America's oldest civic organization.
"It says 'an early meeting place' [on the plaque]," Thayer said. "It really resonated with us and the idea of creating community."
Gray's Hall; 615 E. Broadway, Boston; Daily 4 p.m.–midnight; grayshall.com