Restaurants
A waffle cabin, maple snow cones, and more to eat and drink this weekend
Plus: fancy sodas and an even fancier rooftop beer hall.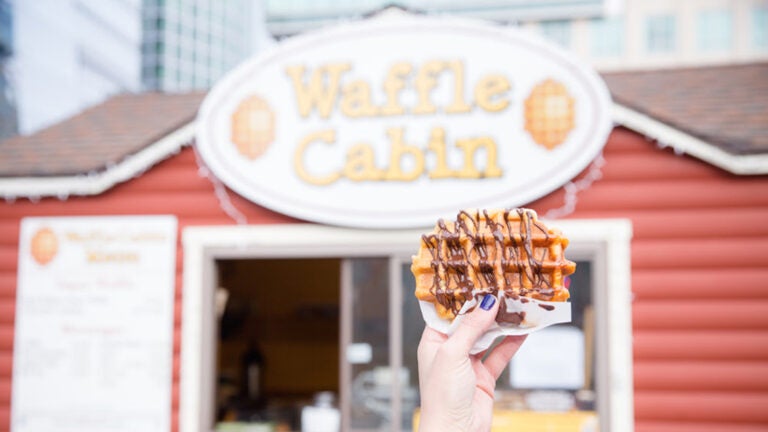 We're in holiday no man's land, that stretch between Christmas and New Year's with one celebration behind us and another just around the corner. What day is it? Are real pants required? Eggnog is still acceptable for breakfast, right?
If you're hoping to extend this stretch for a while longer, there are a few food-centric events lasting through the new year that keep the holiday spirit alive. Visit The Waffle Cabin for a chocolate-covered treat post skating session. Snag a maple snow cone while shopping in the Back Bay. Be one of the first people to check out a rooftop beer hall in Dorchester.
And yes, drink more eggnog for breakfast. See you in 2020!
I've gone ice skating a few times this year, but haven't hit up the Seaport's new skating rink yet. Now that The Waffle Cabin is open, I'm there. The Belgian sugar waffle company isn't new to Boston — it first opened as a pushcart at Quincy Market in 1998, and is now a regular presence at ski resorts — but it recently opened adjacent to the Seaport's Snowport Winter Village, and there's something very aprés-ski about capping off a skate session with a hot waffle covered in dark Belgian chocolate. The cabin will be open daily until sometime in February, and it'll also serve warm beverages like coffee, tea, hot chocolate, and apple cider. (65 Northern Ave., Boston)
2. Maple snow cones at Stephanie's
Consider this festive snack to keep you fueled while shopping on Newbury Street: Stephanie's is now offering its "Maple Snow," a cone filled with shaved ice and topped with barrel-aged, Grade A maple syrup. You can order the original version (without alcohol, $7) and take it to-go, or opt to dine-in and enjoy a spiked version with maple syrup and bourbon ($15). Find it at the Back Bay stalwart throughout sugaring season. (190 Newbury St., Boston)
When the Champagne hangover subsides next week, and you swear — for real this time — that you're going to give Dry January a shot, Little Donkey will be ready. The global tapas joint in Cambridge's Central Square recently released a booze-free menu of six "fancy sodas" dreamed up by Little Donkey's bar director Robert Phillips, including brunch-worthy picks like the Quinceañera made with non-alcoholic beer, spicy Bloody Mary mix, and lime. Check out the full menu below. (505 Massachusetts Ave., Cambridge)
There's no shortage of events going on around the city this New Year's Eve, but if you're looking for something brand new, stop by Dorchester Brewing Co. on Dec. 31 for the unveiling of its new expansion and a sneak peek at in-house restaurant M & M BBQ's new menu. The Hopservatory, the brewery's new four-season rooftop atrium that overlooks the city, will be open, along with a game room and more taproom space. Sample bites from M & M, such as wings, dumpster fries, and pulled pork sandwiches, while drinking beer, cider, and wine. (1250 Massachusetts Ave., Boston)
Sound Advice, a sultry new cocktail bar in the West End, soft opened for two days last weekend, but the lounge officially makes its debut Thursday at 4 p.m. The hospitality team behind this bar has created some world-class bars, like NYC's Death & Co. and Nitecap, and the cocktail menu has some pretty intriguing drinks. First on my list: the High & Dry, a martini-esque concoction given a seasonal twist with cranberries and rosemary. (60 Causeway St., Boston)