Restaurants
These were the 10 most-read Boston.com food stories of 2019
Major restaurant closings, steakhouses, and an upcoming food hall made headlines this year.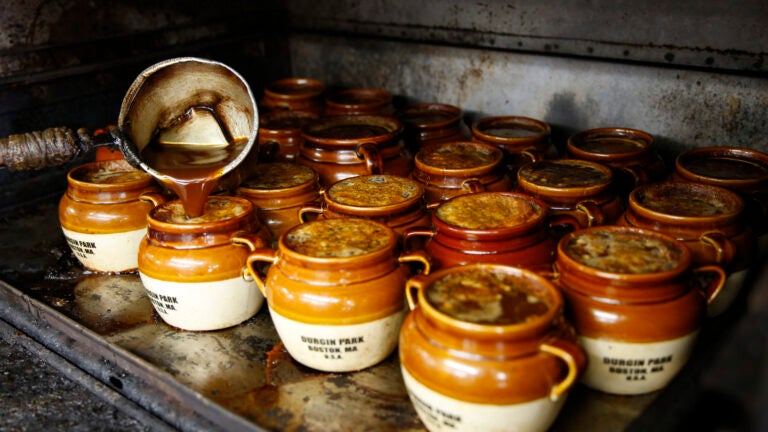 If the end of the year is a time of reflection, we can reflect on this: Many of Boston's 2019 restaurant closures really struck a chord.
Major restaurant shutterings dominated our most-read stories this year, from the dismantling of Cultivar and the abrupt closing of Roast Beast to the depressing losses of Courtside and Durgin-Park. It's not hard to see why — restaurants, whether fine-dining institutions or neighborhood hangouts, are so entwined with our daily lives that it can feel like losing a friend when they close. Let's hope our dining scene doesn't suffer as many surprise closures in 2020.
It wasn't all about loss, though. Readers were also excited about nationally recognized steakhouses, the upcoming debut of Hub Hall, and the charming reservation process of a small, revered restaurant in Maine. And, of course, roast beef.
As we close out 2019, let's revisit the 10 most-read food stories on Boston.com. We'd also love to know: What kind of food coverage would you love to see more of in 2020? Let us know in the comments!
It was the battle cry heard 'round the state: D.J. Lawton, owner of Roast Beast, declared that he would never open another business in Massachusetts after he closed his Commonwealth Avenue roast beef sandwich shop on Halloween night. After operating in the Allston location for nine years, Lawson said he was told by a fire inspector that he needed a hood in the kitchen, citing a safety issue. Instead, the owner closed up shop and subsequently offered to sell the business — recipes included.
Our readers love a good "best of" list, and this story was no exception. When Boston magazine released its annual roundup of the best restaurants in Boston, food fans took note and devoured this story on the publication's No. 1 pick — which, as it turns out, isn't even in Boston. Tasting Counter, a tasting menu-only restaurant in Somerville, landed at the top of the ranked list; find the other 49 all-stars here.
We love our local sandwich shops (see No. 1 above), so when People called out a North Shore joint, we all took note. The national publication, in conjunction with The Infatuation, released its list of the best sandwiches in every state, and named Nick's Famous Roast Beef in Beverly as the gold standard in Massachusetts.
A lot of closures hit hard this year, including the October shuttering of Courtside, a Cambridge sports bar and karaoke lounge that first opened in 1943. Fans of the bar couldn't believe that there would be no more belting out tunes in a back room cluttered with picnic tables and covered in dried beer, but for owner John Alberts, it was time. "What do you say when you've been in business for 76 years?" he said. "The only thing I can say is thank you."
Proof that a genetically-modified meat substitute hasn't totally taken over: This story about two celebrated steakhouses drew plenty of eyes. Robb Report called out the 25 best steakhouses in America and included Boston Chops and Mooo…. on its list.
2020 is poised to be a big year for food halls in Boston, made all the more evident by the interest in our guide to Hub Hall, which is set to open at Hub on Causeway sometime in the spring. The vendor lineup has slowly trickled out and includes some exciting concepts: Apizza, a New Haven- and Roman-style pizzeria from MIDA chef Douglass Williams; Boston cannoli destination Mike's Pastry; and a second location of Sullivan's Castle Island, which offers lobster rolls and soft-serve.
In what was one of the biggest closures of the year, Durgin-Park announced that, after 200 years of business in Faneuil Hall, the storied restaurant would cease operating in early January. Michael Weinstein, CEO of Ark Restaurants (which purchased Durgin-Park in 2007) cited a number of reasons, including costs associated with a minimum wage increase, a decline in customers, and the continued boom of the neighboring Seaport neighborhood. There are parts of the restaurant that live on, though: A February auction sent some fans home with the restaurant's signature baked bean pots, signs, and press clippings.
In October, the Back Bay's Globe Bar & Café unexpectedly closed after being unable to reach an agreement with the building's landlord. Those looking forward to spending another summer on its roof deck were sorely disappointed; the Globe's sister restaurants, Lir and McGann's Irish Pub, were unaffected.
Safety inspections, rent negotiations, dwindling interest — Boston's 2019 closures were due to a variety of reasons. When Cultivar, the critically-acclaimed downtown restaurant owned by chef Mary Dumont and Emily French-Dumont, shuttered in January, Dumont said that an issue with the liquor license renewal lay at the heart of the closure. But there was more to the story.
Since opening in an old gristmill in 2014, The Lost Kitchen in Freedom, Maine, has attracted diners from across the world to experience its seasonal slice of farm-to-table magic. In recent years, the reservation process has been a quirky one: Prospective guests submit postcards with contact information and anything else (Paintings! Poems!) the guest would like to include. This year was no exception, and owner Erin French shared with Boston.com her love of the reservation process. "It's like you know this stranger before they come in, even if [it's just] their style of painting," she said.