Restaurants
Southern Proper will serve its last plate of fried chicken on New Year's Eve
"Today is a very sad day for me," chef and owner Jason Cheek said.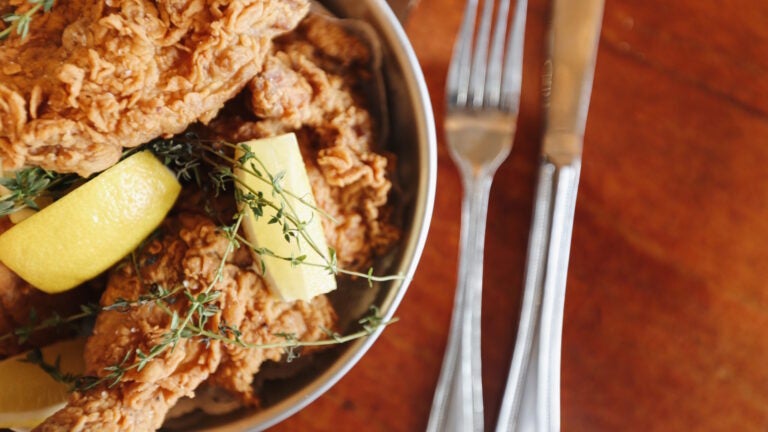 Boston's rising Southern food scene will take a hit on Dec. 31 when Southern Proper closes its doors for the last time.
Chef and owner Jason Cheek, an alum of Jamie Bissonnette and Ken Oringer's restaurants, announced the closure in a post on his personal Instagram page:
"Today is a very sad day for me. Southern Proper's last day of operations will be the 31st. I am so fortunate to have accomplished this dream of mine and to have worked with and met so many amazing people during this time of my life. I will continue to grow in my career and will continue to build the relationships I've made through this wonderful restaurant. Thank you everyone for all your support through the last few years."
A reason for the closure was not given, and Cheek did not immediately respond to Boston.com's request for comment.
Cheek, a North Carolina native, opened the award-winning restaurant in March 2018 with the food of his childhood in mind, serving hush puppies, smoked chicken wings, fried okra, shrimp and grits, ribs, and buttermilk biscuits for lunch and dinner. On Sundays, brunch-goers could find sticky buns, French onion quiche, and fried chicken and waffles on the menu, while drinks ran the gamut from Miller High Life to cocktails like the Kick in the Cas, a mezcal-based libation given some heat with chili-agave syrup.
Southern-influenced restaurants have been expanding in Boston, with the introduction of places like The Porch Southern Fare and Juke Joint, Buttermilk & Bourbon, The Frogmore, and Southern Kin Cookhouse, along with BBQ-centric eateries like Shed's BBQ, Sweet Cheeks, and The Smoke Shop. French Quarter, a Downtown Crossing restaurant focusing on New Orleans fare, will debut in early 2020.
Stay tuned for details on what might be moving into the Southern Proper space — and, if you have some time to spare before kicking off your New Year's celebrations, stop by for one more order of Cheek's cheddar popovers and pimento cheese.