Restaurants
M & M BBQ's first brick-and-mortar location is now open
The barbecue restaurant is located inside Dorchester Brewing Co.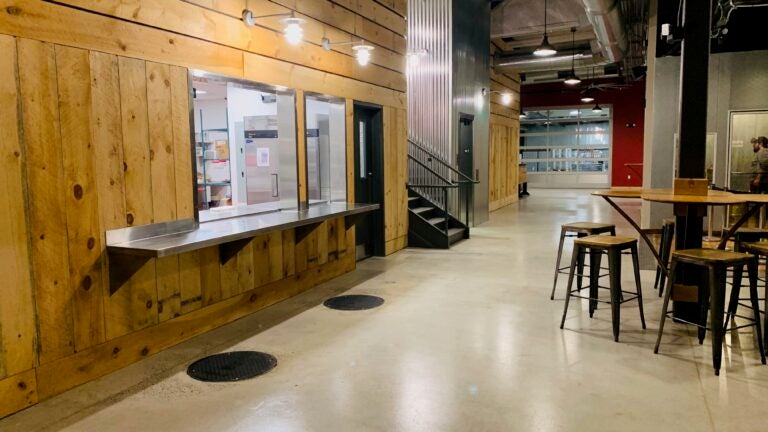 There are few food matches made in heaven: Peanut butter and jelly. Chips and guac.
Barbeque and beer.
Dorchester has a new reason to savor the latter culinary power couple with the grand opening of M & M BBQ's first brick-and-mortar restaurant on January 20.
Located inside the newly expanded Dorchester Brewing Co., the BBQ joint's grand opening will see the former food truck-turned restaurant offer its full menu and settle into its regular hours. With house-made seasoning blends, rubs, and a vinegar and ketchup-based barbeque sauce, the offerings include pulled pork sandwiches, brisket, fried chicken, and more. 
Run by Dorchester native Geo Lambert, his grandparents Marion and Maurice Hill founded the company, then known as M & M Ribs, in 1982. His grandfather is from North Carolina and his grandmother from Alabama. The founders fused flavors from their youth into the cuisine. 
"I'm Boston born and bred, so I put my own spin on a lot of the old dishes that they had," Lambert said.  
His flair is found in pickled purple cabbage in place of the standard coleslaw on the pulled pork sandwich, and a beef brisket sandwich that's topped with smoked onion and a smoked cheese sauce. New additions to the menu include Dumpster Fries loaded with pulled barbeque chicken, smoked heat sauce, scallion, and house-made ketchup, and a bratwurst and sauerkraut sandwich braised with Dorchester Brewing Co.'s V1 double IPA and topped with honey mustard barbeque sauce. 
The food truck was a fixture on the corner of Columbia and Quincy Street in Dorchester for about 27 years, and the Hills also operated two restaurants. They passed the business to their daughter, Lambert's mother Leona, though they still helped with the day-to-day. Similarly, Lambert took the wheel of the business around 2010 and rebranded it as M & M BBQ.
When Boston passed an ordinance to allow food trucks in 2011, M & M was one of the first permitted trucks, at Lambert's push.
"I was trying to find different ways for us to grow and do more catering and food truck festivals," he said.      
Lambert first worked with Dorchester Brewing Co. before their official opening, when he parked his truck in the street to serve construction workers. After the brewery started welcoming craft beer aficionados in July 2016, M & M was among the first of a rotating lineup of food trucks parked by the front patio. He closed the mobile eatery in 2018 — "the food truck was brutal in the wintertime," he said — and decided to switch gears to catering and popup events. 
After seeing firsthand the headaches his grandparents grappled with, Lambert admits he didn't want to open a restaurant. But Dorchester Brewing Co.'s owners came to him at the end of 2018 with an idea: They planned to expand and wanted a quick-service restaurant onsite where guests could order food and eat anywhere in the brewery. No bussing tables, no white linen tablecloths. Was he interested? 
"I was like, 'hell yeah I'm interested," Lambert said. "We have a real good following in Dorchester, and I feel like we don't have anything like this in Dorchester," Lambert said. "Beer and barbeque just go together, and it seemed crazy not to take advantage of the opportunity." 
M & M BBQ at Dorchester Brewing Co.; 1250 Massachusetts Ave., Boston; Sundays and Mondays from 11:30 a.m.-7:30 p.m.; Tuesdays-Thursdays from 11:30 a.m.-9:30 p.m.; Fridays and Saturdays from 11:30 a.m.-10:30 p.m.