Restaurants
The Patriots aren't in the Super Bowl. These bars and restaurants have specials anyway.
A running list of where to find Super Bowl specials in Boston.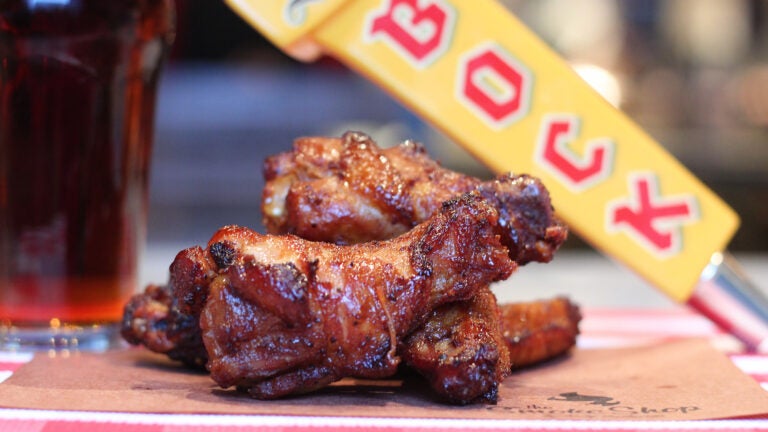 When Super Bowl LIV kicks off on Sunday, Feb. 2, the Patriots will be noticeably absent at Hard Rock Stadium in Miami Gardens, Fla.
But while our hearts — and our team — may not be in it this year, you'd still be wise to stop by your local restaurant or bar to watch the San Francisco 49ers take on the Kansas City Chiefs. Especially when there are wing eating competitions, chili cook-offs, and barbecue buffets involved.
Throughout the week, we'll be updating the list below to reflect the Boston watering holes offering Super Bowl specials, from ranch dressing fountains to all-you-can-eat tailgate parties. Because even if Tom Brady isn't throwing for another touchdown this season, there are still GOAT appetizer platters to be had.
Back Bay Social Club
Starting at 5 p.m. on game day, this Back Bay bistro will offer buckets of wings, pitchers of beer, and other Super Bowl specials within the restaurant's DownBar lounge, where a giant projector screen with surround sound will display the game. (867 Boylston St., Boston)
Beat Brew Hall
Root for your second favorite team at Beat Brew Hall's viewing party, when the Harvard Square hot spot opens at 11 a.m. with Super Bowl specials: 30 wings and two pitchers of beer for $40, a fondue fountain of ranch dressing, rib and wing platters, and more football-ready bites. The "No No Room" party lounge will offer a projector screen for prime viewing, and TVs scattered throughout the restaurant and bar will have the game on at all times. (13 Brattle St., Cambridge)
City Tap
Let City Tap handle your party plans on Sunday when the Fort Point restaurant and bar throws an indoor tailgate with Super Bowl specials – including the GOAT platter, a medley of four wings, a half order of nachos, and two tacos. Miami's J. Wakefield Brewing will take over the taps, while live music from The Royal Furs and giveaways each quarter will round out the entertainment. (10 Boston Wharf Road, Boston)
Coppersmith
Though Coppersmith announced that it would be shutting down in the near future, the South Boston hangout is sticking around a little while longer. During the Super Bowl, San Francisco- and Kansas City-inspired cuisine will go head-to-head within the restaurant's on-site food truck, with tailgate games and specialty drinks offered throughout Super Bowl LIV. (40 W 3rd St., Boston)
Game On Fenway
Super Bowl swag, 32 TVs, giveaways — Game On Fenway isn't messing around during its Super Bowl viewing party on Sunday. The first 100 guests through the door will receive Super Bowl squares to win prizes that include MillerCoors swag, Coors Lite swag, and more. There's a half-time wing eating competition and a Killington Resort giveaway, too. (82 Lansdowne St., Boston)
Hurricane's at the Garden
Expect a party at this West End sports bar, where, in addition to food specials, football fans can take advantage of specialty drinks, 20-plus TVs, and a Bud Light-sponsored raffle (the prize: a pair of tickets to a future Boston Bruins game). Entry is free but you can let them know you're coming here. (150 Canal St., Boston)
Olde Magoun's Saloon
If your Super Bowl celebrations usually involve chili, Somerville's Olde Magoun's Saloon is a great place to post up this Sunday. Starting at noon, the restaurant will host its annual chili cook-off, with the first 30 chili entrants showing off their prized recipe (anyone is allowed to sample and vote for a favorite). At 5 p.m., an all-you-can-eat tailgate party heats up with pulled pork, smoked wings, country ribs, Southern potato salad, smoked beans, and more — plus plenty of TVs to watch the game unfold. (518 Medford St, Somerville)
The Smoke Shop BBQ 
The Kendall Square location of Andy Husbands's barbecue haven The Smoke Shop BBQ will transform into one massive Super Bowl party on Sunday. Tickets ($29–$49) include entry plus a barbecue buffet, one cocktail, and guaranteed seating to watch the game. Guests who are among the first 100 people to purchase a ticket will also receive a free square in the restaurant's Super Bowl pool, with prizes from The Smoke Shop BBQ and Shiner Bock. (1 Kendall Square, Cambridge)