Restaurants
The Boston Black Restaurant Challenge is back. Here's how to participate.
The annual challenge kicked off on Feb. 1.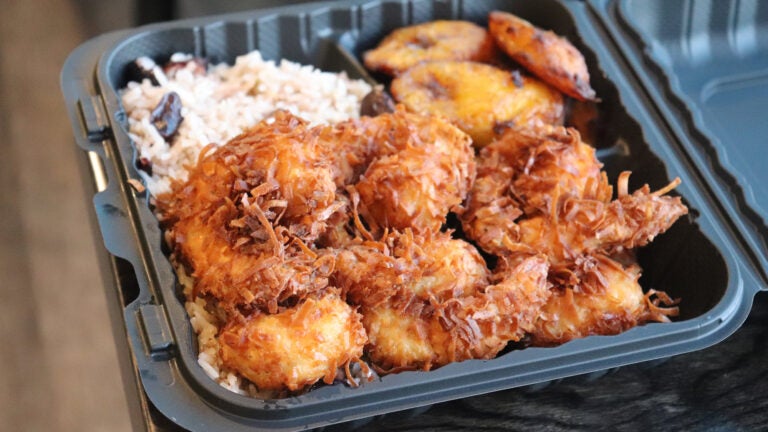 Take a moment to rearrange your dinner plans this month: The Boston Black Restaurant Challenge returns for a third year, calling for Bostonians to dine at four Black-owned restaurants in February. And with roughly 70 restaurants participating this year (take a look at the list below), you'd be wise to choose more than four.
State Representative Chynah Tyler launched the initiative in 2018 based on similar events taking place across the country, beginning in Baltimore. It's an idea that Greater Boston — a region where, as of 2017, the medium net worth of Black households was $8 — fiercely needs.
"The Boston Black Restaurant Challenge was created three years ago to become a solution to the financial insecurities faced by many Black-owned restaurants in Boston," Tyler wrote in an email to Boston.com. "The challenge has grown to become a free promotional tool for Black restaurants to promote themselves to different communities… More than half of Black-owned restaurants fail within the first year, and I want this challenge to be one of the causes that changes that."
On Saturday, the Boston Black Restaurant Challenge will host a kickoff party at Darryl's Corner Bar & Kitchen, located at 604 Columbus Ave. in the South End. Starting at noon, the restaurant — known for its Southern comfort food and live music — will celebrate with an all-you-can-eat buffet brunch, drinks, local DJs, raffles, and special guests.
This year, Tyler shared, diners can also pick up a Black Restaurant Passport listing the participating restaurants; the individual who dines at the most Black-owned restaurants throughout the month will win a catering prize, which will be funded by the Boston Black Restaurant Challenge committee.
Darryl's owner Nia Grace helped Tyler spearhead this year's challenge. One aspect of her role has been to revamp and expand the list of participating restaurants.
"I looked at that list, and it was really incomplete," she said. "So I put some time in and really worked on it. I think last year there were 38 restaurants listed, and this year there are around 70 different restaurants."
She said that most restaurants have been able to use their own platforms, like social media, storefronts, and word of mouth, to promote the challenge, but that she's hoping for a more expansive marketing campaign in the future.
While dining at four Black-owned restaurants in February is the basis of the challenge, it should serve as a catalyst to frequent even more Black-owned eateries throughout the year. For inspiration on where to start, check out the event's list of suggested restaurants below:
Dorchester
Bon Appetit
Bred Gourmet
Cesaria
Down Home Delivery
Food for the Soul
Family Affair Restaurant & Catering
Island Style Jamaican Restaurant
JP Roti Shop
Juice and Jazz Cafe
Levi's Restaurant and Lounge
M & M BBQ
Murl's Kitchen
Natif Natal Restaurant
Next Step Soul Food Café
Oasis Café
Oasis Vegan Veggie Parlor
One Family Diner
Only One Jamaican Restaurant
Raphael Caribbean Cuisine
Singh's Roti Shop
Taste of Eden
Vaughan Fish & Chips
Wingz & Tingz
Downtown
Larry J's BBQ
Savvor Restaurant & Lounge
Hyde Park
D Coal Pot
Wingz & Tingz
Zaz Restaurant
Jamaica Plain
Blue Nile Restaurant
Jamaica Mi Hungry
Mattapan
Au Beurre Chaud Bakery
Blue Mountain Jamaican Restaurant
Cafe Juice Up
Golden Krust
Le Foyer Bakery
Lenny's Tropical Bakery & Restaurant
Pit Stop Barbecue
Prestige Cuisine
Shea Butter Smoothies
Roxbury
Ashur Restaurant
Dayib Cafe
District 7 Tavern
Fort Hill Bar + Grill
Ideals Sub Shop
Maxine's on St. James
Nos Casa Café
Silver Slipper
Slades Bar + Grill
Soleil
Suya Joint
Top Mix
South End
Darryl's Corner Bar + Kitchen
Lucy Ethiopian Cafe
MIDA
Wally's Cafe Jazz Club
Multiple locations
Ali's Roti
Flames Caribbean Restaurant
Fresh Food Generation
P&R Jamaican Restaurant
Greater Boston
Infused Kreyol (Malden)
Neighborhood Kitchen (Medford)
Pikliz International Kitchen (Somerville)
Rhythm N' Wraps (Brookline)
The Coast Café (Cambridge)