Restaurants
Free hot chocolate, a Taste of Israel, and more weekend food events
Plus, three birthday parties that you're definitely invited to.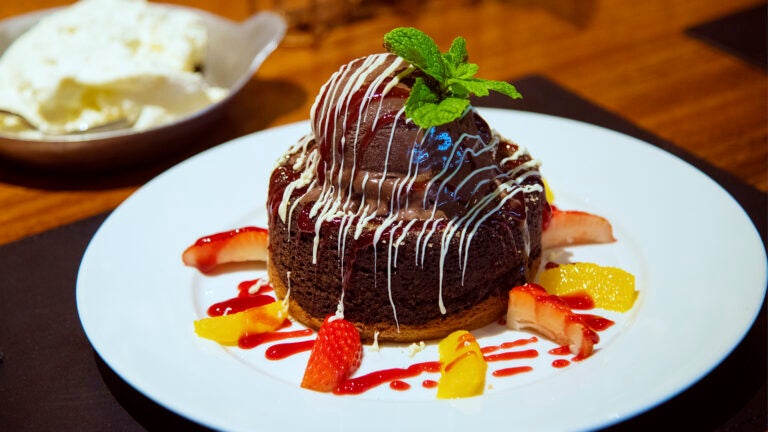 Despite the Pats not making it to the Super Bowl this year, I know that a solid number of us will be spending Sunday night watching the game, one hand dipping celery into a bowl of buffalo chicken dip, the other using the remote to periodically check in on the Puppy Bowl (what, just me?). If you're planning on going out, a slew of bars and restaurants are offering their own specials and parties.
But if the Super Bowl isn't at the forefront of your mind, maybe chocolate is? Or brunch? Or Israeli food? Take a peek at these food events happening in the next few days, from a new brewery opening to three birthday parties that sound like a blast.
1. Taste of Israel Restaurant Week
Now in its second year, Taste of Israel Restaurant Week brings the flavors of Israel and its culinary influences — Moroccan, Ethiopian, Yemenite, Persian, Russian, and other cuisines — to life with special dishes and one-off events at local restaurants. On Thursday, Variety Bar at Somerville's Bow Market will supplement its Taste of Israel cocktail menu with a comedy show featuring Israeli comedians. On Saturday from 6:30 p.m. to 8:30 p.m. at West Roxbury's Bonapita, enjoy chickpea zucchini falafel alongside live music from Roy Ben Bashat, an Israeli, Boston-based musician. And on Sunday, Craigie Burger co-founder chef Michael Leviton will host a cooking demonstration at Time Out Market. Other participating restaurants have some fantastic specials lined up — I've got my eyes on the chocolate tahini-filled cookies at Mamaleh's and the fried broccoli with tahini, toasted sesame seeds, and pomegranate at Mainely Burgers.
2. Happy birthday!
It's Aquarius season! Consider this weekend a challenge to go birthday party hopping, starting with a cup of cocoa from EH Chocolatier: The Cambridge chocolate shop is celebrating its one year anniversary on Friday from 11 a.m.–6 p.m. with free hot chocolate while supplies last. Up next is Night Shift Brewing, which will celebrate its eighth birthday with an all-day bash on Saturday. From 11 a.m.–6 p.m., revelers can visit the Everett brewery and try three beers made for the occasion: Birthday Beer, a Double India Pale Ale; Brewberry, an Imperial stout made with blueberries and Night Shift Coffee; and Owls vs. Unicorns, an IPA collaboration with Pipeworks Brewing. Night Shift Eats and Brato Brewhouse will supply the food, and a cake cutting will kick off at 4:36 p.m. Over in Southie, Fox & the Knife — the Italian enoteca that has won just about every award since debuting in 2019 — will open early on Saturday for its one-year-anniversary party from 1 p.m. to 5 p.m. Nosh on aperitivo, sip on cocktails, dance to the tunes of DJ Stella, and raise a glass to the talented crew.
3. Death by chocolate
Whether you embrace the candy hearts-drenched Hallmark holiday that is Valentine's Day or choose to ignore it completely, February is a clutch time for chocolate lovers (hello, hi, it's me). Restaurants go all-in on highlighting wildly decadent desserts — like Cafe Landwer's Nutella menu, which launches on Saturday and runs throughout the entire month. The all-day menu will offer Nutella lattes, Rozalach (Landwer's Nutella-filled version of rugelach), Nutella pizza, and other dishes slathered, mixed, or infused with the hazelnut-and-chocolate spread. Then there's Mastro's Ocean Club's February special, a chocolate butter cake available at the glitzy steakhouse and seafood hot spot. Here, devil's food cake is slathered with a cream cheese topping, topped with chocolate ice cream, and drizzled with raspberry sauce and white chocolate ganache. And over in Cambridge, Milk Bar is offering its popular chocolate birthday cake truffles — buy a box during the week leading up to Valentine's Day, and it'll come with Valentine's Day cards and stickers. In short: It's a great time to be a chocolate fan.
4. Faneuil Hall goings-on
For a part of Boston that seems frozen in time, Faneuil Hall is undergoing two major changes this weekend. Most notably, the new Samuel Adams Boston Tap Room debuts on Thursday, a three-level watering hole offering 20 beers on tap, beer-infused snacks, and live entertainment (plus a patio that will be put to good use during warmer weather). Down the block, Tex-Mex restaurant Zuma is holding a re-naming party of sorts. After settling a name dispute with Zuma at Four Seasons Hotel One Dalton Street, the Faneuil Hall eatery will revamp itself into Mezcala Tex Mex Grill, starting with a party dubbed Zuma: The Last Stand. Guests can purchase tiers of tickets that include passed appetizers, gift cards, and specials.
5. See you at brunch?
Grilled pizza haven Bar 'Cino, which opened a second location in Brookline a couple weeks ago, debuts brunch this weekend with dishes like the breakfast polenta with braised greens, fried farm fresh eggs, parmesan, and olive oil; and the Pizzelle di Nonna with Northern Italian spelt waffles, cherry compote, and toasted almonds. Brunch will be offered on Saturdays and Sundays from 10:30 a.m. to 3 p.m. (yes, there's a grilled breakfast pizza too). Scampo, another Italian destination, recently launched a new Sunday brunch menu available from 9 a.m. to 3 p.m.: think egg bowls with smashed avocado and smoked bacon spiced aioli, and waffles with banana flambé. Feel like drinking your breakfast? Ward 8 just introduced a Bloody Mary bar — for $12, imbibers can choose from one of the West End restaurant's Bloody Mary concoctions (the standard, the spicy, the wasabi, and soy) and dress it up with pepperoncini, pork belly, green beans, chicken wings, cinnamon buns, stuffed peppers, and more.