Restaurants
OpenTable's '100 Most Romantic Restaurants in America' list is out. These 2 Massachusetts restaurants made the cut.
Fall in love over pasta at Mamma Maria and Sorellina.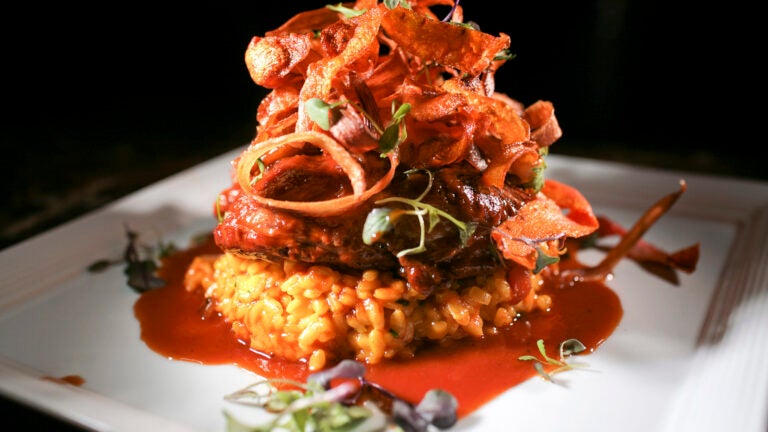 Cue the frantic reservation calls: OpenTable's annual list of 100 Most Romantic Restaurants in America is out, and two Italian restaurants in Massachusetts are among the dreamy lineup.
Sorellina in the Back Bay and Mamma Maria in the North End landed on the list, solidifying the fact that "Lady and the Tramp" had it right all along — spaghetti really is the dish to swoon over. While Mamma Maria (4,642 reviews, 4.8 stars) embraces an old-world aesthetic and fare, Sorellina (4,043 reviews, 4.8 stars) is decidedly modern, with dishes like orecchiette featuring meat-free Impossible sausage.
A few chains with locations in Massachusetts also made the unranked list, including Eddie V's and The Capital Grille. New England was further represented with the inclusion of Bouchard Restaurant and Inn in Newport, R.I.
"We craft this list every year to help diners looking for inspiration for the most popular date night of the year," said Jessica Jensen, senior vice president of marketing at OpenTable, in a press release. "Whether it's a special night with your significant other, a girl's night out, or your first outing with someone new, these restaurants have passed the test of setting the table for exceptional ambience and an incredible meal."
So how did Mamma Maria and Sorellina end up on the list, which features restaurants from 31 states? OpenTable looked at over 80 million diner reviews written between December 1, 2018, and November 30, 2019, to narrow down qualifying restaurants, with each restaurant requiring a minimum overall score determined by overall diner rating, user clout, number of reviews, and regional overall rating. Restaurants that qualified, all of which were classified as "romantic," were then scored and sorted.
Find the complete list of OpenTable's 100 Most Romantic Restaurants in America here.
Mamma Maria; 3 North Square, Boston; Sundays–Thursdays from 5 p.m.–9:30 p.m., Fridays and Saturdays from 5 p.m.–10 p.m.; mammamaria.com
Sorellina; 1 Huntington Ave., Boston; Mondays–Thursdays from 5:30 p.m.–10 p.m., Fridays and Saturdays from 5:30 p.m.–11 p.m., Sundays from 5:30 p.m.–9:30 p.m.; sorellinaboston.com