Restaurants
Krasi brings rare Greek wines and tableside tzatziki to a beloved Back Bay location
"Our whole goal here is for strangers to leave as friends," said owner Demetri Tsolakis.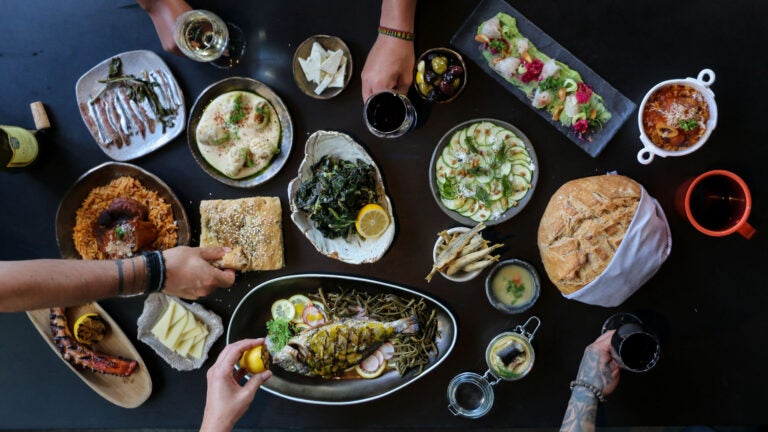 Demetri Tsolakis knows just how much Back Bay residents mourned the loss of Cafe Jaffa, a 28-year-old Middle Eastern restaurant that closed last spring. 
"When we took over this place in May, there were notes on the door," he said, standing inside the former shawarma haven. "We still have the same number, and we kept all the voicemails."
Tsolakis, who is also a partner at Committee Ouzeri + Bar and owner at GreCo, has transformed the space into Krasi, a Greek meze and wine bar that he founded with partners Stefanos Ougrinis (GreCo), chef Theo Tsilipanos (Committee Ouzeri + Bar), and Tasha Breshinsky (Committee Ouzeri + Bar). With plenty of lighting, ash wood oak chairs, a hand-plastered marble wall, and sleek banquettes that face an open kitchen and bar, the new restaurant, which opens on Feb. 14, looks nothing like its former occupant. 
Unlike GreCo's fast-casual concept and Committee's modern pub vibe, Krasi's focus is two-fold: natural, biodynamic wines and regional Greek cuisine that nods to ancient traditions and techniques. 
"It's more of a cultural experience and about sticking to the roots," Tsolakis said. "We're not doing anything modern. We're taking regional, unknown recipes and bringing them to fruition. It's a big country, and there's a lot more to it than just the islands you hear about on the Travel Channel."
Chef Tsilipanos is from Lamia in central Greece, a region known for its baked goods, and he'll be making fresh bread daily in the wood stone oven — like lagana, a sesame flatbread, and charoupi, made with carob, pomegranate molasses, and sea salt. Originating from Corfu in the Ionian Islands, a dish called bourdeto is comprised of fresh fish flown in from Greece that's then turned into a stew with garlic, onion, red pepper, and spicy tomato broth. In southern Greece, where Tsolakis is from, clay pots are frequently used for cooking, resulting in dishes like Krasi's giouvetsi, an entrée made with lamb osso buco, tomatoes, and orzo. A Greek rotisserie called a souvla will feature rotating meat — lamb, chicken, or pork — as well as seafood and vegetable options.
But most of the menu is dedicated to meze: hot and cold bites that are meant for sharing, whether your group has posted up at the bar or at the eight-seat chef's table. New England Charcuterie worked with Krasi to create Greek-style salami, brizola, octopus mortadella, and more, while a selection of imported cheeses includes sfela, a smokier version of feta, and katiki, a Greek version of cottage cheese. Dips include tzatziki made tableside, so that guests can adjust their desired level of garlic.
"We want to interact with our guests as much as possible," Tsolakis explained. "So we asked: What can we do with tzatziki that's actually cool again?'
For groups who can't land on just a couple meze, there is the Feast of the Gods, an option to sample one of every hot and cold meze plus bread. Can't finish it all? Share it with your neighboring diners.
"Our whole goal here is for strangers to leave as friends," Tsolakis said.
Krasi means "wine" in Greek, and there's plenty of it: Over 180 selections have landed on the restaurant's all-Greek wine list, many of which are rare or no longer in production. Guests can find the last bottles of Aidani and Mavrotragano from winemaker Haridimos Hatzidakis, who passed away in 2017. There are wines that have been submerged in the Aegean Sea for five years, and wines that were made by monks. And if Greek wine is not in your usual wheelhouse, Tsolakis said they can help with an introduction.
"The great thing about the millennial crowd is that they're trying new things," Tsolakis said. "They're not drinking chardonnays and sauvignon blancs. In Greece we have malagousia, which is a nice, creamy, buttery wine. We're not going to compare it to a chardonnay because it's on its own, but we can guide you there."
In addition to wine, a Greek spirits program highlights ouzo, tsipouro, mastiha, and tentur, all of which are served the traditional way: straight up, occasionally with ice on the side. Cocktail drinkers will have to wait until the spring when Hecate, a bar beneath Krasi, opens. Tsolakis wouldn't share too much about the concept, but he did say that it wouldn't be like anything in Boston.
"We're focused on wine here, whereas if you want something that's more of a craft cocktail, that will be downstairs," he said. "It can be a waiting room, it can be your next spot, it can be your before spot. They'll feed off of each other, but it's really two different experiences."
Krasi will serve a small snack menu from 3 p.m. to 5 p.m., with a dinner menu available at 5 p.m. Brunch will roll out in March, and lunch will be introduced in April.
"[This space] was an icon for 28 years," Tsolakis said, looking around. "We want to be here for 28-plus years, and we want to have some fun and keep this place fresh."
Krasi; 48 Gloucester St., Boston; Daily 3 p.m.–midnight; krasiboston.com