Restaurants
Make your own ice cream sundaes at LUCIE drink + dine
The Back Bay newcomer aims to be one of Boston's great neighborhood restaurants.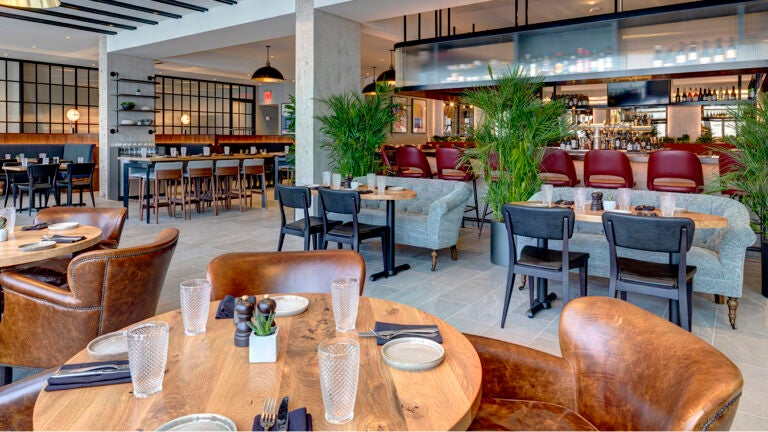 Howard Wein is incredibly excited about ice cream sundaes. 
At LUCIE drink + dine, a new restaurant scheduled to open within The Colonnade Hotel on Feb. 20, tables will get a "make your own sundae" pad with the option to select flavors (including soft serve and fro-yo options), toppings, and sauces. When Wein, who has developed dozens of restaurants through his hospitality firm, Howard Wein Hospitality, talks about it, his eyes light up like a kid in, well, an ice cream shop.
"We have a thousand toppings," Wein said, no doubt exaggerating a little. "No other restaurant does this. I've done so many restaurants — I've done Buddakan and Morimoto in New York, all these intense, A-list, super sexy [restaurants]. I was like, you know what? This is about living life every day. Not taking everything so seriously, but making sure that it's seriously good."
LUCIE takes over the former Brasserie Jo space, a 20-year-old Back Bay stalwart that closed in October 2018. But whereas Brasserie Jo was all about French classics — coq au vin, steak frites, Alsace-style pizzas — LUCIE will feature global standbys with an American slant (though, happily, you will still be able to find steak frites on the menu). Chef de cuisine Michael Chandler (Oak Long Bar + Kitchen, Grill 23 & Bar) oversees a breakfast, lunch, dinner, Sunday brunch, and late-night lineup with familiar dishes: short rib pastrami, diver scallops with sweet corn grits, clam pizza, and a meticulously workshopped burger featuring a double stack of smashed patties, shredded lettuce, bread and butter pickles, and a housemade sauce. There's also a lobster pie, an homage to a dish that Chandler orders during his annual trips to the Maine Diner in Wells, Maine.
"It's like a quintessential New England dish," Chandler explained. "You think it's going to be a pie, but it's not. It's basically like butter and lobster and they bake it with Ritz cracker crumbs. So we're doing a similar thing, we're just taking it up a little bit, making it a little more elegant… We make a sherry-infused lobster butter sauce that is light, but when it melts it doesn't turn greasy." A parmesan cracker crumble is sprinkled over Chandler's version.
But it's not all seafood and burgers and steak. Wein said that he was adamant about featuring plenty of vegan, vegetarian, and gluten-free options on the menu, that doing so is "just a requirement for any restaurant these days." There's vegan ice cream; a vegan mushroom ragu with tagliatelle, smoked shiitake mushrooms, tomatoes, and vegan parmesan; gluten-free garlic rolls with scallion garlic butter; and an arugula salad with confit artichokes, parmesan, and a lemon vinaigrette.
And, of course, there's the make-your-own-sundae, plus chocolate birthday cake, ice cream floats, salted caramel custard, and lemon icebox cake.
One way LUCIE aims to position itself as a neighborhood restaurant is through its wide array of seating sections. There are corner lounges for small groups, high-top communal tables, smaller tables flanked by sofas and leather chairs, and larger banquettes, as well as a private dining room tucked away toward the back. Amid an updated color scheme of dark blue, maroon, caramel, and gray, exposed concrete columns are a reminder of the space's original roots.
"One of the coolest things was dealing with the Brutalist architecture here, which really inspired the design," Wein said. "These columns were here, and we [just] stripped them. The idea was to be Brutalist and then, as you got towards the middle [of the restaurant], that's where you get the layered, warmer textures and tones."
In the center of the room sits a 28-seat, 360-degree bar, where beverage manager Eric Kurss has designed a cocktail program that revolves around three categories: 'Our house' for original concoctions, 'New classics' featuring twists on classic drinks, and 'Your call' focusing on cocktail standards. A tiki-inspired drink called the My Cabana falls into the 'Our house' category, and uses rum, banana liqueur, and fresh lime juice over crushed ice. A seasonal margarita resides in the 'New classics' section, while a bourbon and ginger using housemade ginger syrup can be ordered from the 'Your call' category. Wine and beer round out the rest of the drink menu.
While Wein noted that LUCIE is "attached to the hotel but not part of the hotel," and guests at The Colonnade will be able to order room service from the restaurant. In the warmer months, an outdoor patio and lounge will open up. 
LUCIE is slated to open on Feb. 20 at 5 p.m., with breakfast, lunch, and brunch hours coming soon. When it does open, Wein's biggest wish is that Back Bay residents will embrace it as enthusiastically as they did Brasserie Jo.
"If we do a great job, we'd like to be known as among the great iconic neighborhood restaurants in Boston," he said.
LUCIE drink + dine; 120 Huntington Ave., Boston; opening hours are Thursdays – Sundays at 5 p.m.; luciebackbay.com