Restaurants
"Not what I expected at all": We tried PBR's new Hard Coffee. Here's what we thought.
The sweet, caffeinated drink is now available in Massachusetts.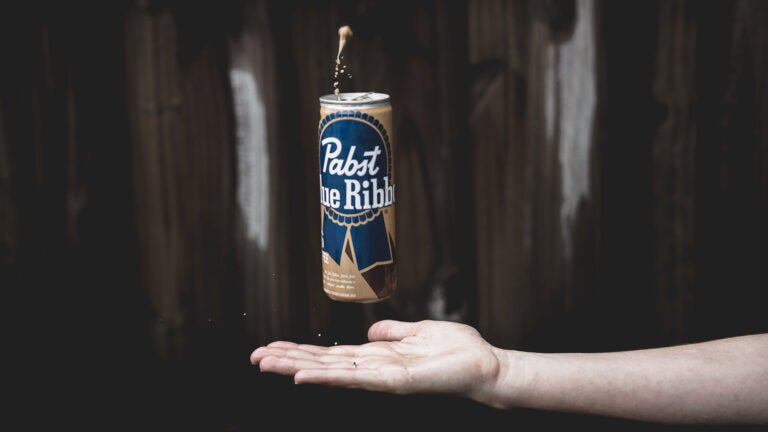 It's the Wild West of beverages out there.
Seltzers have gone hard. Cocktails, with the rise of mocktails, have gone soft. Sparkling water is infused with CBD. And Pabst Blue Ribbon is making hard coffee.
If you've been following PBR's latest product release, you'll know that the company debuted Hard Coffee in July, but that it didn't make its way to Massachusetts until January. The flavored malt beverage is self-described as a hard iced coffee (both arabica and robusta coffee beans are used) and uses a mixture of whole milk and cream, balancing a "rich creamy blend with a whipped vanilla flavor." Coming in at 5% ABV and 245 calories, the 11-ounce cans have a color scheme that closely resembles the Frappuccino bottles from Starbucks, with a dark blue PBR ribbon logo on top of light and dark mocha stripes.
So is it beer? Or coffee? Or something else entirely?
To find out what exactly a brewing company was doing making hard coffee, 10 Boston.com team members assembled to taste the boozy drink and share our thoughts.
Some of us could get behind the sweet beverage:
Brad Jacobs: "Despite being initially skeptical, I was pleasantly surprised. It reminded me of a White Russian. Would drink again."
Emma Kelley: "Surprisingly good, can barely taste the alcohol."
Erin Kuschner: "This drink is like a Frappuccino, Irish coffee, Yoo-hoo, and chocolate milk rolled into one. I can't taste the alcohol (dangerous!), and the chocolate-y notes far outweigh any coffee ones. But I'm surprised at how much I like it — I can definitely see pouring it over vanilla ice cream for some kind of boozy after-dinner float, or drinking it during brunch."
Matthew Price: "I don't think it would be something you would binge on. But I could see [drinking this] during day parties and brunches. It serves as a more casual alternative to beer like White Claw."
Some of us were in the "that's a hard no" category.
Gary Dzen: "Not a fan of the creamy/sugary thing going on here. It's way too much."
Arianna MacNeill: "Not a fan. One sip was enough."
And some of us were just trying to make sense of what we were drinking.
Hayden Bird: "I expected it to have a PBR-like taste, which it did not. In fact, it essentially tasted nothing like a beer, and more like a Starbucks Frappuccino/Yoo-hoo."
Christopher Gavin: "Completely surprising. But branding it as "coffee" feels almost misleading. It's more of a creamy consistency. Maybe a coffee with a lot of milk describes it best."
Matthew Niemczyk: "Not what I expected at all."
Emily Turner: "It's a boozy Yoo-hoo."
So with a flavor profile that oscillates between a Yoo-hoo and an Irish coffee, when exactly are we supposed to drink PBR's Hard Coffee? A few tasters said they would use it to pre-game, or would possibly enjoy a can during the day. Others said they would pair it with ice cream to create a boozy milkshake or float. One staunch opposer said "never." Fair enough.
Regardless of when you drink it, the general consensus was that PBR Hard Coffee tastes like a sweeter (there is, after all, 30 grams of sugar in each can), boozier alternative to chocolate milk or regular iced coffee, one that most of us either loved or would drink again in the right situation. If that sounds like your cup of tea — or coffee — you can now purchase four packs of 11-ounce cans for $9.99–$10.99. Stock is currently limited, but a spokesperson for PBR shared that production should ramp up by the summer.
Ah, remember summer?
Have you tried PBR's Hard Coffee? What did you think of it? Let us know in the comments below!