Restaurants
Flora's Wine Bar lands in West Newton with wine, cocktails, and elaborate charcuterie boards
"We really just wanted to become a part of something that was lasting," said co-founder Andrew Li.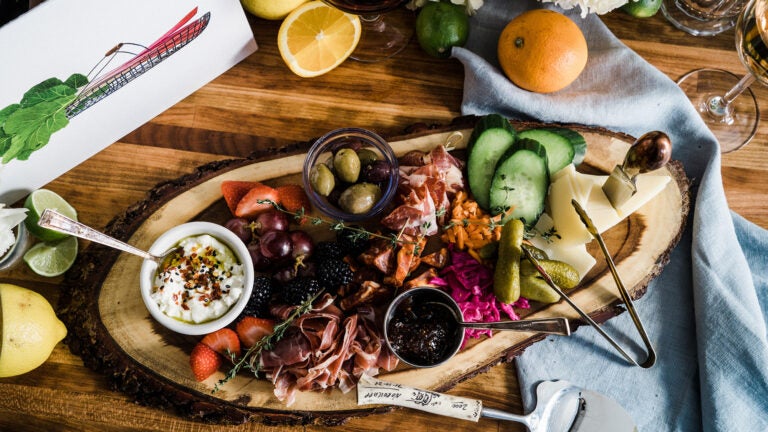 Andrew Li and Corey Fletcher, two restaurant industry veterans who founded Beer Mobile, the craft beer truck, were looking for a brick-and-mortar headquarters for their company.
Success: They snatched up a spot in West Newton, a small, weathered space that housed Coney Island Ice Cream until last summer. Oh, and why not open a wine bar in there, too?
Enter Flora's Wine Bar, which will debut on Feb. 28 at 4 p.m.
"Coney Island had been here for 16 years, so there was some age and wear that we had to remove in order to get the space to where it wanted to be," said Li, who co-founded Chinese American restaurant Mei Mei and met Fletcher while they were both working at Legal Sea Foods. "The whole block has the same landlady, and the knitting folks [at Putting on the Knitz] next to us have been there for 34 years, so we really just wanted to become a part of something that was lasting. We want to establish something and grow with the rest of the tenants in the community."
The remnants of the ice cream shop were replaced with penny-tile walls and porcelain floors that look like aged wood, with 20 seats for guests.
The team at Flora's worked with AP Wine Imports to curate a selection of mostly Old World wines, including bottles from small and obscure producers in Germany, Italy, and France, such as a 2013 Domaine les Maisons Rouges Chenin blanc, or a 2016 Domaine Coillot Père et Fils pinot noir. Li said that there are a handful of picks from North America, South America, Australia, and New Zealand to fill in the gaps, so that "when our guests come in and ask for something in particular that they love, we have the capability [to give them] that."
Fletcher, who's held gigs at Legal Sea Foods, Not Your Average Joe's, and Catalyst, designed a cocktail menu that focuses on classics with a twist. A spicy margarita — given a Boston accent with the name Marg-a-Heatah — uses jalapeño tequila, lime juice, simple syrup, and a splash of pineapple. Fans of "Billy Madison" will appreciate the Veronica Vaughn, a mezcal- and tequila-based cocktail featuring grapefruit juice, Aperol, and housemade Saigon Cinnamon syrup, while the Frisky Sour is a riff on a whiskey sour, made with house-infused fig bourbon, lemon juice, simple syrup, egg white, and Peychaud's bitters. A small selection of beer is also be available.
"We're making our own tonic water, making our own bitters, doing some cool infusions," Fletcher said. "The whole cocktail list is based on making everything by hand."
Because Flora's doesn't have a full working kitchen, the food menu is comprised of small bites like intricately plated cheese and charcuterie boards featuring local produce, spreads, and housemade pickles. The wine bar is not a destination for a full meal, but not everyone is looking for that, Li acknowledged.
"I think that things have been slightly trending towards having a small snack and not eating huge meals," he said. "[Dining at Flora's] could be a longer sit-down experience, it could be something you do real quick over your lunch break or after work before you go home. It's really more about getting to know people in the space."
Following Flora's Feb. 28 opening, the wine bar will operate every day except for Monday.
Flora's Wine Bar; 1284 Washington St., West Newton; Tuesdays and Wednesdays from 4 p.m.–10 p.m., Thursdays from 11 a.m.–10 p.m., Fridays and Saturdays from 11 a.m.–11 p.m., Sundays from 11 a.m.–10 p.m.; floraswinebar.com