Restaurants
We asked for the best place to get pizza. Here are your favorites.
All 116 restaurants are mapped out.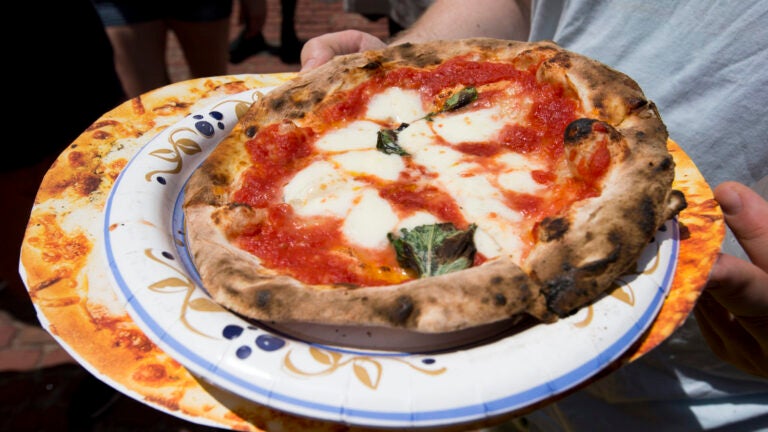 Last week, in honor of National Pizza Day, we asked you for your favorite pizza place and topping. You responded with gusto: more than 450 shared their favorite toppings. Plain cheese and pepperoni won by a landslide, mushrooms just barely beat out sausage, and just three percent of you are on board with the ever-controversial suggestion of pineapple on pizza. There were also a few surprises in the "other" category, such as fig, chicken quesadilla, and egg. And to those who voted for eggplant: Are you doing okay? Please explain this further. 

More than 200 readers also wrote in to share their recommendations for the best pizza restaurants in the area. A total of 116 restaurants were shared and the reader favorite, with 25 votes, was Regina Pizzeria in the North End. One reader said that he would choose either the well-done pepperoni or the St. Anthony's from Regina's as his last meal. Santarpio's Pizza in East Boston came in second place with 12 votes, followed closely by Lynwood Cafe in Randolph with 11 votes. One reader said of Lynwood Cafe, "The individual pan pizzas are crispy with just the right amount of grease and are so tasty. I am from Braintree and live in Dallas. When I am back home I order 10 half cooked pizzas, freeze them and then take them on the plane back to Dallas. YUM!!" Other top performers were Stoked Wood Fired Pizza Co., Pleasant Cafe, Pino's Pizza, Picco, and Frank Pepe Pizzeria Napoletana.
Check out all recommendations and click on a spot for reader responses in the interactive map below. 
Disagree with these picks? Have another recommendation? Let us know in the comments.