Restaurants
Monumental Market, a cafe and record shop, just opened in Jamaica Plain
Monumental Market is now slinging nut-free baked goods, coffee, and records.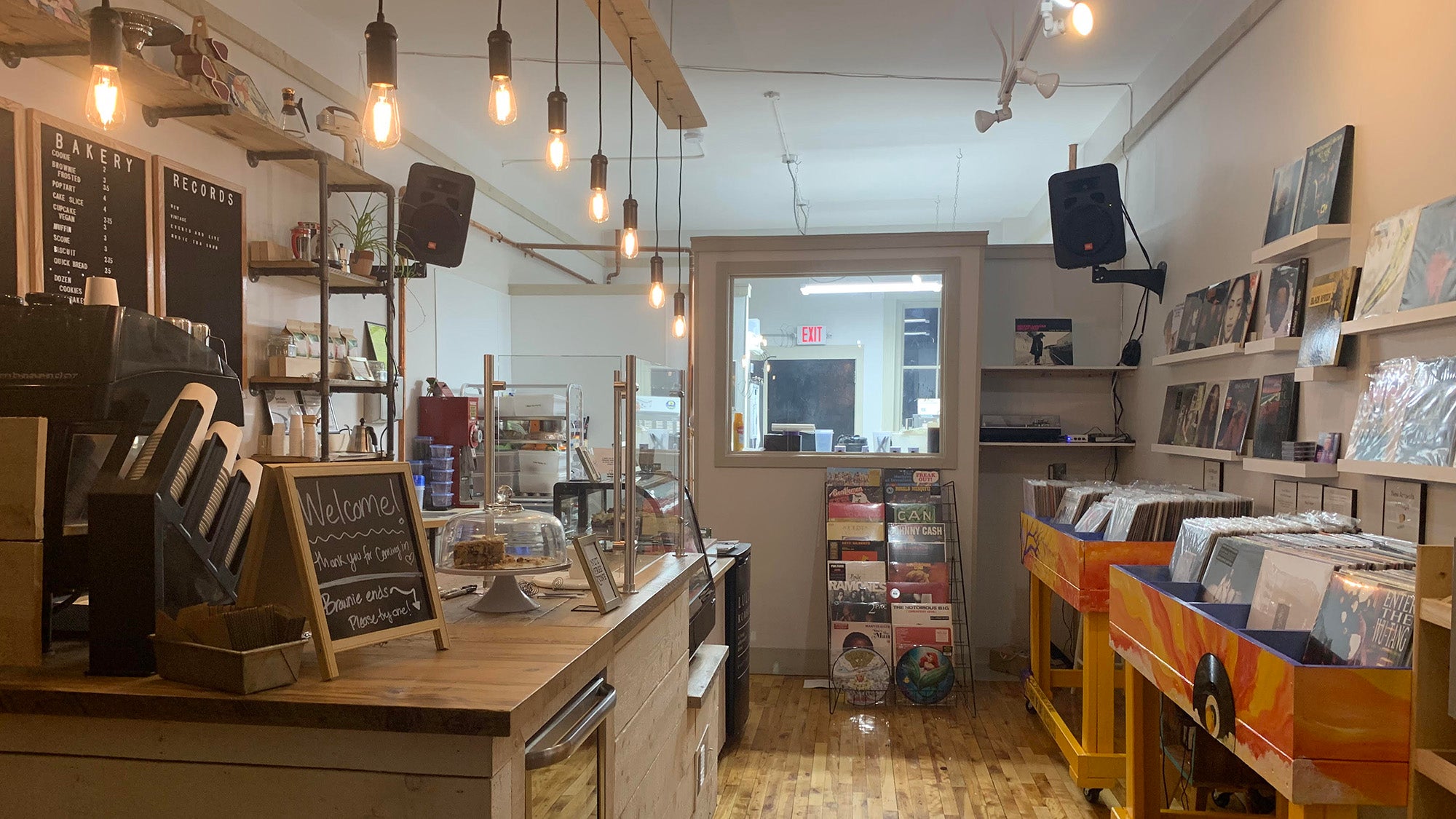 A multi-concept cafe, bakery, and record shop quietly opened in Jamaica Plain this week.
Kelsey Munger, founder of Lavender Bee Baking Co., and Javier Amador-Peña, founder of El Colombiano Coffee, were longtime regulars on the farmers' market circuit, selling their respective products at the Brookline Farmers' Market and Waltham Farmers' Market. A couple of years ago, while both were dreaming about expanding their businesses, Munger said they noticed that customers would walk over to Amador-Peña's coffee stand aftering buying pastries from Munger — and vice versa. They decided to join forces and open their own shop, and a Kickstarter was born (Tipping Cow Ice Cream was originally part of the concept; Munger said the ice cream company is no longer involved).
Inside Monumental Market's compact space — a former doughnut and cupcake shop called Monumental Cupcakes — customers can purchase cookies, muffins, homemade pop-tarts, olive oil cake, cupcakes, scones, and biscuits, with savory breakfast sandwiches set to debut in the near future. Everything is peanut- and tree-nut free.
"I know what it's like, having a nut allergy myself," Munger told Boston.com. "Here, you don't have to worry if it's safe or not."
On the coffee side, Amador-Peña offers drip coffee along with pour over, espresso, cortado, cold brew, cappuccino, hot chocolate, and tinto, a thick coffee variation originally from Colombia. Guests can purchase coffee beans by the bag, and Rhode Island-based Luluna Kombucha is available on tap.
Munger and Amador-Peña also teamed up with Chris Antonowich's Light of Day Records, a pop-up record shop (and farmers market regular) that now inhabits a section of Monumental Market.
"It's been such a great collaboration," Munger said. "We were able to bring him in and give him the space to have a semi-permanent location, so that now when he goes to farmers' markets, he can tell people where to find him in a more permanent setting."
That collaborative vibe extends even further, with artwork from local artist Kyia Watkins displayed within the cafe and future plans to host local musicians.
"It's all about not just getting great products, but getting the community experience," Munger said. "And we're really excited to be a part of this community."
Monumental Market will operate with limited hours until its official opening Tuesday, but will host a small Valentine's Day celebration on Friday from 8 a.m. to 6 p.m. with free mini cupcakes and coffee, plus both "love and anti-love theme songs playing in the background," Munger shared.
The cafe is closed on Sundays and Mondays.
Monumental Market; 36 South St., Boston; Tuesdays–Thursdays from 8 a.m.–6 p.m., Fridays from 8 a.m.–8 p.m., Saturdays from 9 a.m.–6 p.m.; monumentalmarket.com