Restaurants
Organize a taco crawl, enjoy a jazz brunch, and more weekend food events
Plus, maple syrup is officially flowing.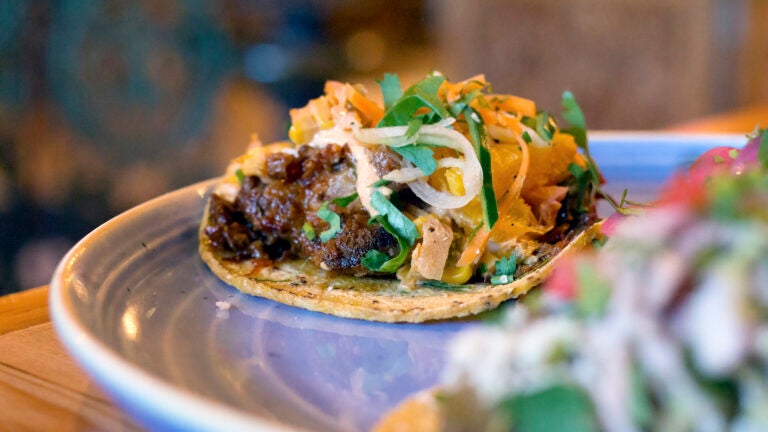 At the risk of sounding bitter: Valentine's Day is still a thing, huh? I'm all for celebrating love (I swear!), but the ritual of collectively choosing a single day to focus on devotion (or affection, or lust, or tolerance, or whatever it may be) has always been an odd one to me. Anyone else?
And yet, the holiday still stands. It's a particularly busy time for restaurants, so if you are dining out on Friday, remember to tip your servers well. If you're avoiding Valentine's Day at all costs, I have a few other suggestions for ways to spend the long weekend — one of which includes tacos, my forever love.
1. Go on a taco crawl in the South End
Is the South End becoming…a taco destination? Last week, after much anticipation, Cósmica opened in The Revolution Hotel with some truly excellent tacos. I popped in to check out the stunning space (so many plants!) last night and tried chef Colton Coburn-Wood's daily "secret taco,"  which you can order by sharing a password posted to Cósmica's Instagram. Yesterday's scallop taco was a dream — breaded and lightly fried scallops were cooked to perfection, then topped with pickled vegetables and a dollop of creamy aioli (warning: you will get messy eating this). And then there's Yellow Door Taqueria, which opened a second location Wednesday within the South End's Ink Block, just a 10-minute walk away from Cósmica (Coburn-Wood happens to be an alum of the restaurant). The taqueria has garnered plenty of attention for its tacos since opening in Dorchester, and the South End location serves a lineup that mirrors the original menu. So I'm thinking…a taco crawl? Start at Yellow Door (354 Harrison Ave.), head on over to Cósmica (40 Berkeley St.) for the daily secret taco, then make your way down to Chilacates (275 Shawmut Ave.) before ending at Burro Bar (1357 Washington St.). Who's in?
2. Watch Marcus Samuelsson's Boston episode of "No Passport Required"
Have you been keeping up with Marcus Samuelsson's PBS show, "No Passport Required"? The series, hosted by the award-winning chef and regular guest judge on "Chopped," highlights immigrant communities cooking in cities across the country, and has already shined a spotlight on Armenians in Los Angeles, West Africans in Houston, and Filipinos in Seattle. On Monday, his Boston episode will air at 9 p.m. on PBS, and it's all about our city's Portuguese-speaking communities. Samuelsson visits Cesaria in Dorchester, Muqueca in Cambridge, Oliveira's Steak House in Somerville, and other spots featuring immigrant cooks from Brazil, Cape Verde, and Portugal. Want a sneak peek of the episode? Watch his "Lunch Hour Live" chat with WGBH News senior editor Stephanie Leydon and see how he reacts to coming across bacalhau — dried and salted cod — at Portugalia Marketplace in Fall River, Mass.
3. Get your maple syrup fix
Maple syrup season has officially arrived. At Hugh O'Neill's, an Irish pub in Malden, the sweet stuff is seeping into both food and drink during the pub's first Maplefest. Starting Friday and running through Monday, you can sip on Barreled Souls Maple Pour Over (oatmeal stout brewed with coffee and maple syrup), Firestone Walker Maple Parabola (Russian Imperial Stout aged in maple syrup bourbon barrels), Founders Curmudgeon's Better Half (maple barrel-aged old ale with molasses), and more. Maple-infused food and cocktail specials will also be available. Over at Frank in Beverly — Frank McClelland's relatively new all-day cafe, bar, restaurant, and market — the shop is selling its own Frank maple syrup sourced from Butternut Mountain Farm. Stock up on a couple bottles, and grab a pastry in the cafe while you're at it.
4. Try somewhere new for brunch
How did Miami know that we needed a little bit of its heat this weekend? On Saturday and Sunday from 11:30 a.m. to 3 p.m., Back Bay's Japanese izakaya, Zuma, will host an elaborate brunch spread normally held at its sister restaurant, Zuma Miami. Think buffets of sushi, maki, sashimi, robata skewers, and dessert platters meant for sharing — plus DJ Tao spinning from 12:30 p.m. to 4:30 p.m. If you read all of that and thought, "Um, OK, take it down a notch," then Mariel's new Cuban jazz brunch is a little less extra. On Sundays from 11:30 a.m. to 2:30 p.m., local Cuban and Latin jazz band, Clave & Blues, will provide the tunes while you dig into huevos habaneros and mozzarella waffle sticks with spicy guava maple dip. Loyal Nine in Cambridge also recently launched brunch, serving lobster popovers and sourdough pancakes on both Saturday and Sunday from 10:30 a.m. to 2 p.m. Still too much? Keep your pajamas on and head over to Brato Brewhouse + Kitchen, where Sunday brunch includes live acoustic music, Nashville hot chicken and waffles, and stout-battered French toast. If your pj's need an upgrade, check out Brato's just-released branded sweatpants.
5. Celebrate Valentine's Day. Or Don't.
Well, here it is. If you're planning on celebrating Valentine's Day at a restaurant, I'm sure that reservations have already been made (if not, here are a few ideas, including parties celebrating the totally-made-up-but-very-charming holiday Galentine's Day). Choosing to spend Valentine's Day solo? These restaurants are great for dining alone. Or, you know what? Don't think about it at all. Go eat a delicious bowl of ramen. Support Chinatown by grabbing dim sum with a group of friends. There are plenty of other things to do this weekend that don't involve cards and hearts and molten chocolate cake.