Restaurants
These 10 Dine Out Boston deals are a cut above the rest
Find two-, three-, and four-course meals for a steal in March.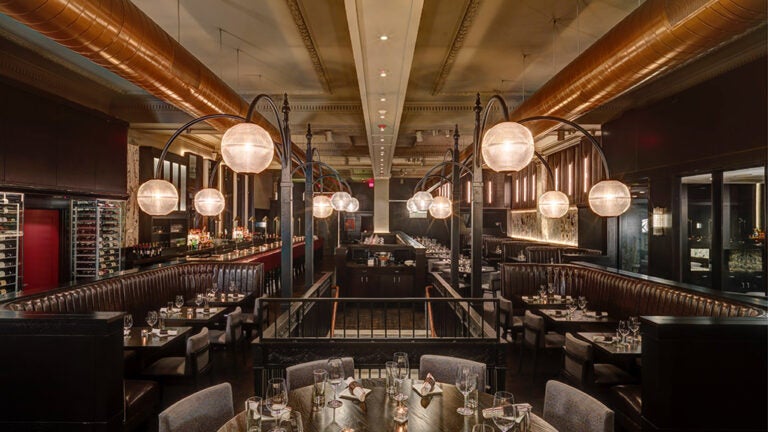 Dine Out Boston — formerly known as Restaurant Week Boston — has served as a time-tested tradition for diners who love a good deal. Held twice a year for two weeks in March and August, the concept offers restaurant-goers a chance to dive into multi-course meals at a fraction of their usual cost. This spring, Dine Out Boston will run from Mar. 1–6 and 8–13, with lunches ranging from $15–$25 and dinners from $28–$38.
With over 150 restaurants to choose from, it's not always easy landing on a deal that's worth your time and dollars. Some places offer only a handful of dishes to choose from, while others tack on extra prices for ingredient upgrades or accommodations. So we've sorted through the list and homed in on 10 Dine Out Boston deals that stand out from the rest. Pick a favorite or two, then start making those reservations.
Black Lamb
One of the few newcomers on this year's Dine Out Boston line-up, South End darling Black Lamb has put together lunch ($25) and dinner ($33) deals that serve as a great introduction to the neighborhood restaurant. While both menus offer the same options for an appetizer — beet salad, roasted cauliflower, Wagyu beef tartare — lunch gives diners the choice of a cheeseburger, grilled salmon nicoise, or Cubano sandwich, while dinner lists a cheeseburger, branzino, or braised short ribs. One reason why it might be wise to choose dinner over lunch here: You get to pick between the pie of the day (and Black Lamb makes very good pie) or carrot cake with salted caramel sauce. Swoon. (571 Tremont St., Boston)
Boston Chops
Both locations (South End and Downtown) of this solid steakhouse are serving dinner ($38), but only the Downtown outpost is offering lunch ($25) this year — and it's one that steak fans will likely fawn over. In addition to choosing clam chowder, an iceberg salad, or mussels as an appetizer, lunch includes a range of protein options that would normally run up the bill: a seven-ounce grilled pork chop, six-ounce grilled hangar steak, six-ounce grilled skirt steak, or six-ounce cast-iron-seared filet, all of which come with fries, arugula salad, and a choice of sauce. (52 Temple Place, Boston; 1375 Washington St., Boston)
Bronwyn
The Dine Out Boston dinner menu ($28) at Bronwyn is small — there are two appetizers, three entrées, and one dessert to choose from — but you can't go wrong here. A charcuterie board to start will leave you with cotechino, smoked kielbasa, rabbit liver mousse, pickled onion, and bauernbrot bread. To follow: currywurst, vegetarian pierogi, or braised pork shank with potatoes and sauerkraut for two, plus apfelstrudel for dessert. Feel like tacking on some drinks? Bronwyn will also offer a beer and wine pairing for $15. (255 Washington St., Somerville)
Darryl's Corner Bar + Kitchen
The South End restaurant and live music venue is offering a three-course dinner ($38) highlighting Southern specialties: Cajun corn or black-eyed kale salad as an appetizer; red curry coconut pasta, a fisherman's platter, or Creole steak as an entrée; and bourbon caramel bread pudding or four-layer red velvet fudge cake for dessert. You'll have to pay an extra fee if you're sticking around for the entertainment, but it's well worth it. (604 Columbus Ave., Boston)
Grotto
Let's say you're looking for a dark, cozy, romantic spot, one with brick walls and chandeliers and plenty of red sauce. Meet Grotto, which has one of the most lengthy Dine Out Boston menus out there. The Italian joint on Beacon Hill will offer a three-course dinner ($33-$38) with over 30 primi, pasta, secondi, dolce, and contorni dishes to choose from. Pair a crispy confit duck leg with mushroom risotto and panna cotta, or mussels with pan-seared scallop ravioli and tiramisu. (37 Bowdoin St., Boston)
The Marliave
Have you tried The Marliave's French onion soup yet? It's one of the best in the city (and packed with short rib), and the perfect excuse to dive into either lunch (two courses for $20, three courses for $25) or dinner (three courses for $38) at this historic downtown bôite. In addition to French onion soup, appetizers include macaroni and cheese, mixed greens, and burrata for lunch, while mussels, escargot, and roasted beets are available as a dinner appetizer. Order shrimp scampi, steak frites, or beef burgundy for your main meal; if you're sticking around for dessert, the butterscotch pudding is a dreamy note to end on. (10 Bosworth St., Boston)
Oak + Rowan
While this Fort Point restaurant will offer both lunch ($25) and dinner ($38), it's the three-course power lunch that offers the real deal. Diners can first choose from either carrot soup or a salad medley featuring beets, radishes, pine nuts, and goat cheese, then move on to a pork Milanese sandwich, herb-stuffed ricotta dumplings with a duck ragu, or Nordic salmon with farro. Finish with smoked vanilla ice cream with a chocolate chip cookie or coconut-custard tart with pink peppercorn compressed fruit. Pair that with Oak + Rowan's lofty, modern vibe, and you have the makings of a true midday getaway. (321 A St., Boston)
Q Restaurant
Q, the popular Chinatown hot pot restaurant, has one of Dine Out Boston's best lunch deals: a $15, two-course meal that includes an appetizer and a hefty entrée. Start with seaweed salad, fried spring rolls, or crab rangoon, then slide into the main event: a hot pot combo, Pad Thai, a poke bowl, sesame chicken, or a tuna roll. Q's Dine Out Boston dinner ($33) switches up some of the apps and entrées, plus tacks on a chocolate truffle or mango or coconut sorbetto for dessert. (660 Washington St., Boston)
Quattro Ristorante, Grill, & Pizzeria
In search of a solid pizza deal for Dine Out Boston? Quattro in the North End is your spot, offering both a two-course lunch ($20) and a three-course dinner ($33) with pizza as a main focus. Antipasti includes Boston Bibb salad, fried calamari, or meatballs, but start contemplating your secondi pick, which could include goat cheese and arugula pizza, sausage and rabe pizza, four-cheese pizza, and non-pie-related entrées like sirloin steak tips, pork ribs, and ravioli. (266 Hanover St., Boston)
Shore Leave
South End tiki destination Shore Leave has one of the few Dine Out Boston deals featuring four courses, with the chance to mix and match among a number of the menu's sections. The $33 dinner includes one snack, two items from the sandwiches and plates categories, and one dessert item, all available from the bar's regular dinner menu. Some of our favorites include the crispy rice salad, katsu sandwich, dan dan wonton, karaage chicken wings, and a Hoodsie cup. Just don't skip out on Shore Leave's fantastic tiki drinks, like the Air-Conditioned Eden. (11 William E. Mullins Way, Boston)