Restaurants
Trillium Brewing is the No. 3 best brewer in the world, according to RateBeer
Another Mass. brewery came in close behind at No. 4.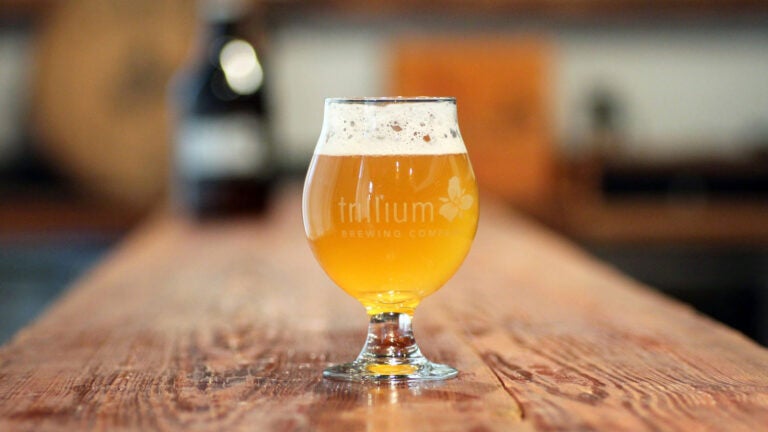 By the people, for the people.
That's how RateBeer, a website focusing on consumer-driven beer ratings, beer education, and events, names the winners of its annual RateBeer Best Awards. Now in its 20th year, the awards examine millions of reviews and ratings from a global community of beer fans, sussing out winners in categories that range from Best New Brewers and Best Beers in the World to Best Places for Beer. And this year, Trillium Brewing Company took home top marks, landing at No. 3 in the Best Brewers in the World category. Tree House Brewing Company followed closely behind at No. 4.
Starting on Feb. 10, RateBeer released the names of winners in one to two categories each day, sharing its ninth and final category, Best Brewers in the World, on Monday. Massachusetts breweries saw plenty of wins, with Cambridge Brewing Company, Lord Hobo Brewing Company, Trillium Brewing, and Tree House Brewing all nabbing victories.
"Our winners are big and small, urban and rural, highly specialized or brewing a myriad of styles," Joe Tucker, founder of RateBeer, said in a press release. "RateBeer Best judges them on equal footing, with many of our reviewers traveling extensively, so it's not uncommon to see a brewery that some people see as their local gem recognized as a global best. In fact, most of our top 100 winners are smaller breweries."
Take a look at the Massachusetts breweries, beers, bottle shops, and taprooms that made the coveted list, and let us know in the comments if you think there are other breweries and beers that deserved an award.
Best Beer: Tree House Bbbrighttt – Citra
Best Brewer: Trillium Brewing Company
Best New Brewer: Public Access Liquids

Brewpub: Cambridge Brewing Company
Restaurant: Row 34
Brewer Tap Room: Tree House Brewing Company
Bottle Shop: Julio's Liquors
Grocery: Fort Point Market
Bar: Lord Hobo
Tree House Bbbrighttt – Citra
Blonde Ale/Golden Ale: Tree House Eureka – Mosaic, Tree House Eureka – Citra
IPA – Flavored: Trillium Dialed In – Gewurztraminer and Chardonnay, Trillium Dialed In – Pinot Gris, Trillium Dialed In – Sauvignon Blanc
IPA – Hazy/NEIPA: Tree House Julius
Kölsch/Kölsch-Style: Trillium Sprang, Trillium Big Sprang
Pale Lager – India/Hoppy: Jack's Abby Kiwi Rising
Wheat Ale – India/Hopfenweisse: Trillium Pier
No. 3: Trillium Brewing Company
No. 4: Tree House Brewing Company
No. 29: Jack's Abby Brewing
For a full list of winners, including other New England all-stars, take a look at the complete breakdown of the RateBeer Best Awards here.