Restaurants
Barra brings a slice of Mexico City's bar scene to Somerville
Two Mexico City natives are at the helm of a vibrant new bar and restaurant in Union Square.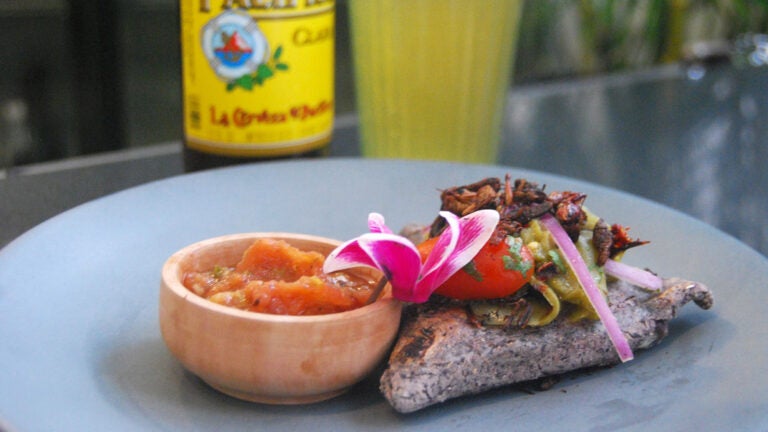 When Paola Ibarra and Yhadira Guzmán first threw around the idea of opening a restaurant together, they imagined it would be in Mexico City, where Ibarra grew up and where Guzmán currently resides. But they decided to put their plans on hold due to the country's new government and economic outlook. Instead, Ibarra, who works at Harvard's David Rockefeller Center for Latin American Studies and designed the bar program at Peruvian restaurant Celeste, had another idea: What if they could open something small in a space like the Juice Union juice bar next to Celeste?
A short while later, the juice bar closed. Ibarra and Guzmán snatched it up. And their new concept, Barra, is now open in its place.
Barra is not made for lengthy, sit-down dinners sprawled across spacious tables. In fact, there are no tables in the tiny, narrow space — just a bar and some stools lined beneath a ledge. The former juice bar can hold 24 people; the full kitchen is equipped to serve food, but small enough that only six dishes, including one dessert, are on the menu.
"It's more like a hangout than a restaurant," Ibarra told Boston.com. "The idea was to capture a little bit of the bars and the dining and food scene in Mexico City."
Part of capturing that food scene was hiring one of Mexico City's all-star chefs: Sofia García Osorio, whose unnamed restaurant in downtown Mexico City blends culinary traditions with modern flavors and technique.
"She's been asked to collaborate with other people, but she always [said no]," Ibarra said. "But with us she immediately heard the concept and said yes."
García Osorio developed the menu and trained Barra's staff to execute the dishes while she remains in Mexico City, though she'll be back in the summer for a seasonal revamp. Just like her own restaurant, García Osorio's Barra bites are rooted in traditional Mexican fare with a focus on local ingredients and contemporary flavors. There's a vibrant aguachile, a twist on a Mexican coastal dish made with fish, citrus, avocado, and cucumber in a bright serrano chili and water broth. A taco de chile relleno sees a blue corn tortilla topped with beans, a stuffed pepper, and pickled vegetables. A triangle-shaped gordita, called a tetala, is served with cactus salad, grasshoppers — "we will not be pushy about insects," Guzmán said — and molcajete salsa. Esquites are served with clams in a nod to local produce. And for dessert, there is a tamal de calabaza en tacha, or a pumpkin tamale covered in syrup and accompanied by homemade ice cream.
Guzmán and Ibarra said they named their watering hole Barra (the Spanish word for "bar") as a tribute to the Latin American community in Boston. It also highlights the space's focus on spirits, particularly agave-based liquors including mezcal, tuxca, raicilla, and sotol, a floral spirit that's growing in popularity. Ibarra said that she sourced spirits from across Mexico to be used in both pairings, where liquor is served with small snacks like citrus dusted in flavored salt or cubes of cheese and guava paste, as well as classic cocktails given a twist. An espresso- and Licor 43-based drink called a carajillo is available; it's a cocktail usually reserved for leisurely post-lunch sipping. The Malverde uses sotol, cucumber, lime, mint, and yuzu, while the Duvalin, made with horchata and Jägermeister, is a sweet dessert libation. Fresh juices, a remnant from the space's former resident, are also available, along with craft beer and natural wine from Mexico.
Beyond the food and drink menu, Barra pays tribute to its roots with other little details: the corrugated aluminum siding on the bar that nods to Mexico City's taco stands, the artwork, the hand-painted signs, the Spanish-language soundtrack that ranges from 50s tunes to electronic dance music.
"It's a really unique concept," Ibarra said. "We hope people will be surprised with the little details."
Barra; 23a Bow St., Somerville; Tuesdays–Thursdays from 5 p.m.–11 p.m., Fridays from 5 p.m.–midnight; Saturdays from noon–midnight, Sundays from noon–4 p.m.; barraunionsquare.com