Restaurants
Day-to-night cafes, East Boston's newest opening, and more weekend food events
Plus, here's where you can raise a toast on International Women's Day (and throughout the month).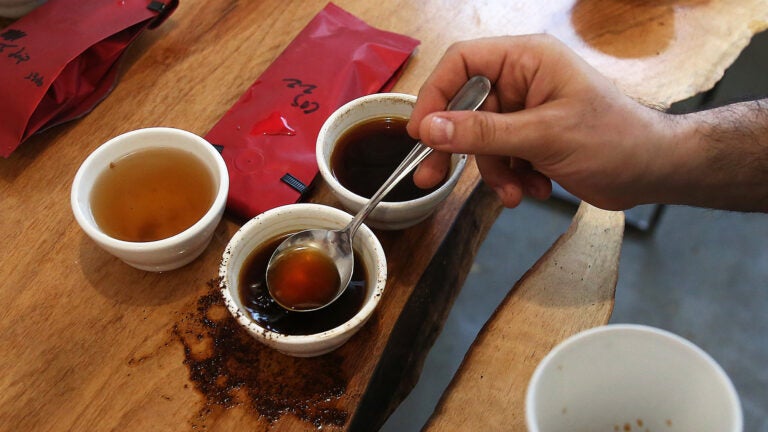 How hard do you work at learning to love a food you can't stand? Do you come back to it occasionally to reaffirm that, wow, yes, I still find this completely inedible? Or do you try it once and move on?
I've been working on learning to love okra, a food that has never held any sort of appeal to me, and was curious what other foods people struggled to enjoy. A sampling, based on my recent Twitter ask: Raw oysters. Honeydew melon. Olives. Bloody Marys. Beets. Yogurt. Eggs. Ham. Baklava.
I'm still on a quest to find an okra dish I love, so if you have any recommendations, I'd love to hear about them (shoot me an email at [email protected], or comment below!). In the meantime, I'll also be eating and drinking things I actually love, and checking out a bunch of great events and new restaurants this weekend. Maybe I'll see you at one?
1. Visit a restaurant with a split personality
A couple weeks ago, I ate at Colombiana, a new-ish Colombian restaurant on Centre Street in Jamaica Plain. Well, part of a restaurant. During the day, the space is known as the recently rebranded (and unfortunately named) JPizle Kitchen, which serves classic diner fare like omelettes and pancakes and burgers. But at 5 p.m., it transforms into Colombiana, made clear by a pink neon "Colombiana" sign that lights up in the window. The menu is mostly comprised of small plates: empanadas, arepas, Colombian ratatouille, and papas rellenas, and while the new concept is still working some things out, it's a worthwhile spot to pop in for a couple bites and some aguapanela — a drink made with Colombian cane sugar and lime. Another new restaurant sharing space is Food For Thought, a Maine-based eatery that will open within Sammy Carlo's Delicatessen and Catering in East Boston on Friday. In this case, the two concepts are separately owned: Food For Thought founder Jay Grey is paying rent to Sammy Carlo's owner Steve Scire. The deli will continue to serve breakfast and lunch from 7 a.m. to 3 p.m., while Food for Thought will kick in on Tuesdays through Sundays from 5 p.m. to 11 p.m., plus Sunday brunch. Stop by the newcomer for lobster tamales, plantain fries, vegan bolognese, and steak tacos. (Food For Thought is also BYOB.)
2. Get in the St. Patrick's Day spirit early
We're a little over a week away before the city becomes awash in green and all things St. Patrick's Day-related, but some folks are starting the party early. On Saturday, Jameson's first annual Fenway Frolic will take over Lansdowne Street with a scavenger hunt from noon to 5 p.m. Assemble your team (which can include up to six members) and follow clues for the chance to win Celtics tickets, a Yeti cooler filled with Jameson swag, Dropkick Murphys tickets, and more. Harpoon is also embracing the holiday early, throwing a two-day St. Patrick's Festival on both Friday and Saturday with a spirited lineup of live music and beer (maybe now's the time you'll get to try Harpoon's new cannoli stout.) And while I won't be so brave, you can continue the festivities with Harpoon's 10th annual Shamrock Splash on Sunday, plunging into frigid waters at this winter beach party.
3. Celebrate women all month long
Actually: Celebrate women all the time. But during Women's History Month, there are even more ways to put self-identifying women front and center. A few ideas: Stop by Bar Mezzana on Wednesdays in March, when the women of Somerville wine bar Rebel Rebel will take over with their own curated lists of by-the-glass pours. Raise a can at Lamplighter Brewing on Sunday, when the Cambridge brewery will start pouring two new saisons dreamed up by the women of Lamplighter, with a portion of proceeds going towards the Matahari Women Workers' Center and the Pink Boots Society. Also on Sunday: The International Women's Day Market at Night Shift Brewing in Everett, where 15 local women entrepreneurs, makers, and artists will sell their wares (be sure to try Night Shift's new beer, Strong Female Lead, too). And snag a ticket to Resy's Women of Food dinner at Sarma, which isn't until March 17 but tickets will undoubtedly sell out quickly. The dinner features Cassie Piuma, Ana Sortun, and Maura Kilpatrick, three incredible chefs who were all recently named James Beard Award semifinalists, and who will cook under one roof to create a meal featuring dishes like green garlic borek with warm artichoke salad, mozzarella, and pesto; egg salad fatteh; and brown butter profiteroles with sesame caramel.
4. Find your day-to-night cafe
Gracenote Coffee & Wine opened last weekend in Cambridge, a second location for the roastery after the original Gracenote Coffee Roasters found success in downtown Boston (a third location will open this spring within the High Street Place food hall). Unlike its first spot, the Cambridge shop features both coffee and wine, a combination that invites guests to stay well beyond designated caffeine or vino hours. It made me think about the places I love that function as a cafe and a bar: Tradesman Coffee Shop and Lounge, Remnant Brewing, Jaho Coffee Roaster and Wine Bar (which also has great soft serve). After the loss of Explorateur, another great cafe/bar hybrid that will soon become two Guy Fieri concepts, I'm determined to value these day-to-night spaces more than ever.
5. Take advantage of Dine Out Boston's final week
On Sunday, Dine Out Boston's second and final week of deals kicks in, running from March 8 to 13. If you've been on the fence about participating this time around, may I point you to these 10 restaurants offering deals that I think are particularly great? There's affordable steak at Boston Chops, a fantastic $15 lunch at Q, a four-course dinner at Shore Leave, fantastic French fare at The Marliave, and more. And if nothing stands out to you on the list of participating restaurants, maybe you'd be more into Eataly Restaurant Fest, which runs March 16 to 29 with two-course lunch and dinner specials for $18 and $28. Guess we're all just going to be eating a lot of great food for less this month.