Restaurants
These Boston restaurants are now offering takeout and delivery
Following Gov. Baker's mandated closures, restaurants are starting to expand their service models.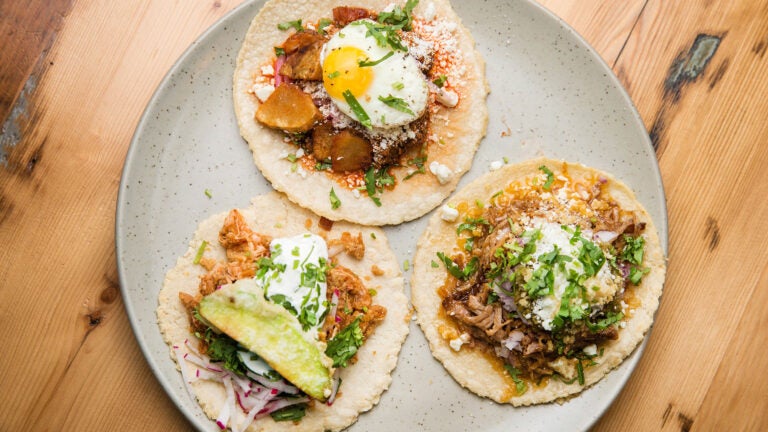 Ever since Gov. Baker ordered that all Mass. restaurants and bars need to halt dine-in operations on March 17, and would only be allowed to offer takeout and delivery options until May 4, Boston diners' eating habits have changed dramatically. Restaurants were forced to get creative with their business models, with some launching takeout and delivery for the very first time.
Delivery apps have making adjustments, too. Caviar now offers no-contact delivery, which can be requested within the app's instructions at checkout. Grubhub has suspended its collection of commission fees from independent restaurants, while Uber Eats has waived delivery fees.
In addition to your usual takeout spots, consider the following restaurants that have joined the ranks of those on GrubHub, Uber Eats, Caviar, and DoorDash, or are now offering takeout and delivery through their websites. Some are promoting free delivery, others are offering considerable discounts, and one is even offering the option to "text a taco." However you choose to order, please be sure to tip well — these restaurants, and all restaurants throughout Boston, could use the extra help right now.
This is a growing list; please check back frequently for updates. You can also find additional takeout and delivery resources at carryoutma.com and boston.gov.
Alcove
Need to feed the whole family tonight? Alcove's half and whole chicken dinners come with your choice of sides, including zucchini fritters, macaroni and cheese, and sweet and spicy cauliflower. Add a few snacks and a fresh salad and you're golden. Takeout and delivery is available from noon to 8 p.m. via Caviar (takeout can also be ordered over the phone); buy a gift card and you'll receive an extra 20 percent off. (50 Lovejoy Wharf, Boston; 617-248-0050)
Bartaco
The Seaport taco spot has your next Taco Tuesday night covered. Available for curbside pickup and delivery, Bartaco offers a bevy of tacos plus rice bowls, sides, desserts, and a family pack menu. Beer, wine, and margarita mixes are also available for pickup. (25 Thomson Pl., Boston; 617-819-8226)
Bondir
Recreate Bondir's dreamy dining room in your own home by ordering takeout from the Cambridge bôite. Pickup times (Wednesday, Fridays, and Sundays) are made through an OpenTable reservation, and dishes include shareable options like Akaushi beef flank steak, white asparagus salad, and strawberry rhubarb pie. (279A Broadway, Cambridge; 617-661-0009)
Bostonia Public House
Order comfort fare like salt and pepper wings, grilled chicken sandwiches, and barbecue chicken flatbread from this downtown stalwart, with takeout available daily from 3 p.m. to 8 p.m. Delivery is also available on Uber Eats. (131 State St, Boston; 617-948-9800)
Brassica Kitchen
This Jamaica Plain gem is offering their regular breakfast, lunch, and dinner menus, with dishes like The Bacon Classic egg sandwich, a crispy chicken sandwich, and Camembert and sesame dumplings available for takeout. (3710 Washington St., Boston; 617-477-4519)
Brato Brewhouse + Kitchen
The Brighton brewpub just launched online ordering through Toast, where you can place an order for Brato's excellent grilled cheese or sausages for pick-up. (190 North Beacon St., Boston; 617-903-3766)
The Butcher Shop
This Barbara Lynch classic is providing a daily rotating menu of takeout options, including handmade pasta and Barbara's famous Bolognese sauce (plus wine and beer!). Check the South End restaurant's Instagram for the latest menu. (552 Tremont St, Boston; 617-423-4800)
Cafe Landwer
Breakfast, lunch, and dinner are available for takeout and delivery at Cafe Landwer, with a 25 percent discount offered for guests who order via phone or through Toast with the code 25RELIEF. Delivery is also available through Caviar, Uber Eats, and Door Dash. (383 Chestnut Hill Ave., Boston; 617-383-5786)
Cafe Luna
This popular breakfast and lunch joint has expanded its delivery options to Caviar and DoorDash, where you can order dishes like a corned beef hash omelet, double thick Belgian waffles, and grilled paninis. (612 Main St., Cambridge; 617-576-3400 for pickup, 978-807-9698 for delivery)
Celeste
Peruvian darling Celeste is now serving lunch and dinner (the lomo saltado is a winner) for both takeout and delivery, with special menu items revealed each day. (21 Bow St., Somerville; 617-616-5319)
China Pearl, New Dong Khanh and TeaDo
Chinatown restaurateur Brian Moy has created Chinatown Delivers, a new service bringing some of Chinatown's best dishes (and resurrecting the now-closed New Dong Khanh) under one virtual roof. From 11 a.m. to 3 p.m. daily, order dim sum from China Pearl, New Dong Khanh's famous lemongrass chicken, and boba tea from TeaDo — all available via contactless pickup. (617-773-9838)
Curio Coffee
The East Cambridge coffee, wine, and waffles shop is now inviting customers to call ahead so that coffee and waffles will be ready upon arrival for pick-up. It will be exploring delivery options over the next few days. (441 Cambridge St., Cambridge; 857-242-3018)
Cusser's Roast Beef & Seafood
Craving a roast beef sandwich? Cusser's has you covered, along with lobster rolls, tuna burgers, and chowder. Order online or from the Back Bay's takeout window; delivery is available through Caviar. (304 Stuart St., Boston; 617-917-5193)
Dorchester Brewing Co. and M&M BBQ
Snag the $10 "Social Distancing Special" to-go at this Dorchester brewery, featuring four-packs of brews like V1 Double IPA and Clapp's Cream Ale. In-house restaurant M&M BBQ is also serving their full menu for takeout and delivery on Uber Eats. (1250 Massachusetts Ave., Boston; 617-307-0375)
Dumpling Daughter
With locations in both Weston and Cambridge, Dumpling Daughter is temporarily offering delivery, including free delivery on all orders of $75 and above. (37 Center St., Weston; 781-216-8989. 73 Ames St., Cambridge; 617-577-8886)
Earls Kitchen + Bar
Not only is Earls offering pickup and delivery from both its Prudential Center and Assembly Row locations, but you can also order groceries from the restaurant at Assembly Row. Stock up on produce, dairy, and pantry staples while placing an order for lobster and shrimp ravioli. (800 Boylston St., unit 107, Boston; 857-957-0949. 698 Assembly Row, unit 102, Somerville; 617-666-1790)
Fox & the Knife
Karen Akunowicz's award-winning Southie spot is now offering two takeout and delivery options. Fox at Home offers a limited menu of favorites, like the tagliatelle bolognese, from 4 p.m. to 9 p.m. every night, while Fox Pasta offers fresh pasta by the pound (plus homemade sauces) from noon to 9 p.m. each day. (28 W. Broadway, Boston; 617-766-8630)
Giulia
The dreamy Italian destination updates its Instagram daily with a new takeout menu, available Monday through Saturday from 4 p.m. to 8 p.m. Recent dishes have included pasta all'amatriciana, prosciutto di parma with fresh pear, and warm almond torta with figs and whipped cream. (1682 Massachusetts Ave., Cambridge; 617-441-2800)
Grand Tour
Michael Serpa opened Grand Tour on Newbury Street just a few months ago and is already rolling with the punches: the restaurateur recently implemented takeout service at the French bistro. Order lamb meatballs, pan roasted crab cakes, confit chicken and more, then tack on some wine — all bottles are now being sold for $25. (314 Newbury St., Boston; 857-277-0800)
Hojoko, Ms. Clucks Deluxe, and gogo ya
These three concepts from Tim and Nancy Cushman have combined forces to create the Hojo Gogo Deluxe Daily Take Out Menu, a best-of list available from 5 p.m .to 9 p.m. on March 17. On the menu: kimchi fried rice, the Hojoko cheeseburger, Ms. Clucks Chicken Sando, and more, all of which can be ordered from Hojoko on Caviar. (1271 Boylston St., Boston; 617-670-0507)
KO Catering and Pies
East Boston's Aussie pie shop is open for both takeout and delivery on Uber Eats, offering a sampling of pies (Irish beef stew, braised lamb shank, curried vegetable) along with sandwiches, fish and chips, and a bevy of sides. (256 Marginal St., building 16, Boston; 617-418-5234)
Laughing Monk
This Brigham Circle Thai and sushi spot is now offering a 10 percent discount with all takeout and delivery orders. (737 Huntington Ave., Boston; 617-232-8000)
Met Back Bay
Fans of this Back Bay hangout will be happy to know that Met is offering a handful of its cult-favorite burgers — along with sandwiches, skirt steak, bolognese, and more — for both curbside pickup and delivery on DoorDash and Grubhub. Order anytime on Wednesday through Saturday from noon to 8 p.m. and Sunday from noon to 5 p.m. (279 Dartmouth St., Boston; 617-267-0451)
Mike & Patty's
Breakfast hot spot Mike & Patty's launched outdoor drive-up pickup in addition to delivery. Orders can be placed online; if you're looking for some comfort food, the Baller breakfast sandwich is a great way to start the day. (12 Church St., Boston; 617-423-3447)
Nico's Ristorante, Rina's Pizzeria, Strega North End
The Varano Group Restaurants launched a special delivery menu at Nico's Ristorante, Rina's Pizzeria, and Strega North End, with free delivery to the North End, Seaport, South Boston, East Boston, Back Bay, West End, and Downtown Crossing. (Nico's Ristorante: 417 Hanover St., Boston; 617-742-0404. Rina's Pizzeria: 371 Hanover St., Boston; 617-456-5700. Strega North End: 379 Hanover St., Boston; 617-523-8481)
Nightshade Noodle Bar
Viet-American newcomer Nightshade Noodle Bar is offering takeout and delivery from noon to 9 p.m. on Wednesdays through Sundays. Treat yourself to beef brisket banh mi, bone marrow fried rice, and garlic noodles, plus a mix to make Nightshade's most popular cocktail: the Saigon Cigar Club. (73 Exchange St., Lynn; 781-780-9470)
Olde Magoun's Saloon
The Somerville stalwart is offering a limited menu for curbside pickup every day from 4 p.m. to 10 p.m., with options including a barbecue special with St. Louis smoked sausage, bacon macaroni and cheese, potato salad, and biscuits. (518 Medford St., Somerville; 617-776-2600)
Pammy's
Cambridge Trattoria Pammy's is now offering a limited takeout menu from 4:30 p.m. to 9 p.m. Tuesday through Saturday. You'll find the restaurant's famed lumache on the menu, plus a house sourdough loaf; 50 percent of bread sales will go towards a staff fund, while the other 50 percent will be donated to No Kid Hungry. (928 Massachusetts Ave, Cambridge; 617-945-1761)
Saloniki Greek
From noon to 8 p.m. daily, Saloniki Greek's Fenway location is offering takeout and free delivery to those craving homestyle lamb meatballs, a chicken plate with fries and chopped salad, and a "quarantine feast" that feeds four. Each order comes with a free house lemonade. (4 Kilmarnock St., Boston; 617-266-0001)
Saltie Girl
In the mood for seafood? Choose from clam chowder, a Gloucester lobster roll, fish and chips, and crab cakes for curbside pickup at Saltie Girl (also available: an impressive selection of tinned fish). Delivery can be ordered through Grubhub and DoorDash; place your orders Wednesday through Saturday from noon to 8 p.m. and Sunday from noon to 5 p.m. (281 Dartmouth St., Boston; 617-267-0691)
The Salty Pig
Stone-grilled pizzas and handmade pastas from this Back Bay hangout can now be ordered through Caviar and DoorDash. (130 Dartmouth St., Boston; 617-536-6200)
Shy Bird
Fried chicken-centric Shy Bird launched in Kendall Square last summer, and is now offering discounts on delivery and online orders (check their social media each day for the code). If you send them a message on Instagram, Shy Bird will even clue you in on off menu specials. (1 Broadway, Cambridge; 617-714-4200)
Stillwater
Find comfort in chef Sarah Wade's takeout options, which feature the Chinatown/Leather District restaurant's regular menu, plus a "Simple Supper" for $39 that serves two people. Takeout is available 11 a.m. to 8 p.m. daily. (120 Kingston St., Boston; 617-936-3079)
Sugar & Spice
The Thai staple has always offered delivery, but it is now waiving its delivery fee and offering curbside pick-up so that customers don't need to enter the restaurant. (1933 Massachusetts Ave., Cambridge; 617 868-4200)
Trident Booksellers and Cafe
Bookworms, this one's for you: With every takeout or delivery order from Trident, the Newbury Street bookstore will include one free book (it'll be an advance review copy, but still!) with your meal. "If you write into your order notes what you look for in a book, we'll try our best to match your taste!" Trident tweeted. (338 Newbury St., Boston; 617-267-8688)
Yellow Door Taqueria
In addition to offering delivery via Uber Eats, the Dorchester and South End locations of Yellow Door Taqueria are offering a Text a Taco option. For $5, you can now send (and receive!) a taco in the form of a texted gift card. (Dorchester: 2297 Dorchester Ave., Boston; 857-267-4201. South End: 354 Harrison Ave., Boston; 857-239-9276)