Restaurants
How restaurants are helping their employees — and how you can get involved
Donate to these local restaurants through Venmo, raffle tickets, and more.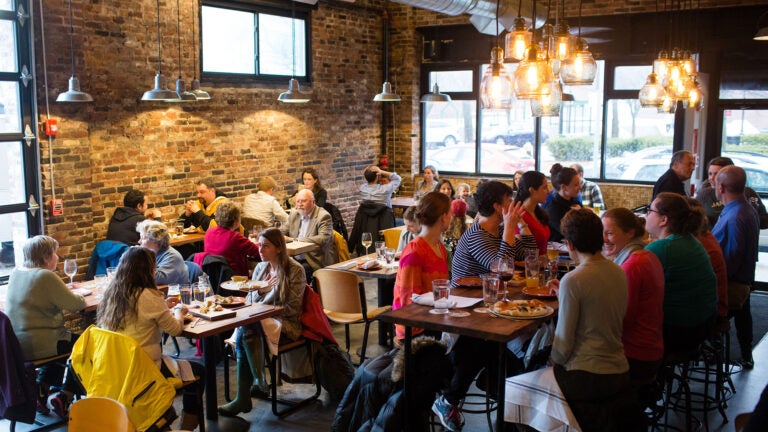 Restaurants already operate at tight margins. So with Gov. Baker's dine-in ban in effect until at least April 6, Massachusetts restaurants and bars — and the employees who keep them running — are facing an economically challenging road ahead.
In response, many local restaurants are finding creative ways to direct more money to their employees. Some have set up Venmo accounts and GoFundMe campaigns. In addition, a growing number of fundraisers have launched in an effort to raise funds and offer grants to affected restaurant and bar industry workers.
Check out the list below for ways you can help support these local businesses. (And check out Boston Helps for more ways to support the community.)
Some restaurants are directing proceeds from gift cards, raffles, merchandise, and more to their employees:
Alden & Harlow and Waypoint
At these two Cambridge restaurants from Michael Scelfo, gift cards will be 20 percent off for the next month, with proceeds being used to fulfill the critical needs of tipped wage and back-of-house hourly employees. These needs will include items like medication, prepared meals, toiletries, and more.
Backbar
The Union Square speakeasy has launched a raffle, selling $10 tickets through Venmo at @backbarunion. Names will be chosen every few days, and prizes will include items like merchandise, gift cards, a coveted weekend reservation at the popular bar, and a grand prize of two tickets to a Treadbetter dinner (valued at $300).
JK Food Group
Jamie Bissonnette and Ken Oringer's Boston restaurants — Coppa, Little Donkey, and Toro — are funneling 50 percent of gift card proceeds straight into a staff fund until April 30, which will be used to support employees.
Purple Shell
One of Southie's newest restaurants, Purple Shell has announced that it will donate 50 percent of gift card sales to its staff.
Tuscan Brands
Buy a gift card to any Tuscan Brands location, which includes Tuscan Kitchens in Burlington and the Seaport, as well as Salem, N.H., and Portsmouth, N.H., and, until April 30, 25 percent of those sales will go toward staff members who rely on gratuities. All gratuities from the takeout, curbside pickup, and delivery services will also be given directly to those staff members.
Veggie Galaxy
All proceeds from Veggie Galaxy gift cards will go toward the Cambridge diner's staff.
These restaurants and bars have set up Venmo or GoFundMe accounts, with money going directly to staff:
1369 Coffee House – GoFundMe
Alden & Harlow, Longfellow Bar, Waypoint – @lf-ah-wpstaff
Brewer's Fork – @brewers-fork
Cushman Concepts (O Ya, Hojoko, gogo ya, Ms. Clucks Deluxe, Bianca) – GoFundMe
Eat Local – GoFundMe
Estragon – GoFundMe
Forage – @foragecambridge
Franklin Restaurant Group (Citizen Public House, Our Fathers, The Franklin Cafe) – GoFundMe
Good Life – GoFundMe
Grafton Group (Grafton Street, Temple Bar, Russell House, Park, State Street Provisions, The Hourly Oyster House) – @graftongroup
Grand Tour/Select Oyster Bar – GoFundMe
Great Scott/O'Brien's Pub – GoFundMe
Kamakura – GoFundMe
Levend Bagelry – @levend-bagelry
Little Dipper – @ld-staff-fund
Panificio – GoFundMe
Rebel Rebel – @rebelrebelfund
Richard's – GoFundMe
Silvertone – GoFundMe
Tres Gatos – @tresgatos
The Sevens Ale House – GoFundMe
Trina Starlite and Parlor Sports – @TrinaStarlite-ParlorSports
Vinal Bakery – @vinalbakery
Woods Hill Table – @wh-adelita
Other ways restaurants are helping industry employees:
Anoush'ella isn't just taking care of their own — they're taking care of anyone in the restaurant industry who needs food for the next few weeks. Workers who have lost their jobs during this crisis can stop by the Mediterranean restaurant's South End location (35 W. Newton St., Boston) for a meal, where staff will be able to feed 60 to 70 people per day until April 6.
Mei Mei has set up the Mei Mei Restaurant Emergency Grocery Program, offering at cost groceries for industry workers and others who are experiencing challenges to food access. Pickup is at Mei Mei (506 Park Dr., Boston), and both Venmo and cash is accepted for payment. Orders can be requested through this form.
Organizations you can donate to:
1. Samuel Adams has partnered with The Greg Hill Foundation to launch The Restaurant Strong Fund, which will help those in the Massachusetts restaurant industry affected by COVID-19. The goal is to provide $1,000 grants to full-time restaurant workers who depend on wages and tips to cover basic living expenses and provide for their families.
2. Powered by Toast, rallyforrestaurants.com allows you to buy gift cards to your favorite restaurants, all on in one place. Share your contribution on social media with the hashtag #rallyforrestaurants, and Toast will give $1 to an organization supporting the community.
3. The Restaurant Workers' Community Foundation has set up an Emergency Relief Fund, which will distribute funds to organizations helping restaurant communities, as well as to individual workers facing economic hardships or health crises due to COVID-19.
4. One Fair Wage, an organization advocating to end the sub-minimum wage for tip workers, has launched the Emergency Coronavirus Tipped and Service Worker Support Fund for anyone affected by the coronavirus and its economic fallout.
5. Local bartender Naomi Levy set up the Help Camberville Hospitality Workers GoFundMe, which will benefit servers, bartenders, hosts, dishwashers, cooks, baristas, and other Cambridge and Somerville hospitality workers.
6. The United States Bartenders' Guild's National Charity Foundation launched a Bartender Emergency Assistance Program, offering philanthropic grants to any bartender affected by the virus. Anyone can donate here, and bartenders may apply for a grant here.
7. Emergency Funds for Boston Area Service Industry Workers is accepting donations that will then be distributed to local bartenders, kitchen staff, hosts, and anyone else in the restaurant industry that has suddenly found themselves without a paycheck.
This is a growing list; please check back frequently for updates. 
<hr>
<h2>Drone footage captures the nearly bare streets of Boston</h2>