Restaurants
Boloco co-founder John Pepper makes a plea to keep the local burrito chain open
"It's really not going well," Pepper said.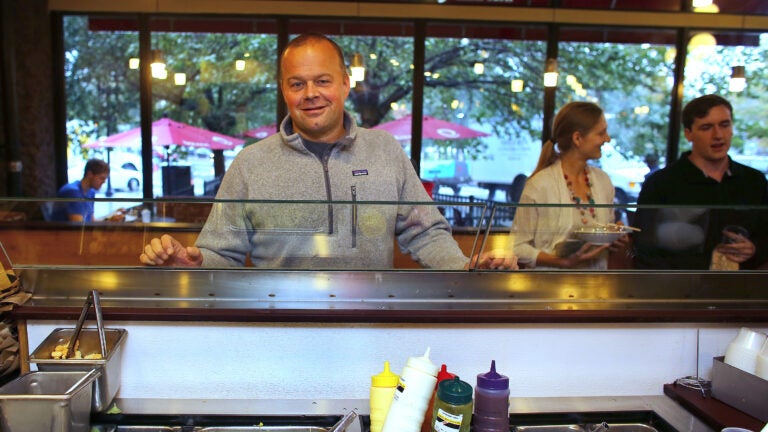 One of the co-founders of Boloco made an impassioned plea on Wednesday, saying that if the company doesn't reach the sales figures it needs by the end of the day, it would temporarily close additional stores.
"I'm sitting here wavering between positivity and the acceptance that things aren't going as any of us had hoped," said John Pepper, who helped start the popular burrito chain 23 years ago. "It's really not going well. And I guess this is what politicians do. At some point they start to see what looks inevitable and they reach out and they say, 'there's three more hours until this absolutely critical deadline.' I guess that's what I'm doing now."
Pepper shared that in an effort to combat the loss in revenue that Boloco — and businesses across the city — have faced since the coronavirus pandemic reached Boston, the company has offered a Feeding the Front Line menu featuring items for $5 or less.
"It's an initiative and an effort that really is focused on saying, 'wait a minute, who are our real customers today?'" Pepper said in the video. "And our real customers today are people who are on the front lines: hospital workers, police, other restaurant works, firefighters, other essential workers working all through the office buildings."
<hr>
<h2>"There is no economic recovery without public health," says Walsh</h2>
<hr>
He went on to share that he has personally made deliveries, and that the staff has left everything on the field, but nothing has worked.
"If today Lynnfield doesn't do a certain number of sales — we'll call it $1,500, $2,000 dollars — we have to close Lynnfield after the day is over today. And Berklee College of Music and Children's Hospital are right behind it."
Four Boloco locations have temporarily closed in response to the coronavirus; only three — Berklee College of Music, Children's Hospital, and Lynnfield — remain open.
Pepper ended by imploring people to order delivery or pick up a burrito at one of their remaining locations.
"We need you, our customers," he said. "Every hour counts."
Watch the full video below.
---
Get Boston.com's e-mail alerts:
Sign up and receive coronavirus news and breaking updates, from our newsroom to your inbox.